Baseball's had a home at Bowman Field in Williamsport, Pennsylvania for 91 years, but on Sunday night, the ball field will host an experience like none other: Major League ballplayers in a minor league park with a Little League crowd.
Major League Baseball's Little League Classic pits the St. Louis Cardinals against the Pittsburgh Pirates at what's formally known as BB&T Park — all of it broadcast on ESPN beginning at 7 p.m.
Among the Big League's most intimate crowd of roughly 2,500 will be the players, parents and coaches from the 16 teams playing in this year's Little League World Series.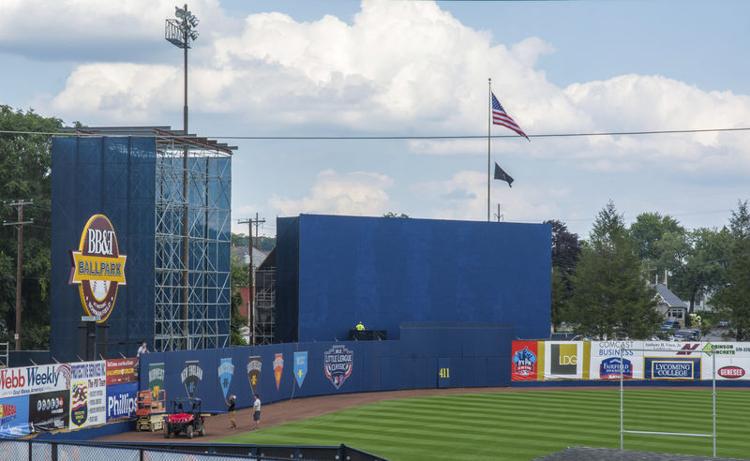 "It's enormously historical," said Lou Hunsinger Jr., a baseball writer and historian with the Society for American Baseball Research. "No regular season Major League Baseball game has ever been played in Williamsport."
It's rare that a regular season game is played outside any MLB city.
Mexico, Japan and, most recently, Australia in 2014 hosted games. Disney World hosted a three-game series in 2008. It's been 21 years since MLB teams played regular season baseball at a Minor League park — the Oakland A's hosted their first 16 home games in Las Vegas in 1996.
Sunday's Little League Classic is more along the lines of a 2016 special event. Fort Bragg in North Carolina was the site of the first regular season game of a professional sport ever played on an active military base.
Both games are meant as unique showcases to build interest in baseball.
Investment in Bowman
Bowman Field is home to the Philadelphia Phillies Class A affiliate Williamsport Crosscutters of the New York-Penn League. It opened in 1926 and is the second-oldest Minor League ballpark in the country.
According to MLB, Hall-of-Famers Nolan Ryan, Bill Mazeroski, Jim Rice and Jim Bunning are among more than 560 Major Leaguers who played baseball in Williamsport over the years.
The city-owned stadium underwent $4 million in upgrades ahead of the 2017 season — new individual seating, relocated bullpens and dugouts and a featured premium deck along the first base line.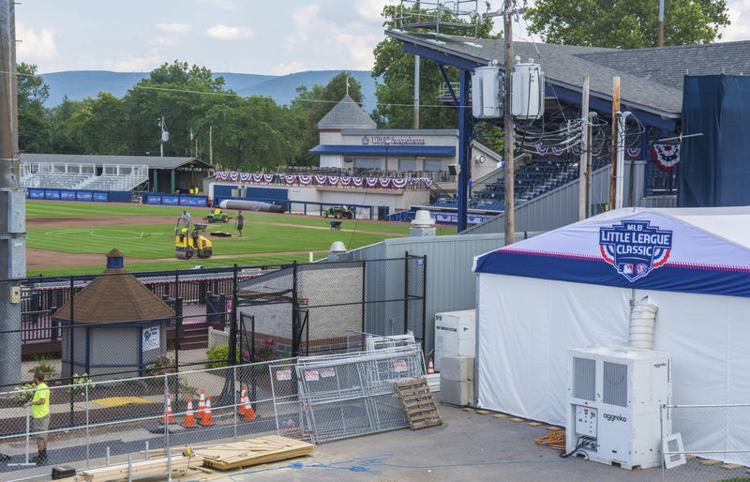 MLB chipped in approximately $1.5 million toward the installation of an all new playing surface — specially grown Kentucky Bluegrass, according to Williamsport Mayor Gabe Campana — and an irrigation and drainage system.
"We're the only Minor League stadium in the United States with a Major League field," Campana said.
Temporary upgrades installed this week will make the stadium camera-ready for ESPN and game-ready for MLB players, according to MLB spokesman Steven Arocho.
A plain wall, or batter's eye, was erected in center field. Video screens are set for left-center. The outfield fence will be padded and marked with game-special logos, as will the field. Extra lighting will make for a brighter stadium.
In the outfield parking lot, large utility-ready tents were erected for expanded player clubhouses, lounges and training rooms, batting cages and a media center.
"In a sense, they're trying to fit a square peg into a round hole. Not only is this a minor league stadium but an incredibly old minor league stadium," said Gabe Sinicropi, vice president of marketing and public relations for the Crosscutters. "At this point, it's not our stadium, it's theirs."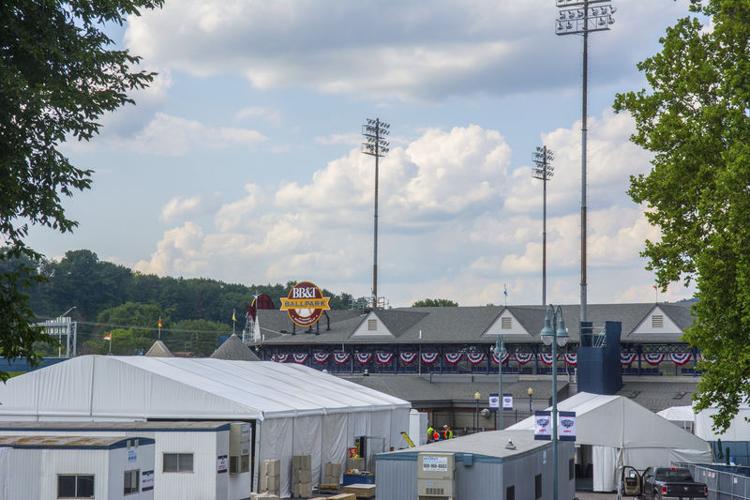 Growing the game
The Little League International Complex, of course, has its own international showcase. The youth baseball World Series tournament kicked off Thursday in South Williamsport, about five miles from Bowman Field.
Members of both the Cardinals and Pirates will visit Harold J. Lamade Stadium and mix it up with players and fans between 11:45 a.m. and 1:45 p.m.
The Big League-Little League special event is part of the PLAY BALL Initiative to stoke interest in youth baseball and softball.
An estimated 2.4 million boys and girls in all 50 U.S. states and approximately 80 countries play Little League.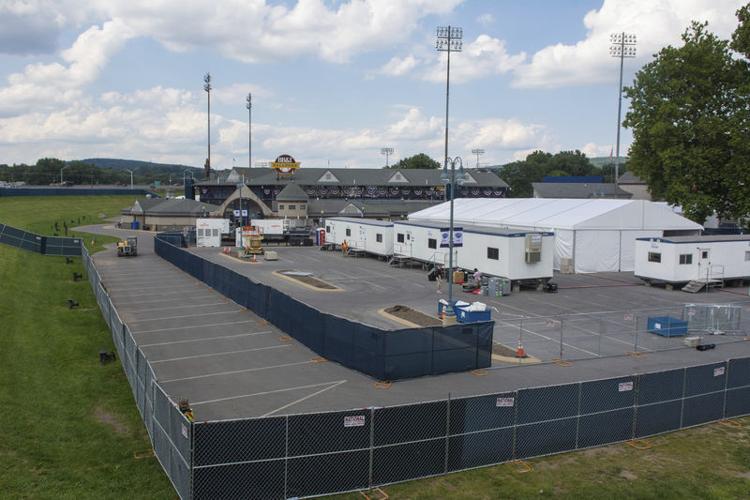 Stephen Keener, Little League Baseball Inc. president and CEO, said talk of the Little League Classic began more than a year ago.
It's generated excitement in the youth ranks, Keener said, evident in his visit to a regional tournament in Texas earlier this month when he addressed the Southwest representative team from Lufkin, Texas.
"This one little guy sort of screamed at the top of his lungs, 'You mean I'm going to get to meet my hero Andrew McCutchen,'" Keener said of the Pirates outfielder and one-time National League Most Valuable Player. "'I can't believe it!' There was sheer joy in his voice."
Davie Jane Gilmour, Little League International Board of Directors chairman and Pennsylvania College of Technology president, said for many of the Little League players, Sunday night's Major League game could be their first.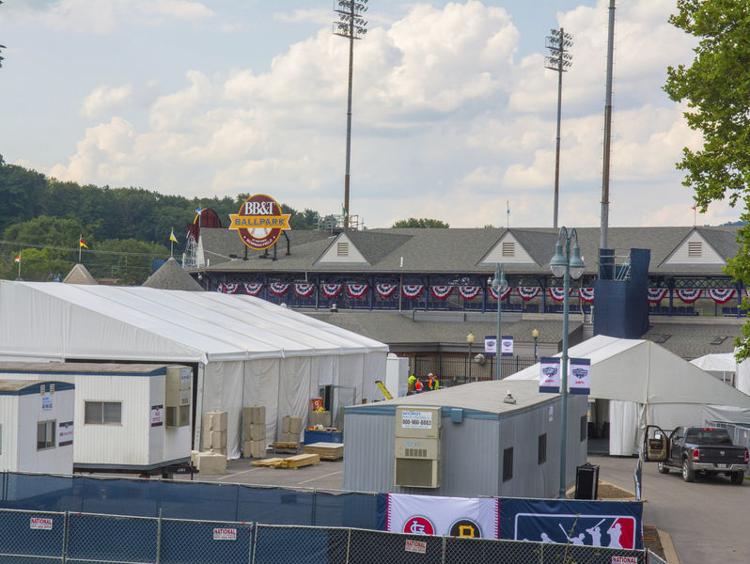 Though there's no indication the Little League Classic is anything but a special one-off event, Gilmour hopes it becomes another part of baseball's many traditions.
"This is a community that rallies together, in particular for the Little League World Series. Now, we'll be able to show just how special this place is and what we have to offer," Gilmour said.
Scicchitano writes for the Sunbury, Daily Item.