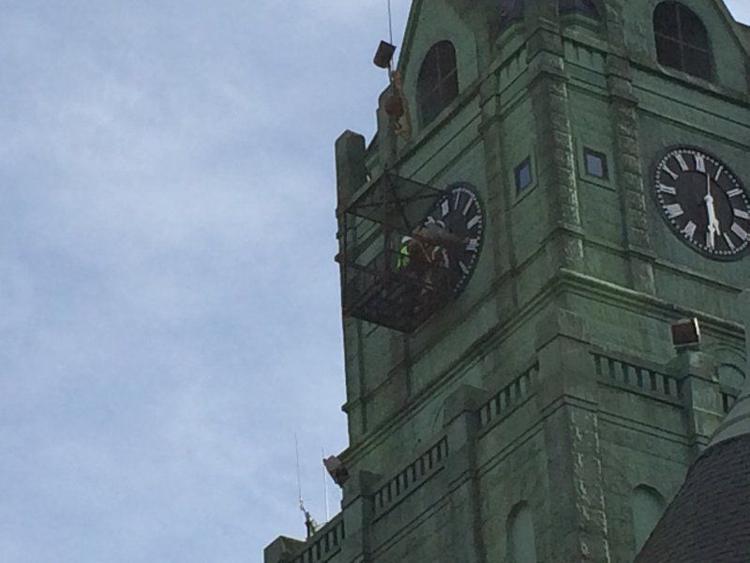 Courthouse clock repairs begin
Roof damaged during last week's storm
CLINTON — On the same day the Clinton County Courthouse saw repairs on the courthouse clock begin, discussion began on how to repair roof damage. 
Building Maintenance Manager Corey Johnson on Tuesday met with the Clinton County Board of Supervisors to discuss options for roof repair. Johnson said the courthouse's roof was damaged last week during the storm that went through Clinton. 
Johnson confirmed the damage to the roof resulted from wind. As a result, the roof of the courthouse sustained what Johnson classified as "significant damage." According to Johnson, repairing the roof is an option, but it would not match the rest of the roof. 
"We have had one company come down and look at it," Johnson said. "They said it's possible probably to repair it. It would never match so you would have blotches in the courthouse roof of where we put shingles." 
The board discussed other options for the roof. Vice Chairman Dan Srp suggested using galvinized shingles. He said he used them at his home and says they look like shingles, which is something he believes the county should contemplate. 
"It is a more expensive product but you never have to revisit it again and it has a much better wind, hail and damage rating, which actually offset my insurance expense for my home," Srp said. "So I know that there maybe are some products that are available that would maintain that historical type appearance and they may be at greater cost but I think at least exploring the options is appropriate."
Before the meeting Tuesday, Johnson and the building maintenance staff were at the courthouse to observe the beginning of the clock tower repair. At the March 24 board meeting, the Supervisors unanimously approved a bid from Mechanical Watch Supply in Minnesota to repair the courthouse clock for no more than $19,680, plus lift and electric. The repair began with the hands on the four clocks at the courthouse getting removed. Originally, the plan was to lift the workers over the building to the other side to remove the hands from the other clocks. 
However, the basket could not be lifted over the building so they had to adjust. 
"He could not get the basket above the flagpole and lower him back down," Johnson said. "He actually had to swing him out and around the building to get all four sides. And they had to go back out and all the way back around to the other end." 
Johnson said they plan to come back in four to five weeks to put the handles back on the clock and do other maintenance. He projects construction will be complete and the clock will be working by the middle to end of June.  
Herald Staff Writer John Rohlf can be reached at jrohlf@clintonherald.com.