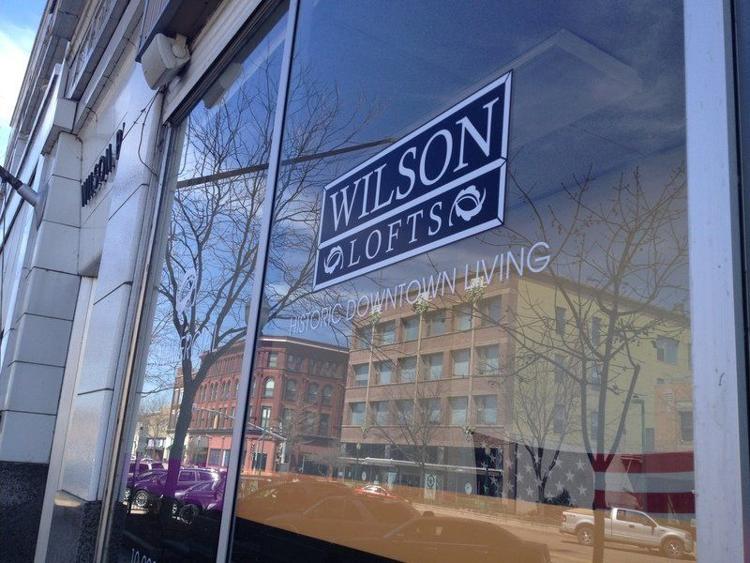 Developers close on Wilson building
Wilson Lofts in EGC's hands
CLINTON — When the lights go down in the city, the lights go on at 217 Fifth Ave. South.
That's the address of the six-story, century old Wilson building, a property business leaders in the Clinton community desperately hope to see developed. On Wednesday night, Wilson supporters received promising news.
"We closed on the building yesterday," said Brian Hollenback, president of Rock Island, Illinois-based Economic Growth Corporation.
Since December, the non-profit has committed itself to renovating the building. Now, visually and in print, there are signals that vision will come true.
EGC didn't waste any time. Before the ink in Hollenback's signature could dry, the building's Fifth Avenue storefront already featured window signs (crafted by Fulton, Illinois business Visual Imaging).
The building is being rebranded as "Wilson Lofts." Its ground level windows are advertising 10,000 square feet of commercial space and 32 market-rate apartments that will be available for rent in 2016.
One of the panes also features a quote from Hollenback:
"We understand what downtown housing creates. It's not just about redeveloping a building, it's about redeveloping downtown as a lifestyle, and impacting the overall community. Wilson Lofts will serve as a catalyst for further investment in downtown Clinton."
It's there for all to see, even at night. Ground level windows will be lit with automatic timers and — per Hollenback's address in early February — EGC is turning the lights on for a structure that is growing closer and closer to occupancy.
One passerby was Shirley Wheeler. Thursday afternoon, the signs caught her eye, and the Clinton resident was thrilled.
"I just had to see this," she said, observing the new sign printing. "I'm so excited for this. I see potential. I don't see any negatives."
Wheeler added she has been eagerly awaiting development since she moved to Clinton in 2002. The signage — and news that EGC officially owns the property — provide a sense of relief.
"To me, this is something that is so, very positive," Wheeler said.
Across the street, owners of the Painted Rooster were able to observe the development all Thursday. Owner Erin George, who was among the many who pitched the Wilson building to the Clinton City Council in December, was delighted. Downtown businesses like hers stand to benefit from the direct impact.
"I don't know what else to say other than we're thrilled," George said. "It can do nothing but impact the whole community positively. We're lucky enough that we're across the street."
After this latest step, Hollenback said EGC will look toward obtaining tax credits to help finance construction of the project. The timeline for groundbreaking is still October.
He was pleased to once again show off his corporation's commitment.
"We never entered this development as a matter of if it will happen," Hollenback said. "But a matter of when. This is pretty consistent with how pre-development goes on these projects.
"As the process goes along, we'll continue to demonstrate our commitment."
Assistant Editor Brenden West can be contacted at brendenwest@clintonherald.com.