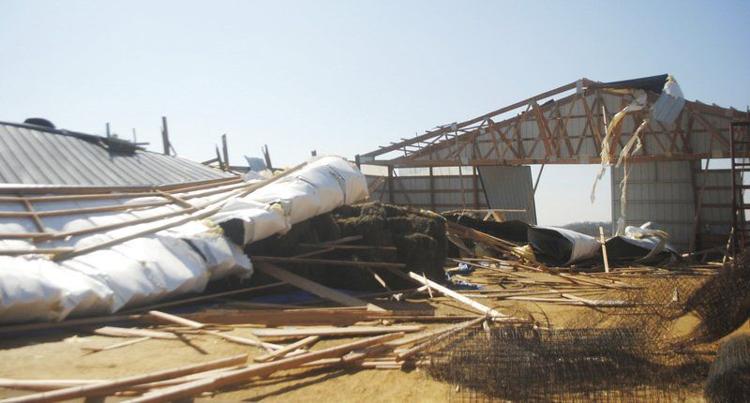 Storm cleanup continues
City gives instructions on debris removal
By Rachel Fredericksen Digital Content Editor
CLINTON — When the dust settled after Thursday's severe weather, there was much to be done.
City crews, private tree services and citizens alike almost immediately began the work of dealing with the aftermath of a tornado the National Weather Service confirmed was rated EF0 intensity with some locations reaching EF1.
Areas of the west end of Clinton, where the tornado is believed to have touched down, saw particularly intense damage, including the 90-acre farm property on South 32nd Street belonging to Clinton County Attorney Mike Wolf.
Wolf's pole barn was all but destroyed, and he believes the tornado itself passed through the area rather than the surrounding winds.
For a report of the tornado's severity and path click here: http://www.clintonherald.com/news/local_news/tornadoes-assigned-ef-rating/article_578c2f53-b796-5743-8948-f208d2d35132.html
As the storm system hit, Wolf's daughter was at home so he and his wife, Margaret, attempted to make it there. They realized they needed to pull over and seek the best available shelter, which they found at the Uturn Youth Ministry near Millcreek Parkway.
"We could see the dust and spinning wind," he said, describing the experience of riding out the storm in their vehicle. They watched as shingles were torn off the church, and the car shook and jumped.
"There were a few anxious moments," Wolf said, but both he and Margaret made it through unharmed.
When the worst was over, they resumed their drive home and noticed twisted sheet metal in a field off Second Avenue South, which Wolf recognized as coming from their barn.
The north end of the barn containing the tack room and stables was relatively unscathed, but the larger sections used for farm equipment and hay storage were essentially demolished.
After checking their horses were uninjured and their fence was secure, neighbors came out to see how they could help.
"It was an overwhelmingly wonderful feeling," said Wolf, that so many people cared and reached out, including the Clinton Fire Department and Clinton County Emergency Management Agency.
The community support was remarkable, he added. "I will never forget that."
Local officials expressed similar sentiments of gratitude to area citizens throughout Clinton County for their volunteer assistance with storm damage cleanup.
At the corner of 17th Avenue North and North Fourth Street where a large tree fell across the street, six to eight residents of the neighborhood were out beginning to cut the tree and clear the area before city staff arrived.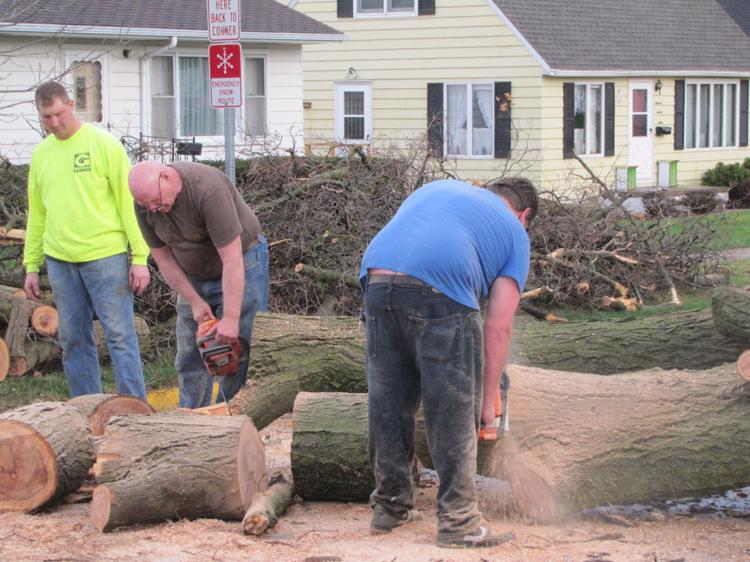 City crews continue to work diligently to clean up the city as quickly and thoroughly as possible.
A press release from the city of Clinton indicates that crews will be collecting tree limbs and branches that fell. Tree debris is to be placed out in front of the residence as soon as possible. 
Street crews will begin collection on Monday and will continue throughout the city until all debris has been collected. 
 •Tree limbs and branches should not exceed 6 feet in length.
• No bundling is required.
• The debris will not be collected on a specific day, but some time in the next week as crews work through the city.
• Contact Public Works with any questions at 242-0261.
As of Friday morning, regular garbage pickup was not expected to be delayed.
At this point, any debris other than tree limbs and branches are the owner's responsibility to dispose of. In addition, city policy provides that Public Works crews will remove trees that fall into the city right of way. For trees that fall onto power lines, Alliant Energy should be the initial point of contact; trees that are down on private property are the homeowner's responsibility to have cut up.
Alliant Energy power outages were initially reported at approximately 2,200 customers. That number fell as power was restored Thursday evening but some were without power through Friday morning. As of 2 p.m. Friday, 89 of the 19,240 Clinton County customers were affected by an outage according to Alliant's website.