Trombino: City should follow state's 'intent'
Director: Council's gas tax use idea skirts purpose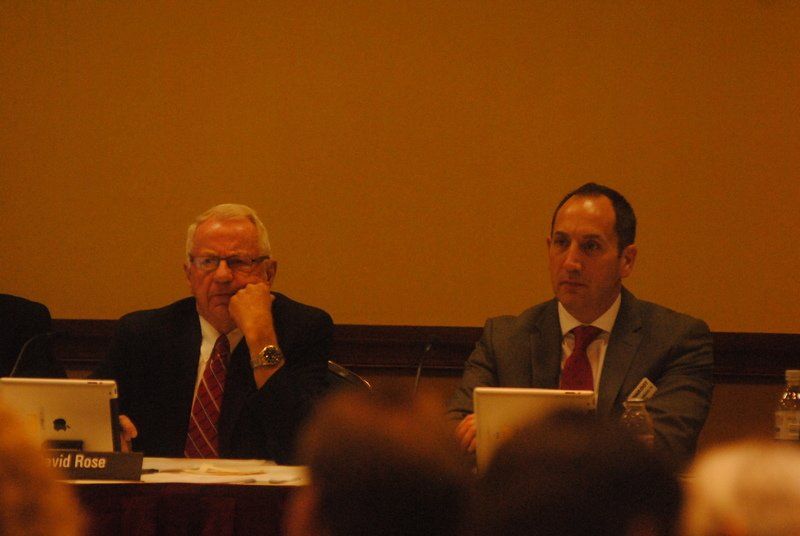 CLINTON — If government agencies are wondering what is or isn't a permissible use of new gas tax revenues, they now have an indication from the Iowa Department of Transportation.
On March 1, the 10-cents per gallon road use-tax increase went into effect just days after Iowa legislators approved the increase. State, county and municipal agencies would be able to bid out roughly $30 million in infrastructure projects as a result, and it's allowing cities — such as Clinton — to contemplate uses and enhancements to roads in their jurisdictions.
However, during the DOT Commission's monthly meeting — this time held in Davenport on Tuesday — director Paul Trombino said not all cities have proposed to use the funds the way Iowa legislators intended. The Clinton City Council, for one example, voted 5-2 to proceed with possibly hiring three new employees with its revenues last week. The issue was to be on Tuesday night's City Council agenda; however, the issue was not listed.
City officials respond to statements indicating their proposal to use the additional gas tax revenue for street maintenance employees is 'unacceptable' http://www.clintonherald.com/news/local_news/council-s-abuse-in-line-with-state-s-definition/article_e1017649-949c-56ee-869e-c3eb813cf0b6.html
"We feel strongly, and it is clearly outlined in the bill in legislative intent, that the new funding be spent on critical road and bridge issues," Trombino said, addressing dozens of government officials representing agencies throughout the state. Among spectators was Clinton Mayor Mark Vulich and councilman Tom Determann. "As a result of that, the department and commission will be clearly identifying all of our work that's going into roads and bridges... We feel that the legislature made a strong statement that they want to see all of the dollars go into critical roads and bridge issues in a very short amount of time."
Clinton is expected to gain more than $470,000 in new revenues. During the council's April 7 Committee of the Whole meeting, city administrator Jessica Kinser proposed the best use for the funds would be to hire three equipment operators, costing $225,663 between all three for wages and benefits. The rest of the funding would be used for touching up previous street projects, new equipment purchases and chip/crack sealing.
Trombino strongly urged against Kinser's proposal, echoing DOT Commission Chairman Dave Rose's concerns. With Rose, of Clinton, seated to Trombino's right on Tuesday, the director said it's important that revenue receivers adhere to "the legislative intent" for the funds.
"I don't think (Clinton's proposal) meets legislative intent," Trombino said. "It's not dealing with what I would consider infrastructure."
He added news of Clinton's proposed use has circulated throughout Des Moines, where Trombino's office is located. Clinton isn't the only city proposing to skirt the legislative intent of the increase, he said. But it's important that the city correct its proposal before it receives its revenues on July 1.
Last week, Kinser and city attorney Pat O'Connell both said nothing in the new gas tax bill prohibited the city from making street department hires. With that clearance, Vulich said funding should be poured into the "woefully" understaffed department, which, in addition to street repairs, handles snow removal and mowing throughout the city.
Right now, the streets department employs six equipment operators. With three extra hands, council members Lynn McGraw, Ed O'Neill, Vulich and Kinser all agreed the city could better handle paid time off and address issues with more immediacy.
Trombino didn't specify if there will be repercussions for cities that move forward with proposals that don't fit the state's intended purpose. But he added cities and counties should follow the DOT's lead and pour the funds directly into roads.
"There have been a lot of questions," Trombino said. "A lot of times, what happens is the legislature points the questions to my department and says 'What's going on here?'
"We're trying to lead and show as an example here's the legislative intent."
Assistant Editor Brenden West can be contacted at brendenwest@clintonherald.com