The Great Flood of '65
River crested at 24.85 50 years ago today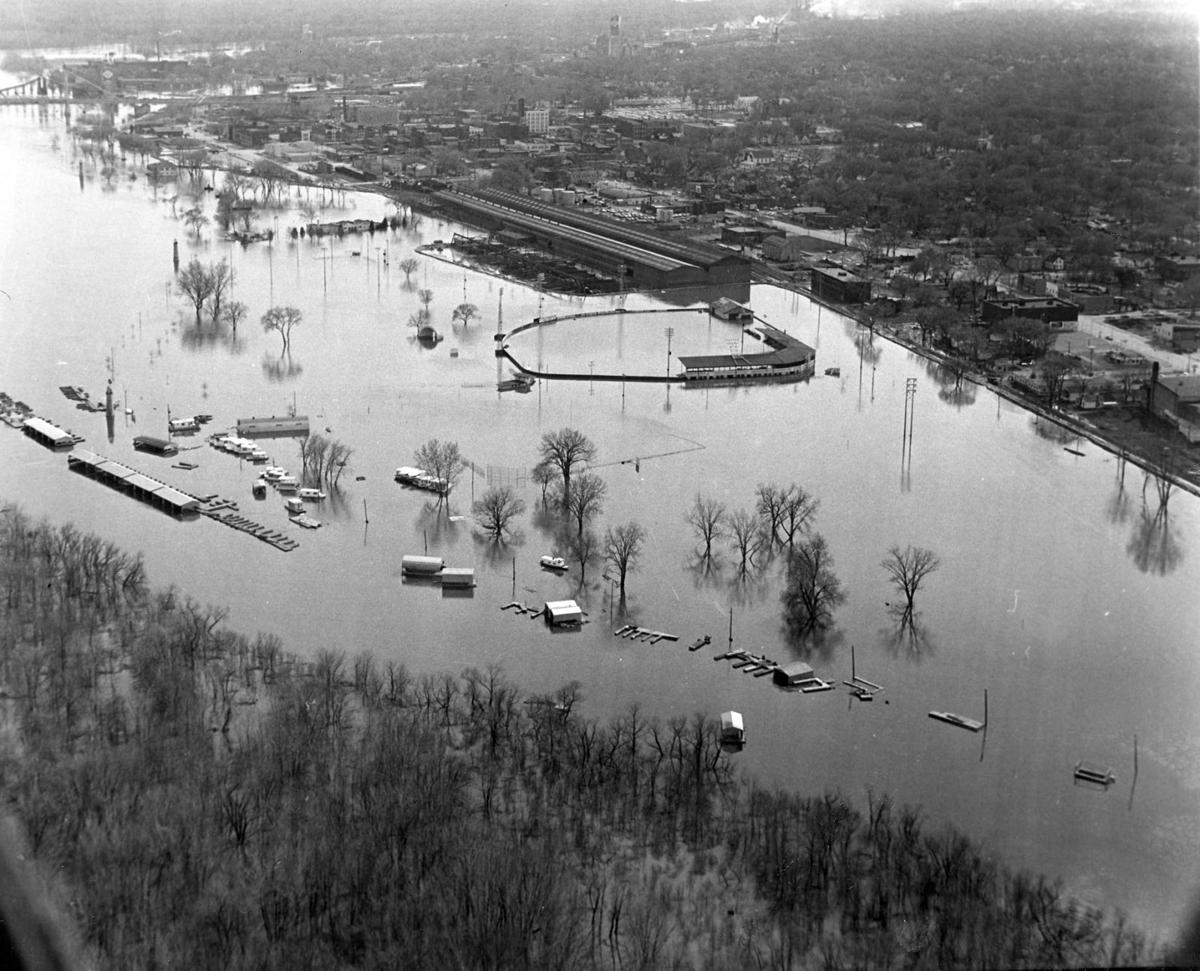 Today marks the 50th anniversary of what is no doubt the largest natural disaster to have affected Clinton and the surrounding area — the Flood of '65.
Check out our collection of stories, photos and more: http://www.clintonherald.com/collection-great-flood-of/collection_4d68cc5c-edbb-11e4-8138-bb28cb2e90b4.html
And for each resident who lived in Clinton, Camanche or Fulton, Illinois, there is a story to be told, whether it be how the flood affected their home, travel, or workday, a wedding day,or maybe even the birth of a child.
We asked area residents to tell us their stories and share their photos with us — and they did, often dropping off newspaper clippings and relating a verbal history at the same time.
We have combined their stories with articles reprinted from the Clinton Herald both at the time of the flood and throughout the years in look-back editions to give a full scope of the flood's impact on our cities, the residents who lived in them and how future decisions were made to hold back the floodwaters that were bound to — and did — rise up in later years.
What we have learned is that as the floodwaters pushed toward property and encroached on the lives of residents, it also pulled everyone together to focus on a community effort that created a spirit of camaraderie, one that ultimately made a difference in the future of their cities.
You can hear that same spirit spring forth in the recollections of men who at that time were young boys who now remember their fathers' roles in protecting the city.
Interestingly, others remember the flood in such a way that it evokes a sense of fear, even today. For others, it is marked by still-felt waves of triumph as they recollect how their hard work saved a home or business.
Throughout today's edition there are stories of the flood that were printed through the years, as told by those who lived it at time. Alongside them on each page are modern-day recollections of those who witnessed the flood firsthand. They are accompanied by photos, some of which were taken by the Clinton Herald, others of which were either submitted or gleaned from the files of the Clinton County Historical Museum.
As the Flood of '65 was large in scope, it is has been quite the undertaking to tell the complete story of its effect both then and now.
To that end, we are thankful for those who recorded the history at that time, saved it and preserved it for the many who have heard about the flood but were not yet born to witness its destruction.
We also are grateful to city leaders who, on both sides of the river, invested resources into flood protection projects that to this day continue to keep our cities dry when the waters rise and have no doubt saved us millions of dollars in damage over the years.
It is because of those investments, both in the time spent fighting the flood and building levee projects, that our river cities no longer have to fear, or even face for that matter, a replay of the ravages that were brought on by the Great Flood — the Flood of '65.
Flood of 1965 Bonus Material
This film was put together from 35mm slides that were taken in 1965. In March of 1998, they were put onto VCR tape. The slides were taken by E…
This film was put together from 35mm slides that were taken in 1965. In March of 1998, they were put onto VCR tape. The slides were taken by E…
Wilfred "Mac" McDonald and Lt. Stan Johannsen Recorded in 2005