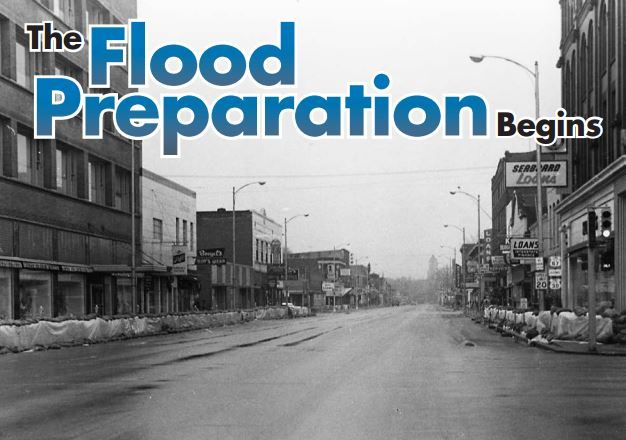 Editor's Note: This article, written by Everett A. Streit, was published in the Clinton Herald's Flood of 1965 booklet in that year. Streit was editor of the Clinton Herald at that time.
It was born in the swirling blizzards of an abnormally severe winter across the northern plains; it was nurtured by a combination of climatic conditions which forced an early run off of melting snow before the ground was sufficiently thawed to to absorb moisture; it savagely matured at the mouths of the swollen Minnesota, St. Croix and Wisconsin rivers.
And before the Great Mississippi River Flood of 1965 died — its fury spent in the vast expanse of the Gulf of Mexico — it had left an awesome trail of heartbreak, suffering and property damage.
The Clinton area's battle to keep the raging river under control in a sage of courage, organization and personal sacrifice.
Full chapters could be devoted to describing discouraging set-backs and spectacular triumphs; the millions of sandbags used and untold thousands of man-hours of volunteer labor; ceaseless chugging of pumps; a never ending succession of emergencies; the thousands of families forced to flee from their homes; paralysis of communication, transportation, business and industry; entire communities such as Sabula and Fulton being turned into islands, accessible only by boats or helicopters; the drudgery of cleaning up facing thousands of people already numb with fatigue.
The peak of the river's fury was reached Wednesday, April 28, when it crested at 24.85 feet, almost four feet higher than the previous record of 20.9 established in 1952. By that time every previous river record had been shattered.
As late as March 22 there was no hint of any abnormal flooding. The Moline Weather Bureau then said the river would peak at a point somewhere between 16 and 17.5 feet.
While this would mean the flooding of some lowland areas it did not pose any major threat to Clinton or neighboring communities.
Nine days later came the first clue to impending disaster, although few recognized it at the time. The crest was revised upward to at least 17.5 because "of rapid thawing conditions in the north."
Whatever uneasiness had been stirred by the new prediction was lulled by an April 5 announcement to the effect there were no indications that the Clinton area would be plagued by floods comparable to those then rolling across western Iowa.
Then came the bombshell.
At mid-afternoon on April 8 word was flashed from the Moline Weather Bureau that the flood crest had been revised upward to 22.5 feet.
Those who remembered the devastation of the 1952 flood shuddered at the prospect of this new, and more ferocious, onslaught.
But there was an almost simultaneous reaction in every Quad-County community where the Mississippi lapped the shores — it was a determination to fight off the flood with every available weapon.
An emergency meeting arranged by city and Civil Defense officials was held in Clinton the following morning to discuss the approaching crisis and take appropriate action. Similar sessions were held in communities up and down the river.
A flood coordinating office was established in Clinton's City Hall with the Civil Defense organization in charge. Communication headquarters also was set up there manned by amateur radio operators around the clock. Through this center messages were relayed to and from flood workers.
The future looked grim.
In Clinton, for instance, it appeared that much of the central portion of the city would be covered by water varying from a few inches to several feet. This would force the closing of most east-west streets and north-south thoroughfares with the exception of Bluff Blvd.
In the downtown district the water would creep westward as far as South 2nd Street.
In the north-end, the notorious Car Barn ditch and Turtle Creek would overflow, inundating many square blocks in the residential areas. The east end of Main Avenue would be flooded.
Virtually the only way of driving from Main Avenue to the downtown area when the crest was reached would be via Bluff Blvd., over the Rt. 30 cutoff and then back on Rt. 30 and Camanche Ave.
Sabula placed an order for sandbags the day following the 22.5 announcement, even though it nestled behind a two-mile long dike built in 19578 along the back-waters.
Fulton, one of the hardest hit areas during the 1952 flood, moved quickly to make emergency preparations.
The crucial Meredosia dike near Albany, Ill., would be one of the area's danger spots. If it broke, a wall of water would sweep over 12,000 acres, putting both Erie and Hillsdale in grave danger.
Camanche, Savanna and Albany did not anticipate any major flood woes but nevertheless proceeded with protective measures.
Everywhere along the river the advice was the same — "Don't push the panic button." Very few did.
Decision to build a mile-long dike along Clinton's riverfront was announced April 15 and a call went out for volunteers. Hundreds responded for both day and night shifts.
It was decided by Army engineers that because of the topography it would be possible to keep the central area of the city out of water with this dike. Unfortunately, there was not sufficient time to install the type of elaborate flood control barriers and pumping stations needed to prevent water from backing up into the north-end area through the Car Barn ditch and Turtle Creek.
National Guard troops were called to duty April 16 and began the construction of a wall of sandbags around the First Avenue pumping station. It was to be known as Ft. Johannsen (named after the guardsman who designed it.) Keeping these pumps in operation was the key to dry streets. If they failed, the water would immediately back up through sewers thus nullifying the value of the dike.
Then came the second jolt to the beleaguered area.
On April 16 the Moline Weather Bureau pushed the crest prediction up another foot — to 23.5 by April 25.
The feverish pace of sandbagging operations in all affected communities was stepped up. Hundreds of teenagers reported for duty along with adults to help build the protective walls.
In a move designed to keep the river from crawling into Clinton's back door through the south, another dike was started along 21st Street.
It became a nerve wracking race against time on both sides of the river.
Dike workers shook off their fatigue and began topping the barriers with more sandbags, shoring up weak spots, building secondary walls around dangerous leaks and boils.
Fulton placed a special order for another 12,000 sandbags; Sabula shored up its dike with 2,000; Clinton's original need for 50,000 was tripled. A constant stream of trucks began bringing dirt and sandbags to the Meredosia area to strengthen the dike there.
Train operations through Clinton were halted by April 19, the same day the gloomy prediction was made that still another six inches to a foot above the crest 23.5 could be expected.
Savanna concentrated its fight on protecting the city's sewage disposal plant.
Residents of East and South Fulton began to make preparations for leaving their homes. By this time a two-foot sandbag dike had been completed atop Highway 84 which runs along the Meredosia dike.
One of the major accidents occurred April 20 when 15 young people who had been working on the river front dike in Clinton were injured when a retaining wall collapsed. Only three remained hospitalized, however. Miraculously enough, this was the only case of serious injuries incurred during the flood fight and there was not a single fatality.
U.S. Highway 67 between Clinton and Dubuque was closed by flood waters. The Lyons-Fulton bridge was closed April 22; so was Highway 84 south of Savanna, Ill.
All previous high water marks went into the discard late April 22 when the river hit 21 feet. Clinton dikes were being built higher and faced with polyethylene film to protect against seepage.
Most of Iowa was declared a disaster area by President Johnson.
Another crest prediction — up again, this time to 24.5.
Traffic was barred east of 3rd Street in the downtown Clinton area so pedestrians would not interfere with movement of flood workers and vehicles. Industries continued their battles to remain in operation. Nitrin, Inc., at Cordova began air lifting employees.
Clinton's downtown stores announced Friday, April 23 they would remain closed until the following Monday. This closing was subsequently extended through the entire week.
The crest was revised upward again to 24.8. The Gateway bridge was closed when water flowed over Highway 30 near the Illinois approach. This completed the isolation of Fulton which now was forced to resort to boats and helicopters for food and other supplies.
Camanche, which on the basis of the original flood stage had considered itself safe, suddenly was besieged with problems. Over 50 families were forced to evacuate their homes. The community was partially isolated when Highway 67 between thee and Clinton was closed to all but truck traffic.
Inside Ft. Johanssen 15 volunteer guardsmen and a civilian worker kept a 24 hour vigil.
By this time many schools throughout the area were closed.
Operations at the giant DuPont plant ceased the night of April 26 after a dike along the south side broke.
The river continued to creep slowly upward under the anxious eyes of those who patrolled them around the clock.
On April 27 the stage was officially recorded as 24.7 and it was believed this was the crest.
But the following day the peak actually was reached — 24.85 — and this will be the mark listed in the official records.
Reaching the crest did not ease the danger. Dikes had been weakened by spasmodic rains and constant pressure of the river. Boils continued to develop and had to be blocked off in minutes.
Here was the situation the day the crest was reached:
At least 850 Clinton homes were surrounded by water; 36 business firms and 16 industrial plants were out of operation.
Over 50 square blocks of the Clinton north end area were inundated. About 1,000 residents had been driven from their homes.
There was 10 feet of water at 20th Avenue North and McKinley St.; over four feet of water at N. 3rd St. and 21st Ave. Water covered Main Ave. as far west as McKinley street, flooding out a number of business firms. Walls and foundations of many homes were buckling under the pressure of tons of water.
In the south of the city conditions were almost as grim. Well over 25 blocks were flooded. There was five feet of water in a four block area of S. 2nd St. between 11th and 15th Ave.; five to seven feet of water in an area at S. 3rd St. and 17th Ave.
As much as eight feet of water lapped at the 21st St. dike north of Harrison Drive.
The entire central district of the city remained dry, thanks to the two dikes. This protected area extended from 10th Ave. N. to 8th Ave. S. and from First St. as far west as Bluff Blvd. Sandbag dikes, however, remained in place in front of most retail stores along 2nd St. and on 5th Ave. in the downtown business area.
Fulton was reeling, but still on its feet.
About 300 East Fulton homes were flooded, with 20 percent of them having water to the eaves. Seven percent had water on the first floor. In the rest of the city there were at least 550 residents with water on the first floor. Many homes were pushed off their foundations by the swift currents; hundreds of foundations were badly damaged.
The Meredosia dike near Albany was still holding and residents of Erie, Hillsdale and other communities were beginning to breathe a little easier.
Low areas along the riverfront in Savanna were flooded but the sewage plant was continuing to operate. Highway 84 south of Savanna was blocked by water and the Savanna-Sabula bridge was closed.
Sabula was an island in the midst of swirling waters but the new dike, erected in 1957, was paying handsome dividends. It prevented the backwaters from sweeping into the community as was the case in 1952.
Some of Green Island was flooded as a result of a dike break long before the crest was reasched. Thousands of acres of bottom land were covered by many feet of water.
Camanche's major problem remained one of transportation. Water was so deep over Highway 67 south of the Highway 30 junction that it was necessary to abandon a bus which had been providing shuttle service and use a flatbed truck.
What did this Great Flood of 1965 cost the Quad County area?
Millions of dollars, of course.
How do you estimate the damage to so many homes, industries and business firms? It would be months before the full extent of the loss could be determined...long after this book was published.
Even the cost of sandbags was no small item. In Clinton alone it was estimated that the total would run at least $150,000. Large sums were spent for the same purpose in other communities.
While much of the labor was volunteered, you must include the cost of trucks and equipment and a thousand-and-one other items of expense.
Industrial and business losses were staggering. For instance, it was estimated that the daily business loss at DuPont because of being shut down ran in the neighborhood of $250,000.
Hundreds and thousands of dollars were spent by business, industry and individuals in private protective measures.
It was reported that Clinton Corn Processing Co. spent $500,000 for its elaborate flood control program which enables it to remain in operation.
Loss in wages pushed the total still higher.
Operational costs of the hundreds of National Guardsmen assigned to flood duty as well as the Coast Guard and other special forces must be included.
Some day we may know the total cost in dollars and cents.
Only by adding to this the intangibles of human suffering and despair will we be able to accurately appraise the extent of the tragedy which history will record as "The Great Flood of 1965."