CLINTON — When a team completes just eight innings of a two-game slate, it could represent a dominant outing.
But it goes both ways.
The Mississippi Athletic Conference opener tumbled downward for the Clinton softball team, as it fell to Davenport West by scores of 12-2 and 14-0, respectively, in a doubleheader Tuesday evening at the Durgin Complex in Clinton.
While the outcome may not look appealing, Clinton head coach Nate Herrig says he has noticed consistent improvement in fundamentals from a young roster that is without a senior.
"They are carrying over the things we have worked on in practice," Herrig said. "They are in the right spots and everyone is where they need to be [on defense]... we are continually trying to preach to do the little things right so we can build on those later on as we go throughout the year."
A trio of Falcons' pitchers stifled the River Queens throughout the evening, combining to allow just four hits while recording 12 strikeouts.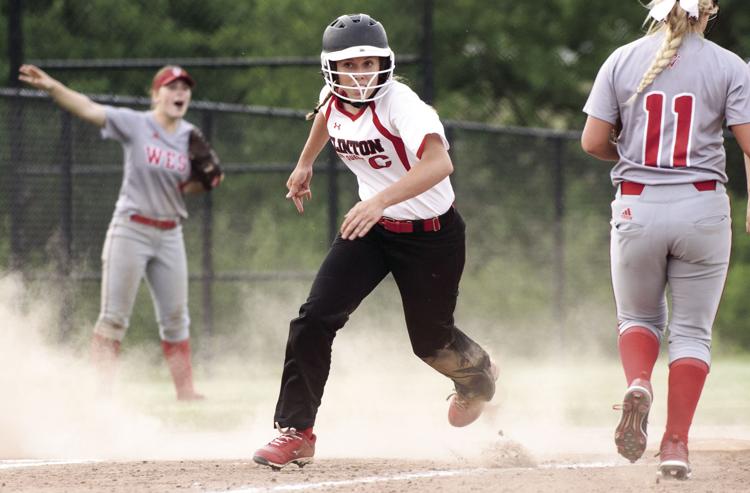 Davenport West's Kaylie Caldwell set the tone in the circle in the first game, yielding only a pair of hits and two runs in four innings. The freshman also fanned eight of the first 10 batters she faced.
Davenport West coach Jake Schumann says he was impressed with Caldwell's performance in her high school career debut.
"She is a good competitor, she has good stuff and throws pretty hard for a ninth grader," Schumann said. "The future is bright for Davenport West with her in the circle."
And it may also be bright for Clinton (0-3), as freshman pitcher Lauren Brennan battled through five innings of work in the first game, showing flashes of hopefulness with her controlled command – a concept not lost on Herrig.
"The biggest thing is she was throwing strikes... I was very pleased with that, she worked on hitting her spots and was around the plate and that's the biggest thing I always preach to those girls," Herrig said.
"There are seven [defenders] behind you for a reason, and you can't mow them all down yourself."
Davenport West (3-1) opened its scoring blitz in the opening inning of the doubleheader, scoring three runs in its first at-bat before adding another two tallies in the second frame.
Jayme Finn and Erica Ralfs both contributed three-hit performances in the first game and Megan Weisrock added a two-run home run to spark a seven-run fifth inning for the Falcons that ultimately forced a 10-run stoppage.
The Davenport West bats stayed warm under humid conditions to ambush the River Queens for eight runs in the first inning of the second game.
Schumann, who in his first year at the helm of the Falcons, says the offensive surplus could provide a sense of momentum and confidence for his team moving forward.
"We had some success tonight," Schumann said. "I was pretty happy with the at-bats we were taking and I think that is what builds confidence."
Clinton's Casy Mandrell led the way at the plate for the River Queens with two hits in the series, including a double in the first inning that narrowly avoided the lawn behind the right field fence.
Both teams return to action Thursday, as Clinton will travel to play Davenport Assumption while the Falcons square off against Pleasant Valley.