CAMANCHE – Just three days removed from the Camanche High School softball team's dramatic walk-off home victory in the Regional quarterfinal, senior Marly Bussa stepped to the plate with the season on the line.
But the Indians were out of magic.
Bussa struck out with runners on first and second base, and Mount Vernon held on to defeat a high-powered Camanche team, 4-2, in the semifinal round Friday night at Camanche High School.
A season-long power surge has dominated the storylines for Camanche, who slugged 49 homers to lead the state. However, coach Kevin Roling said defensive mishaps were a major contributor to the season-ending defeat.
"Offensively, I knew it would be a tight game," Roling said. "Unfortunately we made a couple mistakes on defense that cost us tremendously... we did a couple things we haven't done all year and it came back to cost us."
Mount Vernon's Kristen Elliot reached on an infield error to open the decisive fourth inning, where the Mustangs plated three runs and never looked back.
Bailey Sullivan then hit an infield single to set up Kenzie Ketchum's two-RBI triple on a ball that sent chalk from the left field line into the air before disappearing into the corner.
"I saw that [the ball hit the chalk] and that one went their way," Roling said. "Some nights you are the bug and then some nights you are the windshield."
Mandy Morrical scored Ketchum in the next at-bat on a bloop single into right field to give the Mustangs a 3-1 advantage.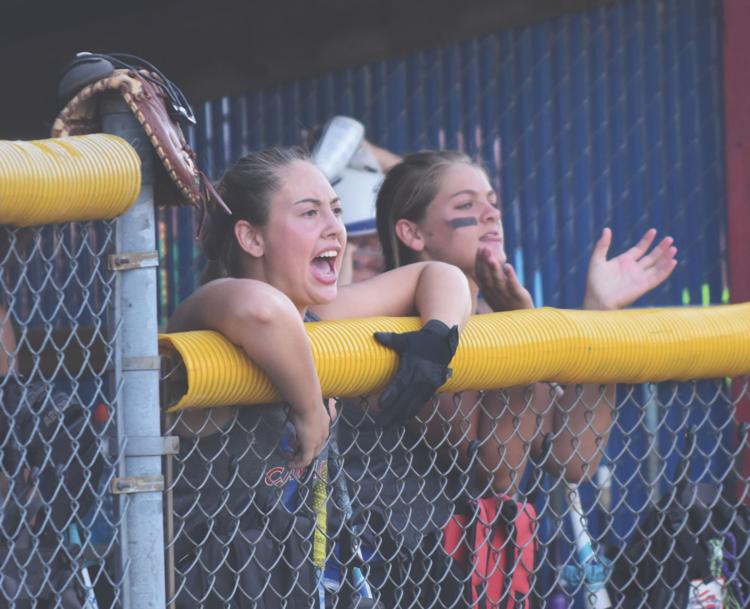 Nonetheless, Camanche had its chances – none more ideal than the fifth inning.
The sibling duo of Camaryn Carstensen and Aubrey Carstensen sparked a threat with consecutive singles to open the frame. After a botched sacrifice attempt, the top-two hitters of the Indians' lineup – Tarah Wehde and Bussa – both popped out in the infield to end the scoring chance.
"That was a missed opportunity for us by all means," Roling said. "But there was more than one mistake tonight that ended up costing us... unfortunately when you play a good team, you can not make mistakes like that."
Mount Vernon pitcher Amanda Roe tossed a complete game, allowing just two runs on six hits and four strike outs.
Mustangs' coach Robin Brand was impressed with the junior pitcher's ability to maneuver out of precarious positions.
"She did a fabulous job," Brand said. "I think one of the biggest things is she just stays poised... she throws her game and has faith in her teammates to back her up."
Camanche's lone runs both came from solo homers, as Wehde snuck one around the left field foul pole in the first inning and Abby Stock crushed her fifth of the season in the sixth inning.
Indians' catcher Madi Parson, who finished the game 1-for-3 with a double, said the team's performance was uncharacteristic.
"That game was not us for sure," Parson said. "We're not the type to not out-hit a team and we just didn't have those timely hits or the energy that Mount Vernon brought tonight."
Despite the disappointment, Roling kept an optimistic perspective. After all, Camanche will graduate just one senior (Bussa), appearing primed to build on the program's most successful season in over 10 years.
"This group has came so far because we used to play as individuals but we definitely play like a team now," Roling said. "They have figured it out and it's all falling in line for us... we are pretty excited for the upcoming year."
Mount Vernon will advance to the Regional final, traveling to Davenport Assumption for a 7 p.m. contest Monday night.