GOOSE LAKE – As the roster turnout for the Northeast High School football team continues to decline, the Rebels have failed to capture more than two wins in a season since 2010.
But coach Jerad Block isn't worried about last season's shortcomings in the win-loss column. Nor is he losing sleep over the roster that has dwindled down to 28 players — the team nearly had 40 in 2016 — as it prepares to open the 2018 campaign against Camanche on Friday.
Rather, he has chosen to narrow his attention to the present.
"We are light in numbers and are trying to do the best with what we have," Block said. "We can't worry about the kids that aren't here, we are focusing on the kids that are here and trying to increase their level of play."
There is reason to be encouraged in Goose Lake this season, too, as this season has the potential to be one of the most successful campaigns in recent memory.
For starters, Northeast has moved down a class in the state's newly realigned districts. The Rebels dropped from 2A competition to 1A, where the group hopes to pick on teams their own size, so to speak.
Northeast will play competition more proportionate to its enrollment figures, which can only radiate optimism after posting a 1-8 record last season with three losses settled by four points or less.
"We are actually going to get a true test of where we actually are. We have been in the 2A districts in the past so with us having a true 1A schedule now, we are going to see where we really stack up," Block said. "It is a lot different when the high school has 280 kids walking in the hallway when we only have 190."
Gone are the powerhouses of Williamsburg and Mount Vernon (which both tagged the Rebels for 62 points last season) and in are familiar faces from the River Valley Conference: Bellevue, Cascade, North Cedar and West Branch.
"We know a lot of the teams because a lot of them are in the conference so we know the kids and their athleticism," Block said.
Last season, Northeast relied heavily on a potent ariel attack, as quarterback Nate Lange led the Class 2A District No. 5 in passing yards with 1,540 yards in league contests.
Lange expects more of the same in his senior campaign, especially with the return of Dawson Stoll (668 receiving yards) and Braeden Hoyer (474 yards), who ranked first and third, respectively, on the team last season.
"We have a lot of good returning athletes and we have some young guys stepping up so just building from there," Lange said. "We have a lot of seniors left so we are filling in those spots. We are athletic, strong and have been working hard in the weight room."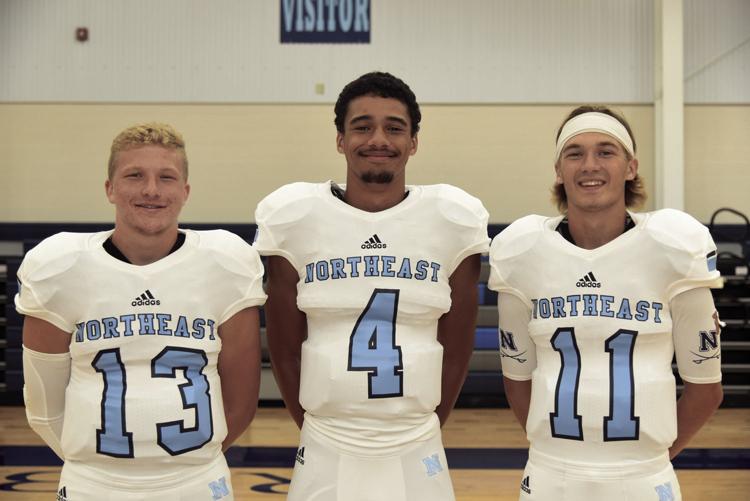 While the receiving core graduated the team's No. 2 option from a year ago in Luke Empen, Lange is expecting an uprise in productivity from wideouts Trey McAleer and Jaren Rathje.
"Not having Luke this year will definitely be a loss but we also have Jaren and Trey stepping up in those slot spots," Lange said. "Those guys are going to be big for us... they are both big, athletic and shifty.
"Where we lost Luke, we are definitely making up for with those two guys stepping up in addition to Dawson and Braeden."
And while the Rebels know the ability of their passing attack, Block says the offensive scheme could be more diverse this season.
"With our offensive line and running game being what it has been in the last couple years, we have had to rely heavily on the pass," Block said. "But with the line coming along and Dakota returning in the backfield, I think we are going to be able to stay true to what we want… we are excited to see how that will pan out."
"We are going to be young and inexperienced"   
Flashy offenses can be easily nullified if the team's defense is unable to keep an opponent off the scoreboard.
Last season, Northeast struggled on defense (the Rebels allowed 40 points or more six times) and will be without Connor Bodman, who led the team in tackles a season ago, as well as Travis Mickelson and Empen, who rounded out the team's top-four in that category.
Block acknowledged uncertainty in one position in particular: linebacker.
"When it comes to the linebackers, we are going to be young and inexperienced... the defensive line will be OK, we will have some experience there but we are going to need to keep a close eye on the linebackers," Block said. "That will probably be the real test of how things actually will go."
In the secondary, the Rebels will rely on skill players to compete on both sides of the ball, as Lange and McAleer are expected to see snaps in that position, among others.
Northeast and Camanche are set to kick off at 7 p.m. Friday at Camanche High School.