CLINTON – The morning dew is still fresh on the windshields of a couple dozen cars parked behind the south end zone of Coan Field at Clinton High School.
As the sun continues to find the courage to rise above the city, 8th Avenue is eerily quiet. Until the door to the strength and conditioning room (a cellar-like room tucked away on the lower level of the school building) is opened, that is.
The River Kings and Queens are working.
Upbeat music echoes out of the loud speakers and weights slam onto the floor, but Mike Griswold's voice soars above the rhythmic chaos, barking instructions to the 20 or so CHS volleyball players that are working out on Tuesday morning.
Brooke Mulholland, a junior member of the CHS volleyball team, said her motivation to actively participate in these summer sessions is simple – even at 7 a.m.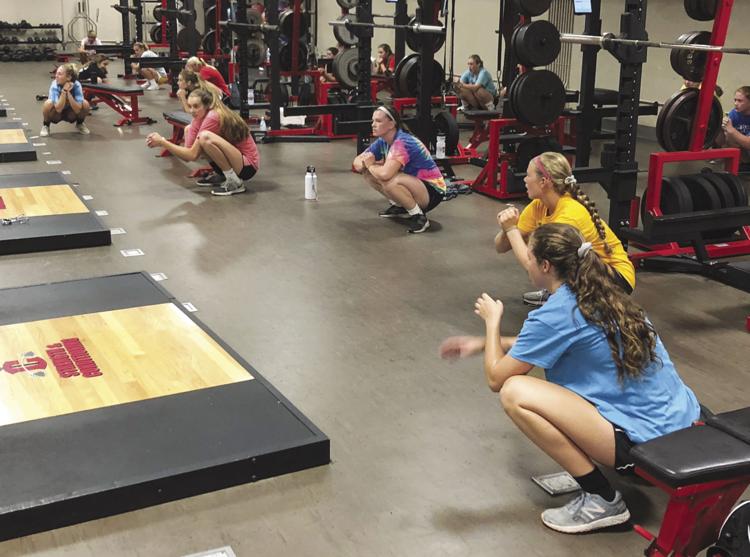 "We want to have a winning season," Mulholland said. "We like to say that we play for each other, so making each other better is going to make the team better."
Clinton was one of the last schools in the Mississippi Athletic Conference to adopt a rigid strength program, but it hasn't hesitated to make up for lost time, especially with Griswold's vibrance at the helm.
Four years ago, the school enacted a policy to require student-athletes to work out at least twice a week. Failed requirements are met with consequences.
"We needed the requirement," Griswold said. "We were physically behind when we got to games and it is going to take a while, we still aren't there yet, but it is getting a lot better."
This summer marked the highest attended offseason training since the program's inception, as over 100 athletes were awarded T-shirts to celebrate an attendance rate of 90 percent or higher.
"This is the most kids we have ever had… we helped over 250 kids this summer and have struggled to even reach 200 in the past," Griswold said. "We also have more kids that come in and do this on their own, which is something we are really proud of."
Motivation plays a critical role in conditioning – especially with high school athletes – and Mulholland says Griswold checks all of the boxes.
"He's a great coach, he always pushes everyone to do their very best," Mulholland said. "He knows everyone's highest potential so if they are lacking one day, he will push you to be your best... he does a great job of holding everyone accountable."
The program has reached every athletic team at the school, from golf to cheerleading to cross country. Griswold says the skill and experience levels range across the school's 20-plus teams but the exercise program is still one size fits all, so to speak.
"We do a lot of research and go to clinics and things like that to learn but the biggest thing is that we are ground based," Griswold said. "Everyone is doing the same thing consistently, which had led to a decrease in injuries and that is our number one priority."
While Griswold certainly deserves the bulk of the credit for the program's revamped training regimen, he is quick to acknowledge those who have helped along the way.
"The coaches have really helped us out, they have came a long ways as well in helping us get everyone in here and making it [workout sessions] an important part of their program rather than just something extra," Griswold said.
"Our administration, coaches, parents and kids have really brought into this process and we are really proud of the progress we have made."