Editor's note: October is National Breast Cancer Awareness Month. Each Thursday this month, the Clinton Herald will publish stories about local survivors and health information to support breast cancer awareness.
She has a 15-year-old daughter at home, a husband and a job at a local day care. But, so far, breast cancer hasn't slowed Debbie Benson as she lives out her busy day-to-day life.
A breast cancer patient whose lump was detected seven months ago, she is one of the more than 250,000 women – an estimated 2,730 of them in Iowa – expected to be diagnosed with breast cancer in 2019.
Soon after her lump was found, 45-year-old Benson went in for a mammogram.
"They knew right away it was cancer," she explained of the 5.2-centimeter lump in her right breast that turned out to be triple positive breast cancer.
What followed was a partial mastectomy March 7 at MercyOne in Clinton and 16 rounds of chemotherapy. She currently is undergoing radiation treatments, 15-minute sessions each day, Monday through Friday. She was on her fifth treatment Monday with 28 more to go.
Her head covered with a floral scarf to match her shirt, Benson said Monday that she hasn't been ill; however, there were times when it was a struggle to eat because she quickly felt full. That happened after a bout with dehydration.
"Knock on wood, I haven't gotten sick," she said. "I only missed work for my appointments and chemo."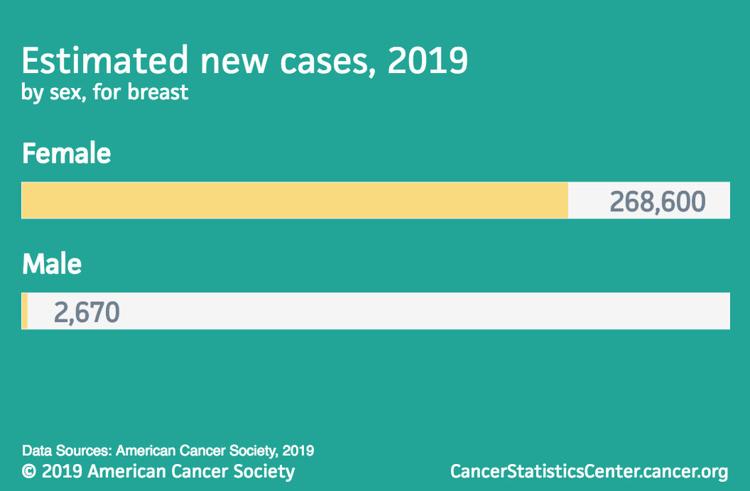 A connection to cancer
Breast cancer starts when cells in the breast begin to grow out of control, according to the American Cancer Society. These cells usually form a tumor that can often be seen on an X-ray or felt as a lump, which is what happened when Benson's husband found it in February.
Breast cancer can spread when the cancer cells get into the blood or lymph system and are carried to other parts of the body. In Benson's case, doctors decided to remove 16 lymph nodes to see if cancer had spread into them.
Of the 16 checked, three of Benson's were found to be cancerous.
But how did it happen?
She remembers four distinct questions that she was asked when her breast cancer was first detected: Do you smoke? Do you drink? Do you take birth control? What is your caffeine intake?
The answers: No, no, no, and "I gave up pop eight years ago."
It all came down to her genetics, she said. Benson is one of seven siblings and of the seven, her brother had spinal cancer and died at the age of 34. Benson's mother had breast and ovarian cancer. She died of an aneurysm at the age of 47.
"My oldest sister has had cancer three times, and she's beaten all of them. She had breast cancer, thyroid cancer and in the roof of her mouth, I believe it was," she said.
While her older sister was tested and it was determined she didn't have the cancer gene, doctors say she should have the testing done again because genetic testing has improved in the years since she had the test, Benson said. Her younger sister has had genetic testing and doesn't carry the gene.
Benson also underwent genetic testing after her diagnosis, but those results weren't back before her partial mastectomy. She learned after the surgery about her BRCA 1 gene.
"I have the cancer gene," she said.
According to the Centers for Disease Control, BRCA1 and BRCA2 genes are the genes most commonly affected in hereditary breast and ovarian cancer. Normally, the BRCA1 and BRCA2 genes protect women from getting certain cancers. But certain mutations in the BRCA1 and BRCA2 genes prevent them from working properly; those who inherit one of these mutations are more likely to get breast, ovarian, and other cancers. Because BRCA1 and BRCA2 mutations are inherited, family members with BRCA1 or BRCA2 mutations usually share the same mutation.
The CDC says that not every woman who has a BRCA1 or BRCA2 gene mutation will get breast or ovarian cancer, but having a gene mutation puts a woman at an increased risk for these cancers. About 50 out of 100 women with a BRCA1 or BRCA2 gene mutation will get breast cancer by the time they turn 70 years old, compared to only 7 out of 100 women in the general United States population.
Benson said her two daughters, Elizabeth, 21, and Jackie, 15, will be able to have genetic testing when they turn 25. It can be done at MercyOne Clinton, with the testing sent away and the results returned to Clinton.
A new lifestyle
Benson has made some changes in the wake of her cancer diagnosis.
"It's changed the way I eat. I used to eat junk food all the time," she said. "I'm starting to eat fruits and vegetables and more healthy stuff. And I walk a lot more."
She had long hair, then cut it to her shoulders when she had her first chemo treatment. She later had it buzzed short, but when those little spikes of hair began feeling sharp and painful against her skin, she shaved it all off.
"To me that was harder than losing my breast," she said of her hair loss.
Her hair is just starting to grow back, she said excitedly as she removed her scarf and rubbed the dark tufts of hair on her scalp.
The future
She knows that when her radiation is complete, she will have her remaining breast removed and a hysterectomy. Those will be needed, she said, because of her specific type of cancer. Because of this cancer's link to estrogen production – feeding off it – she runs a greater risk of cancer reoccurring in her breast and ovaries, so the surgeries will be done to reduce her risk. She also will have to go in for medication to block the hormones, every three weeks for a year.
Her plans are to keep working – the children give her an emotional boost.
"It helps working at the day care," she said, adding the kids like rubbing her scalp. "They felt my bald head and they like to feel it coming back in."
And through it all, she said, she will do her best to not let negativity creep in and get her down.
"A lot of people said it's all mind over matter," she said. "And it is. You've got to stay positive."
Next week: Jeanne Etheridge of Clinton will share details about her breast cancer journey.