CLINTON — Iowa Gov. Kim Reynolds is never at a loss for words when she's talking about vocational apprenticeship programs in Iowa schools.
Reynolds commended the Clinton School District during a visit Wednesday, calling it a real leader in the state for offering a work-based welding program this year.
Clinton is the 11th district in the state to start such a program, Reynolds said. "They are exceptional. A game changer."
The programs pair vocational classes with employment to give students experience and school credit at the same time. Recognizing that not all students need a traditional four-year degree, apprenticeship programs allow students to explore during high school what vocations may interest them.
"They start to find out what they like," Reynolds said.
The programs also address the problem of increasing student loan debt. Unlike students who pay for college during four years of classes, these students are paid for the work they do while learning.
"They earn while they learn," Reynolds said. "They go right out of high school into a business."
As the governor of Iowa, Reynolds wants to keep young people in the state. Students don't know what is available in Iowa, Reynolds said. She hopes these programs make students aware of opportunities that are available in Iowa and will encourage them to stay here.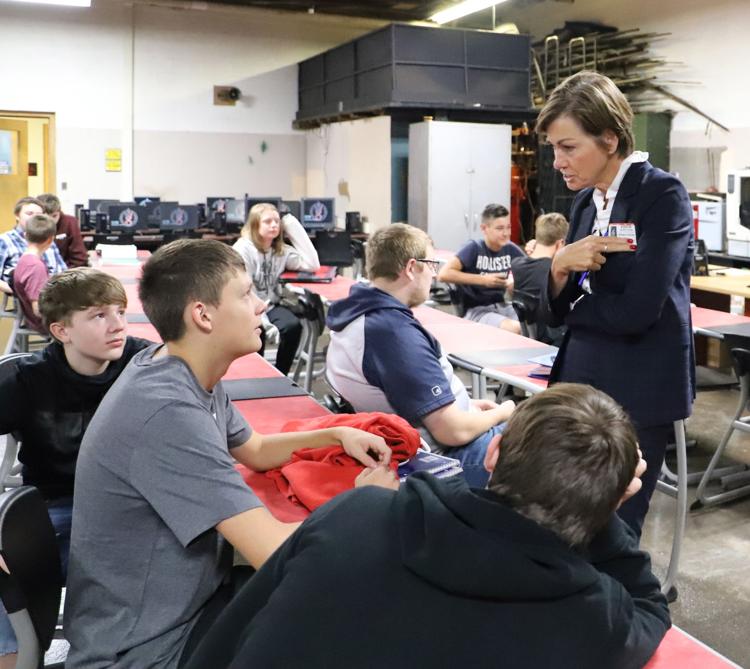 "And they're getting paid for it," Reynolds said. A senior in high school working a half day as a welder can make enough to buy a car. After graduation they can walk into full-time jobs that pay $40,000 a year, Reynolds said.
Many employers pay for additional education for employees earning advanced degrees, Reynolds said, so students who don't want to stop with a two year certification still have the option to pursue advanced degrees, often at no cost to themselves.
Reynolds has visited other program of this kind in the state, she said.
"You watch how the kids respond. They love it," she's said. "It raises their awareness of what's [in Iowa]."
Reynolds said about 50 more Iowa school districts are looking at apprenticeship programs.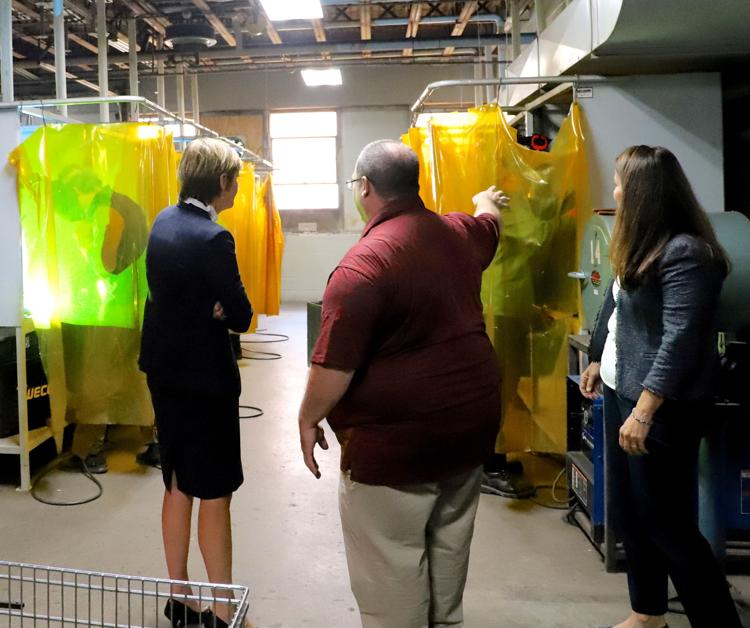 Clinton High School Industrial Technology Teacher Ted Lamb introduced the governor to his class Wednesday and explained the new program. Students who follow the apprenticeship path will be eligible to work for a local industry as juniors for $12 an hour. During their senior years they'd work half days at $13 an hour.
High school graduates will remain with the companies they apprenticed with for a year, earning $14 an hour. After that, "The company could opt to keep you" at normal wages, Lamb said, or the student could go elsewhere with 2 1/2 years of experience and a certification accepted anywhere in the U.S.
As employees, the high schoolers will have to meet industry standards, Lamb said. "We'll have the same standards in class. It'll be second nature to you."
Lamb said that John Deere estimates that it will be about 600,000 welders short of its needs in the next five years due to employee retirement. That represents job opportunities for Clinton High School students.
"Work-based learning is like test-driving a career," Reynolds told the students. "They really are good-paying careers."
Clinton Regional Development Corp. and Clinton Community College have worked with Clinton High School on the project. Talks with potential employers began last week, said Andy Sokolovich, existing industry manager for CRDC. He knows of four companies that are interested in hiring welding students in the program.
District Superintendent Gary DeLacy told the governor that he hopes to expand the program to other vocations, such as culinary arts, building trades and health care, in the future.