CLINTON — In the weeks following the Jan. 5 explosion at Clinton's ADM plant that took the life of Clinton Fire Lt. Eric Hosette and critically injured firefighter Adam Cain, Clinton's firefighters have learned something very important.
Residents from Clinton and the surrounding area have their backs.
Fundraisers, T-shirt and clothing sales, red lights on front porches on every block, and other initiatives have had members of the department in awe since the tragic accident. Ever since the explosion, residents have used their social media pages to promote events and sales that direct proceeds to the Hosette and Cain families as well as the department itself.
This week, department members reflected on the past month, and the amazing support they've seen in the wake of the accident.
"It's been overwhelming, in such a good way," Clinton Fire Chief Mike Brown said Tuesday. "To know that so many people and groups support us, it's been incredible."
Brown said he's seen young children donate birthday money to the cause, all the way up to local organizations donating "thousands of dollars." Though he doesn't have an amount in mind as to what the community has donated since Jan. 5, he simply said, "It is very substantial."
The donations, benefits, and daily interactions with local community members and fellow area fire departments have helped Clinton Fire through a very dark hour.
"Honestly, it's been incredible," Clinton firefighter Matt Cain, who is Adam's brother, said. "From being at the hospital from the time this all started, all the way even up to now, we still have people stop in. Never once have we really felt alone in this. People from all over the place, not just in town, are reaching out to us. It's been incredible."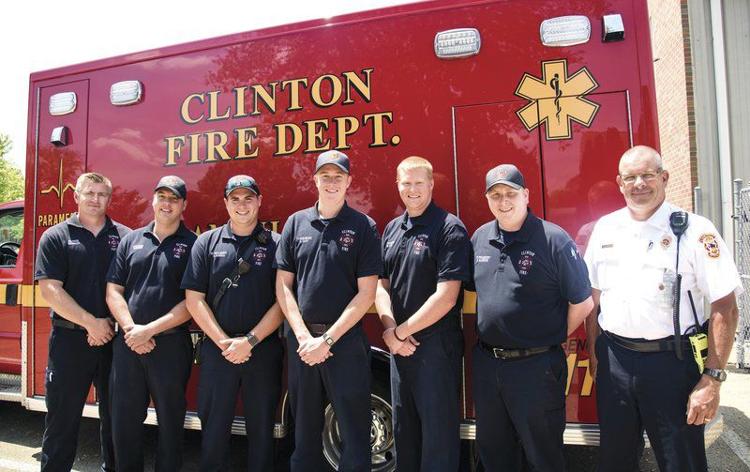 Brown said the group has been humbled by the number of benefit events held in the past month, with most members of the department attending at least one or two, if not more, since that time.
The Clinton High School and Clinton Middle School Leo Club hosted a supportive event this past weekend at the Millennium Ballroom in Goose Lake. Residents turned out in droves to shine a light on the brave men and women of the department.
"That was overwhelming," Clinton Fire Lt. Ed Wing said of the event. "Just the number of people, and the amount of stuff that was donated from the community, it was really nice."
In the weeks since the accident, a flood of emotions has washed over Central Fire Station. Initially, it was all about remembering the fearless actions of Hosette and Cain. Then came the somber day, Jan. 12, when hundreds gathered from all across the state and region to lay Hosette to rest.
And, then, a glimmer of hope: Firefighter Cain was welcomed home Jan. 25 after being deemed healthy enough to leave the University of Iowa Hospitals and Clinics in Iowa City. His release came 20 days after he was injured.
On Tuesday, Matt Cain reflected on the whirlwind of activity over the last month and how it has affected the department.
"It's been emotional, like we've been on a roller coaster of emotions," Cain said. "Being with Adam at the hospital while also grieving the loss of Eric... just seeing how everyone came together to support the families alone and the fire department itself."
Clinton Fire Engineer Jordan Moore highlighted the countless fire departments from outside Clinton who came to the group's aid in the immediate aftermath of the Jan. 5 explosion. Departments from all over Eastern Iowa and Western Illinois made their way to the city, covering shifts and offering their support for a fellow department.
That fellowship was truly appreciated, Moore said, but not unexpected.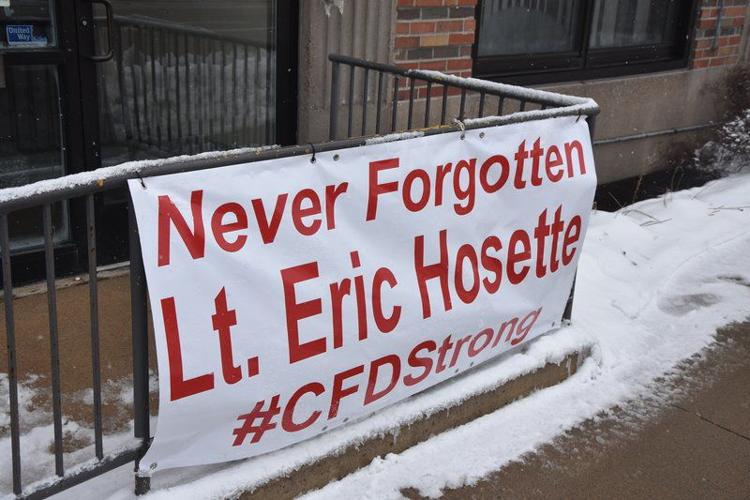 "Nobody wants something like this to happen, but when it does, that's what your other departments are for," Moore said. "Just making sure we weren't alone through it was what I noticed. They covered the stations for us, things like that. Just for them to come to our city, and drive an apparatus they've never seen before, working in a city they've never been in. That was pretty huge."