CLINTON — On a snowy day in January, a family laid to rest a son, a husband, a father.
They weren't alone.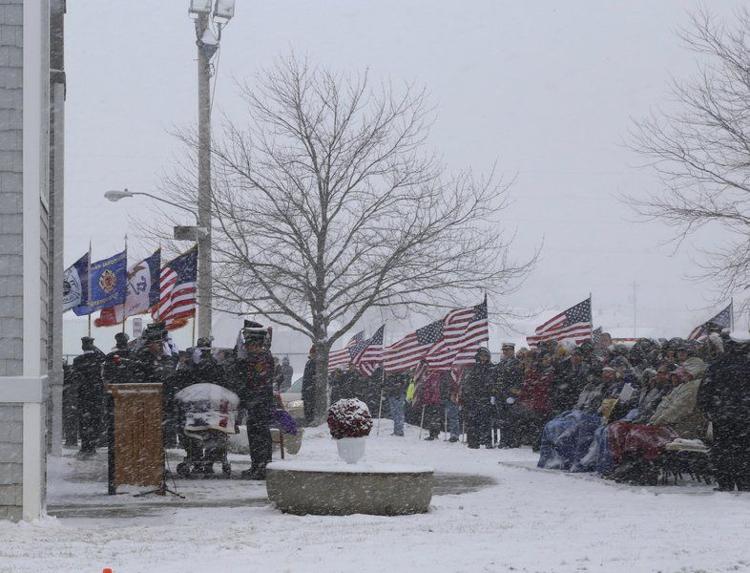 Hundreds of men and women in uniform were joined by Iowa Gov. Kim Reynolds, U.S. Congressman Dave Loebsack, and residents from Clinton and throughout the region in paying their respects to Clinton Fire Lt. Eric Hosette, who was killed in the line of duty Jan. 5 while fighting a fire at Clinton's Archer Daniels Midland plant.
"Words have a poor power to alleviate the pain you feel now," Clinton Mayor Mark Vulich told the family during the public memorial service. "We grieve with you."
Hosette's family sat in front of the stage at Clinton's Riverview Bandshell. Behind them stood hundreds of firefighters, emergency medical technicians, paramedics and other public servants from near and far.
The temperature hovered around 30 degrees, and a brisk wind drove the snow that fell before, during and after the hour-long service.
Fire departments from Camanche, where Hosette began his career, and Charlotte, where he was recently selected fire chief, took prominent positions in the crowd. Other departments across the Midwest filled in behind. The public watched from outside the metal railings.
"Today we thank God for the life of our fallen firefighter, Lt. Eric Hosette," Vulich said. "Eric is at rest. Eric may no longer be among us, but he won't be forgotten."
Vulich described Hosette as a brave man.
"He was a firefighter to the core," he said, also encouraging the crowd to find an occasion this week to thank a firefighter. "Too often we take our firefighters for granted."
The presence of so many emergency workers from across the Midwest reminded Clinton Fire Chief Mike Brown of how close the family of firefighters is, he said.
"You've all gone above and beyond to help us through this," he said.
Brown also asked mourners to pray for Clinton firefighter Adam Cain, who was "fighting for his life" at the University of Iowa Hospitals and Clinics in Iowa City. Cain sustained life-threatening injuries in the ADM fire and resulting explosion that killed Hosette.
Brown described Hosette as "an awesome young man." Around the firehouse, he was often addressed as Hoss, Brown said.
"And when you needed something done, you looked for Hoss," he said.
Hosette was the driving force behind so many things, Brown said. He took over the Citizens Fire Academy program. He was mechanically gifted. Brown remembered working with Hosette's grandfather, Charlotte Fire Chief Dick Grimm. Grimm often talked about Eric and would have been happy to see him make the rank of lieutenant, Brown said.
Hosette had a bright future with the Clinton Fire Department, and would have tested for battalion chief in the spring, Brown said. He was never afraid to try something new.
"There is no way that we will ever be the same," Brown said. "How would Eric have wanted us to react to this?"
He would want the department to grow, Brown said. The department will make itself stronger.
"We need to enjoy one another's company. Lift each other up every day so we can move forward. That will be hard," said Brown, adding that some days they will question why this happened.
"Our commitment doesn't end after this ceremony today. It only begins," Brown told Hosette's family. "We promise to be there for you in Eric's place forever."
He said that whatever the family needs, the firefighters will provide.
"We know that is what Eric would have done," he said.
Battalion Chief Jeff Chapman described for the crowd the customs that signal the end of the watch of a fallen comrade, including the crossed ladders of two firetrucks on Riverview Drive above the bandshell – a custom only for firefighters lost in the line of duty – that symbolize his bridge to the next life.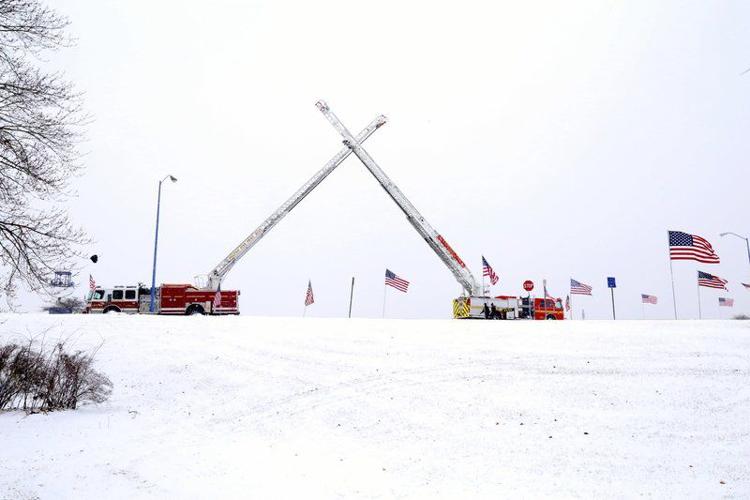 The tolling of the bell ending Hosette's watch was followed by "Amazing Grace" played on bagpipes. Firefighters presented helmets to the family, and Clinton County Communications provided the last call.
"Having heard no response from Lt. Hosette, we know that Eric has responded to his last call," the county dispatcher announced over the scanner. "Law Center clear at 12:37 hours."
Firefighters saluted as Taps was played.
Following the service, fire equipment and law enforcement vehicles formed a procession that stopped downtown traffic for about 45 minutes and then traveled to Charlotte for a private service and Hosette's interment.