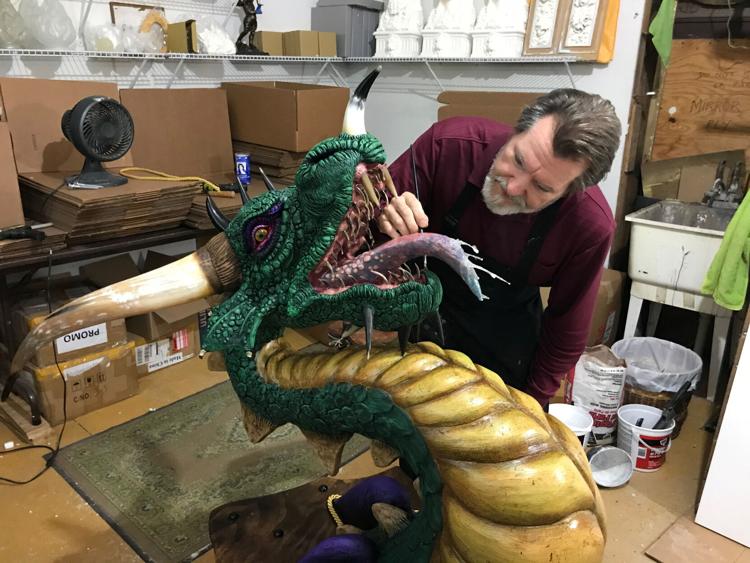 SAVANNA, Ill. — A northwestern Illinois castle reopening for public tours is offering some new sights to see this fall, including a new Memorial Hall that includes life-size replicas of RMS Titanic artifacts.
"There has never been a better time to enjoy the 26 rooms open to the public than now," says artist Alan St. George, who owns and resides at the castle known as Havencrest. "You'll view Havencrest in your own space at your own pace."
Tours are from 10 a.m. to 5 p.m. Saturdays and Sundays through Nov. 1, with the last tour admitted at 4 p.m. St. George said that in light of COVID-19 concerns, hand-sanitizing stations are provided and masks are highly recommended.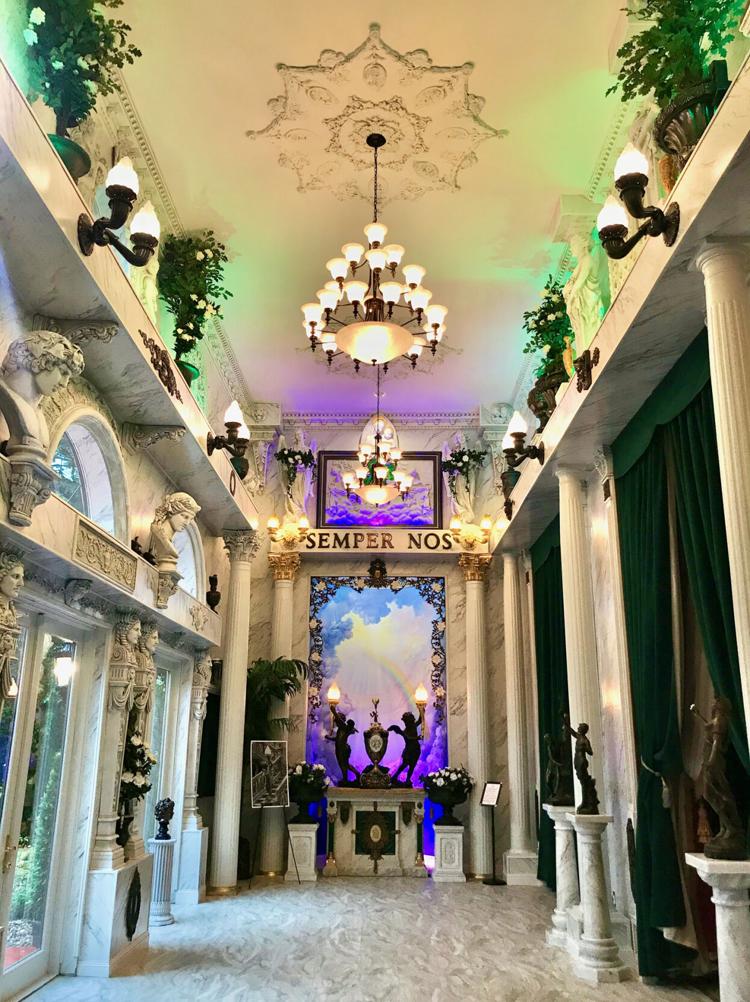 He said visitors to Havencrest will view, for the first time, the new Memorial Hall. The Neo-classical inspired room, which is 40 feet long and 20 feet high, is framed with tall white columns against Carrara-style marble walls. On the ceiling are elaborate Plaster of Paris chandelier plates over 6 feet in diameter, cast from 150-year-old molds, and hand painted for an antique effect.
The large hall holds full-sized replicas of the original RMS Titanic first-class sculptures, including the famous Grand Staircase clock, bronze cherub lamps, and life-sized goddesses from Titanic's first-class Dining Saloon. St. George, who lectures to Titanic societies throughout the world, researched in France and the UK to study and photograph prototypes to get the sculptures the exact size and form of Titanic's originals.
"Little ol' Savanna, Illinois is now the only venue in the world that has this collection of historically accurate, full-sized replicas from RMS Titanic," St. George said. "Not even Belfast, where the ship was originally built, does," 67-year-old St. George said proudly.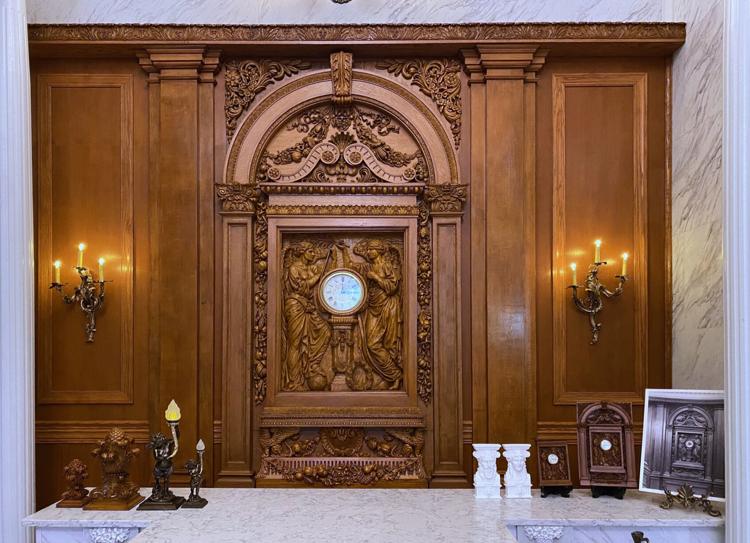 The grand clock alone stands at over 12 feet tall. St. George stopped the clock permanently at 3 o'clock. This has a dual meaning: The room memorializes RMS Titanic, but will also hold the final remains of St. George and his late wife, Adrianne, who were married at 3 o'clock.
"Visitors to Havencrest already know that clocks throughout our home have been stopped at 3 to commemorate our marriage, but traditionally when collectors of my work stop one of my smaller Titanic replica clocks, they stop them at 2:20, which was the time of the tragic sinking," he explained. "However, aside from commemorating the time of our sacred vows, I feel that on that tragic night of April 15, 1912, by 3 o'clock, all of the tragic victims in the freezing cold North Atlantic would have found everlasting peace."
Opposite the clock, on the Memorial Hall's south end, will be the final resting place for the St. Georges' ashes. Alan, who celebrated his 44th year at Havencrest in May, spent many weeks this winter creating a custom crematory urn adorned with the couples' personal symbols of oak and gardenia, and made of bronze, brass, malachite stone, porcelain, and wood.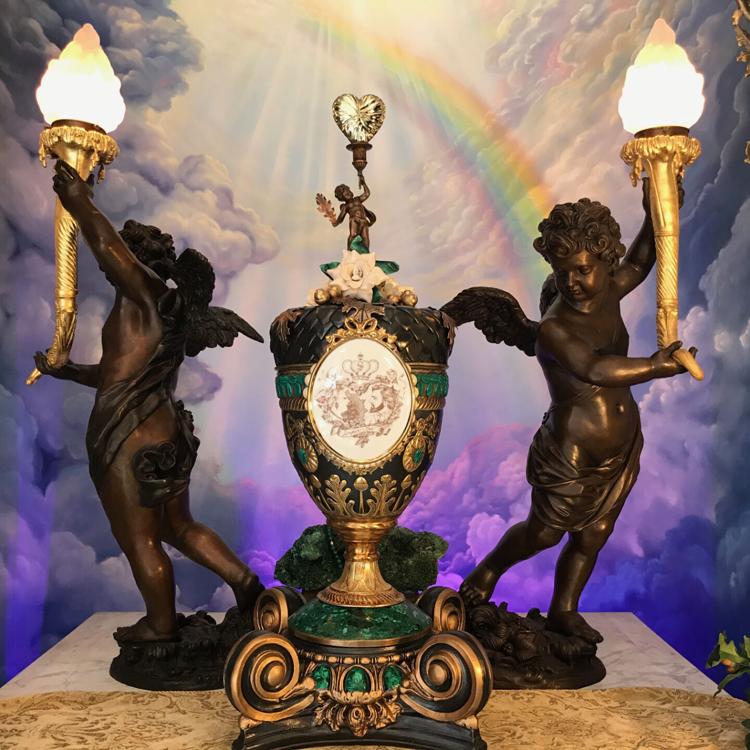 "Adrianne's favorite flower was the gardenia, and my favorite tree is the oak," Alan said. The oversized urn stands between his two historically accurate sculptures of the bronze cherub lamps from RMS Titanic's first-class Grand Staircase. Alan took a trip to the Palace of Versailles in April 2017, and brought along friend and Chicago Symphony and Lyric Opera photographer Dan Rest, to document the Titanic sculptor's prototype with 250 photographs.
They made a complete circle of the enormous Bassin du Nord reflecting pool behind the palace twice to capture everything as the sunlight changed.
"Adrianne loved and collected cherubs all of her life from early childhood, and there are hundreds in Havencrest. Now, the largest ones I have ever sculpted in bronze will flank our final resting place. I think she would be pleased with that," Alan said.
Along the east wall windows are his exact replicas of the goddess and god caryatids that also flanked the windows of the Titanic's first-class Dining Saloon. Large archival photos of the ship's original iconic sculptures dot the room.
As visitors leave the Memorial Hall they exit into a picturesque and private statuary garden, opened now for the first time, and planted with large, 200-year-old oak trees long before the Greenleafs built the original hilltop home in 1901.
A wide and winding red walkway called the Promenade Amoureaux (Romantic Walk), diminishes as you pass the Musician's Terrace, creating a "forced perspective" effect along its 300 foot length. It terminates at a circular platform, where an ironwork gazebo is planned to be, and holds a stone block with an original poem by Alan titled "Oak and Gardenia".
The couple used to walk to this spot behind Havencrest with their first dog, Cartier.
"I have fond recollections of Adrianne enjoying the view of Havencrest from this spot, so I put those memories in the poem," he said.
Also new for visitors to the castle this year is a life-sized dragon's head, recently sculpted by Alan, and mounted in the Dragon Gazebo by castle crew members Tanner and Brandon Holmbo.
"We are having a 'name-the-dragon' contest with a $50 shopping spree in our gift shoppe as the prize," Alan said. "Already there are some terrific names entered on our Facebook page, and people can leave their entries there, by postal mail, or write to us on our website," he added.
Alan acknowledged both Brandon and Tanner Holmbo for their efforts this past year in getting the Memorial Hall completed for visitors, and the entire Holmbo family of Savanna for their work at the castle getting everything in shape for the tours.
Havencrest Castle is also welcoming visitors for the first time into the completely finished Beaux Arts Ballroom. This 40-by-60-foot room is the largest in the home and took 25 years to complete.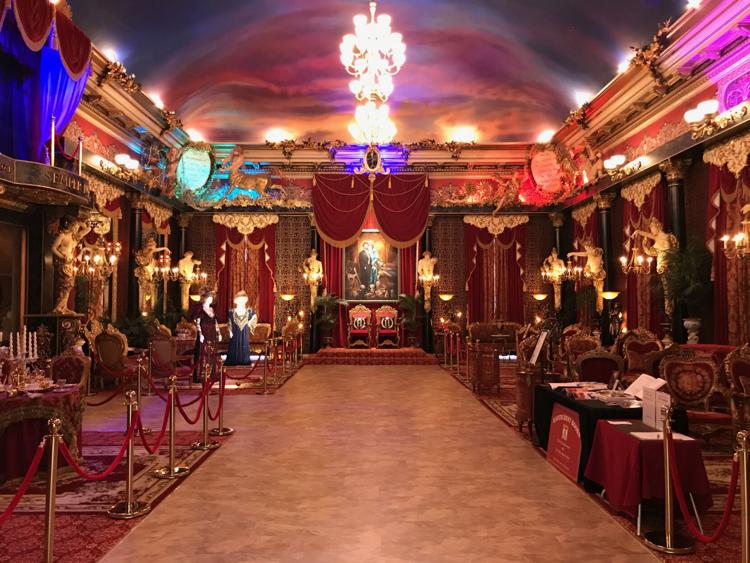 "I started making the 25 life-sized figures that populate the upper walls, and hold the chandeliers, right after our 10th wedding anniversary in 1985. We just laid down the floor this spring," Alan said.
The barrel-vaulted ceiling is 25 feet high and is painted with Adrianne's unique concept of all times of day in one firmament. The east end of the ceiling has the sun rising, the middle has a midnight sky with moon and stars, and the west end has a beautiful orange sherbet-colored sunset.
"Aside from the tours, we plan to offer special events in this room," said Alan. "I can already picture musical and magical performances on this little stage, and expert ballroom dance demonstrators gliding across the whole length of this polished floor! People may not think first of Savanna for high culture, but that is already changing. The wonderful thing about our town, which has been my home now for 44 years, is the diversity of people and culture. You can get off your motorcycle in your jeans, and suddenly be transported to distant lands and long forgotten eras as you go from room to room here."
"All of the castle crew, including myself, will be in costume on Halloween, Saturday, Oct. 31, during the tours, as we are doing every year, and children under 18 are admitted free that day with or without a costume," he said.
He said Tammy Holmbo came up with the idea to give a "Tower Tour" up to the exclusive five-story Crystal Tower to the winning costume-wearers," he said.
"The 75-foot-high observatory on the fifth floor is not on our regular tours, so this is a special opportunity open to kids and adults alike to dress up at a time when many Halloween events are being cancelled. We'll give the prize to second and third runner-ups as well in both the children's and adult categories," he said.