Founded in 1856, the Clinton Herald is the Gateway area's source for local news and sports.
Mission
The Clinton Herald will be the dependable source for local news; provide our readers a public forum to express their needs, interests and concerns; and engage in community activities that enhance the image and character of our newspaper and our communities.
CNHI
The Clinton Herald is a part of CNHI, one of the leading publishers of local news and information in the United States.
Founded in 1997, CNHI's newspapers, websites and niche publications serve more than 130 communities throughout the United States.
CNHI publications strive to be leading providers of local news and information in their communities. CNHI values excellence, integrity, respect for employees and a customer focus in all of its operations.
CNHI is a privately owned company based in Montgomery, Alabama.
For more information visit www.cnhi.com.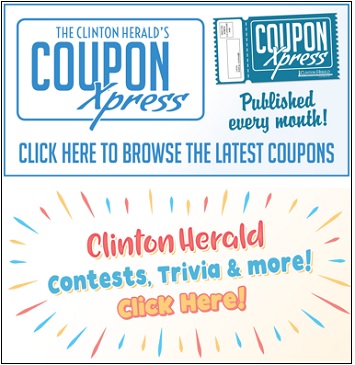 Karen Joanne Bartachek, 84, of Maquoketa, IA passed away June 13, 2021 at Crestridge Care Center in Maquoketa. Hrabak-Neuhaus Funeral Service is assisting the family. www.neuhausfuneralservice.com
DEWITT [mdash] Jean Gravert, 95, formerly of Delmar, Iowa, passed away peacefully in her daughter's home in Iowa City. Per her wishes, there will be no visitation. A Celebration of Life will be held Sunday, July 25, 2021, from 1:00 until 4:00 p.m. at Grossman Hall in Delmar. Arrangements are…
GREENBACK [mdash] John James Motroni, 74, of Greenback, TN passed away June 11, 2021 at his home. He was a U S Army Veteran and served in Korea during the Vietnam War. His military education and training included Code of Conduct, Military Justice, and Survival Escape and Evasion Training. He…