CLINTON — Finally, the area's finest track and field athletes found pleasant outdoor conditions.
The breezy, 70-degree day was optimal for the 99th annual Gateway Classic, which featured a balanced mix of several local teams and programs across the state line at the River King and Queen Athletic Complex.
The event spurred several personal bests for sprinters and long-distance runners alike, and all competitors seemed to have an extra bounce in their step after suffering through solemn conditions for the majority of the spring season.
"This is a day we always circle on the calendar," Clinton coach Kellen Schneeberger said. "A really good atmopshere tonight... when you get a lot of local teams here it makes for a fun racing environment."
Bettendorf took home top honors in Class A while Northeast topped a six-team Class B field comprised solely of teams within a short bus ride to the complex.
Clinton River Kings (5th, Class B)
Clinton took a step in the right direction Tuesday, as Schneeberger saw improvement in several areas at a meet he says the team looks forward to every season.
"We want to put our best foot forward anytime we run at home and I thought we did that tonight," he said.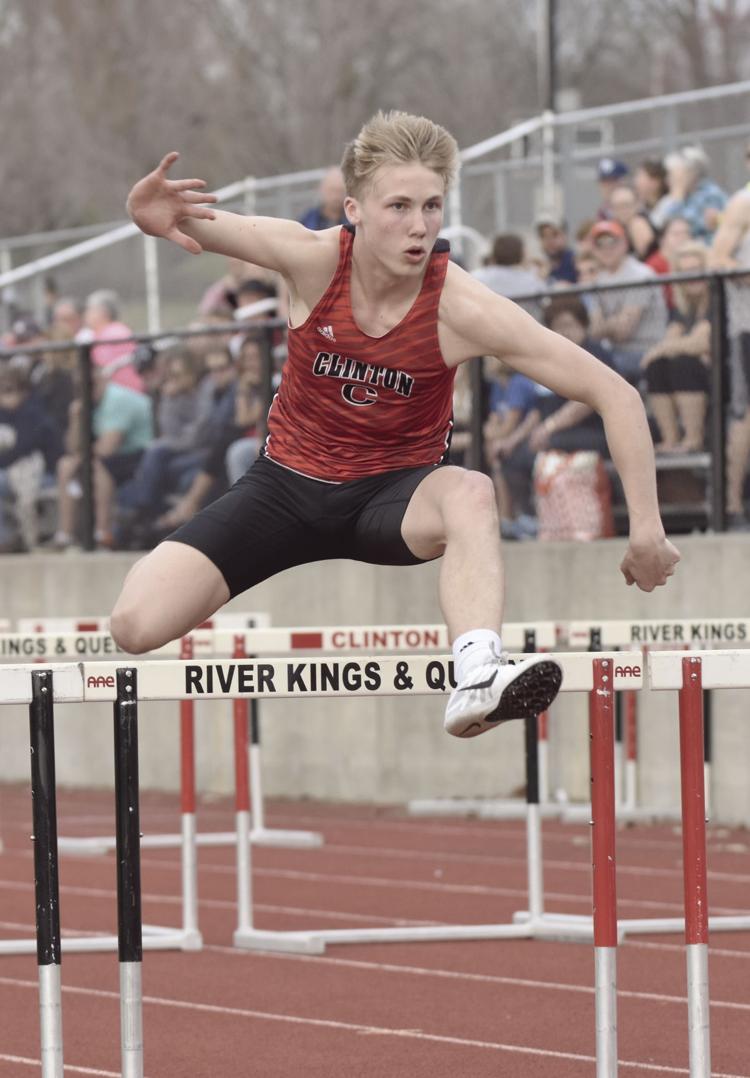 Ulysses Patterson was strong in his season debut, highlighted by a second-place finish in the long jump and helping a few relay teams shave seconds.
Schneeberger said Patterson, a junior, adds a positive impact on the group.
"Getting him back our there puts us in position to drop some time in certain places and we did that tonight," Schneeberger said.
Other notable finishes for the River Kings included a pair of third-place finishes in the distance medley and 4X200 events.
Northeast Rebels (1st, Class B)
The Rebels are known for star seniors like Braeden Hoyer and Dawson Stoll, but it is the team's depth that has truly separated Northeast from much of its competition this season.
Once again, the entire Northeast lineup contributed Tuesday, as the team placed in all but one event en route to gathering a whopping 151 total points.
"It is hard to argue with driving 15 miles and have a lot of good competition," Northeast coach Mike Mattis said. "We knew it would be a bit of a battle but our field events really came through."
Hoyer won the high jump and Stoll took home the long jump, while Chad Williams (100-meter), Atzin Dondiego (shot put) were the other individual champions, which paired with multiple first- and second-place relay results.
Camanche Indians (2nd, Class B)
The Indians finished on the heels of River Valley Conference foe Northeast, collecting a total of 138 points.
Like Northeast, Camanche is solid up-and-down the lineup card, which included an impressive 4X200 relay performance, as Kyle DeWeerdt, Dylan Darsidan, Blake Hardison and Chase Grim turned in a 1:34.66, which was the event's best time by over two seconds.
Many teams are starting to shift their attention to the heralded Drake Relays, which will be held April 24-27 in Des Moines. The Indians are no different, and with Thursday serving as the last day to qualify, coach Jerry Ford is looking secure a few representatives.
In any case, though, the coach says his team is prime position for the postseason.
"Even if you're close to qualifying for Drake but don't make it, you're still in really good shape," Ford said. "When you look at the future district meet, we have a lot of excitement and potential there."
Morrison Mustangs (3rd, Class B)
Morrison was the lone team on the Illinois side of the Mississippi River in Class B competition, meaning it will not see any of the same teams in the postseason as it did Tuesday.
Nonetheless, the Mustangs took the event as another opportunity to improve as the season begins to wind down to the final month.
Morrison coach Tim Duncan said the day saw a handful of improvements, which he atributed to the team's training regimen rather than the weather.
"That happens every year, you get a decent day and people run a bit better but it is really all about our training and the process," Duncan said.
A few notable performances for Morrison included juniors Keegan Anderson and Nick Allen finishing 1-2 in the 200-meter dash, Hunter Newman and Koby Brackemeyer claiming the top-two spots in the 800-meter and freshman Brady Wolf's second-place result in the 400-meter hurdles.
The Mustangs also took top honors in the 800-meter sprint medley.
Easton Valley River Hawks (4th, Class B)
The River Hawks wasted little time garnering points to their total, as the team shined in the field events, which begun about 30 minutes before the rest of the schedule.
Logan House won the discus (119-02) and Kolton Murphy took second in the long jump to add 18 points into the team's total.
Easton Valley coach Craig Reuter said he has been pleased with his young group that rosters just one senior.
"We have a really young core," Reuter said. "We had a lot of personal records tonight and some of our season-best relays."
A couple notable performances on the track included a second-place finish in the 4X200 relay and third in the 4X100.
Prince of Peace Irish (6th, Class B)
The Irish only roster two athletes in Hansi Hudson and JR Wauford, and both had quality evenings.
Hudson, a senior, earned first in the 3200-meter run and second in the 1600-meter. Both Hudson and Wauford placed in the 400-meter, with Hudson claiming third and Wauford sixth.
"He just really works hard and pushes himself," Prince of Peace coach Owen Howard said of Hudson. "He knows what he wants to do and where he wants to be at the end of the year."