CAMANCHE – In the past three seasons, the Camanche High School boys basketball program has only lost three times in its home gymnasium – a span of 32 games. 
On each occasion, Cascade was on the other side of the court. 
So when the Cougars strolled into CHS, ears were perked, eyes were widened and each call made by an official seemed to carry the weight of the solar system. This wasn't just any late-November contest. 
After all, these two teams have a rich history of jousting within the River Valley Conference, a rivalry that stretched into the state tournament in 2017 when Camanche delivered a 58-48 knockout in the opening game. 
The Indians used an early 13-0 rally and three different players eclipsed double-digits to finally defend their home court against conference royalty, grasping a commanding 47-37 victory before a raucous crowd Friday night. 
And Camanche did not even need its 'A' game. Or at least not on offense.
Indians coach Josh Davis shook his head at the stat sheet after the game, as his team abruptly went cold from the field after a blazing start, ultimately finishing 17-for-47 (36 percent) from the field. 
Remove the first three minutes of regulation, and the Indians' shooting woes are more illustrated at 12-for-29 (31 percent).
"Thank goodness we had that start," Davis said. "We were jacked up, we were nervous and we just rolled from there... Outside the first three minutes, our offense was really bad. I was happy with our attack but we just didn't finish it a lot."
Camanche freshman Zach Erwin shined in just his second varsity game, netting a team-high 11 points, including a critical 3-pointer to push the Indians back into a comfortable 39-30 lead with six minutes left in regulation. 
"He hadn't been shooting well but he shot it well tonight," Davis said. "That shot he made the top of the key was big... he didn't hesitate and for a freshman to have that confidence is really good."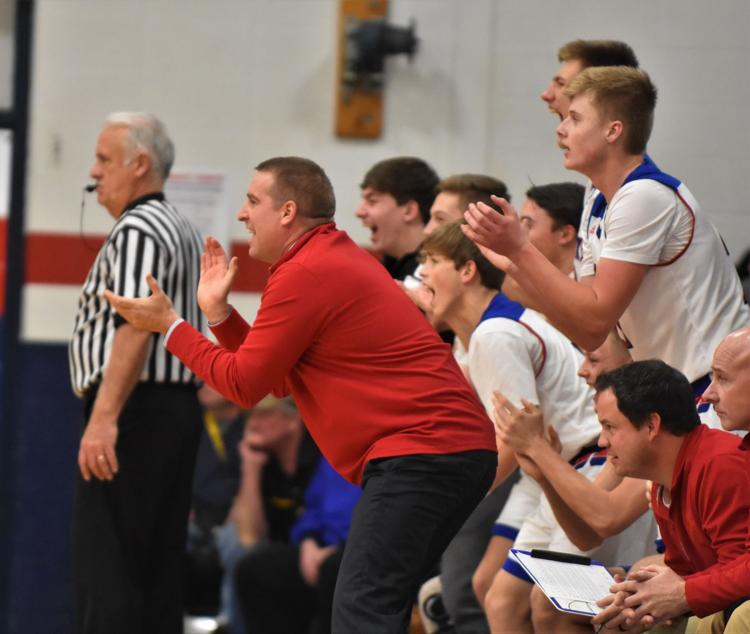 Cameron Soenksen, who exploded for 32 points in Tuesday's win over Wilton, and Zayne Feller both added 10 points while the low post duo of Caleb Delzell and Calvin Ottens had seven apiece. 
Soenksen said it was encouraging to see the Indians pull off a victory on a night where the ball simply didn't find the bottom of the net as much as it will when the team reaches midseason form in a month. 
"It was huge," Soenksen said. "I know that when I am off, I can always depend on my guys to make up for me... I just need to realize, when my shot isn't falling, I need to convert on defense and get other people the ball when they are hot."
While the scoreboard indicated a possible Cougars' comeback effort in the second half – Cascade cut the deficit to five points in both the third and fourth quarter – the outcome of the contest never seemed to be in legitimate jeopardy, as the momentum truly never left the home team's sideline after the opening whistle. 
"We talked about a [Oklahoma City Thunder head coach] Billy Donovan quote the other day that says 'win when you are bad' and that is what we did tonight," Davis said. "They made some plays off offensive rebounds but it was never really in doubt.
"Point-blank, I think we are capable of beating this team by 20 or 25 points."
TIP OF THE CAP
Camanche's Jaxon White only scored two points Friday night, but his relentless performance, particularly on defense, was not lost on Davis, who was quick to point out that White successfully guarded Cascade's best scorer, Haris Hoffman, until Hoffman fouled out early in the fourth quarter.  
Davis was also pleased with Delzell's tenacious activity on the glass despite a 3 of 13 night from the field, as the 6-7 senior pulled down a team-high 12 rebounds, including four on the offensive end. 
HE SAID IT 
While the season is only two games young, there is no denying the importance of a victory in a highly anticipated meeting between two team ranked in the top-10, as Camanche entered the showdown at No. 9 while Cascade was No. 8. 
"A home win against them is great and we'll take it," Davis said. "It makes the weekend just that much better, the food tastes better and all of that."
UP NEXT 
Camanche (2-0) has two RVC games on the road next week, as the Indians will travel to North Cedar on Tuesday and Regina Friday.