DEWITT – All Davenport North's Eleazar Valerio could do was smile.
Valerio nodded in acknowledgment to his coaching staff after Central DeWitt's Keaton Zeimet earned a swift victory (fall, 1:08) in the 106-pound final match at CHS Saturday afternoon.
The sophomore's humbled body language was telling, as if to personally confirm Zeimet's status as a viable state contender.
Sabers coach Matt Ohnemus noted Zeimet's dominating performance in the Saber Invitational as the next step during his rapid rise through the ranks in program history.
"Keaton went out and did what he does... he is a physical kid and he can get kids underneath him and once he does that, he is in good position to come out with a fall," Ohnemus said. "At the end of the year he will probably be in our top-five in overall career falls so he does a great job of that."
But Zeimet wasn't the only Saber to turn in a victory in the event's championship round.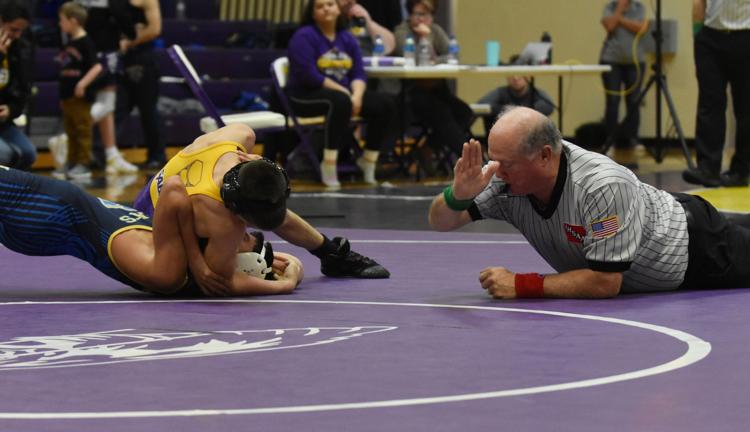 Central DeWitt's Robert Howard followed up Zeimet's victory with a win of his own, defeating local foe Benjamin Vogel, Camanche, by a 7-5 decision in the 120-pound bout.
Not to mention Howard, who will return to the 113-pound class after winter break, was wrestling above his usual weight class.
"He [Howard] was wrestling up a weight against a really tough Camanche kid that was big and strong," Ohnemus said. "I think he had to hold on at the end because I think he was starting to feel that strength disparity."
Central DeWitt also lost a pair of matches in the final round, but Ohnemus was pleased with the group's overall success.
"I thought we wrestled really well in the finals and I think we put together some of our best matches," Ohnemus said.
Camanche also sent athletes to the medal stand, as a trio of Indians earned victories in the event's final round, as Cade Everson, Baylor Crigger and Eric Kinkaid each recorded wins in the closing matches of the afternoon.
Kinkaid kicked off Camanche's efforts with a win over Davenport North's Stephen Schroeder (fall, 1:50) – an event Indians' coach Brent Carstensen said was beneficial for Kinkaid's development.
"He [Kinkaid] is a solid wrestler and I am proud of his day," Indians' coach Brent Carstensen said. "He had some good competition last week but today was just a day to check his technique... he did everything he needed to do for a weekend like this and looked great."
Indians' 2017 state qualifier Crigger earned top honors in the 160-pound class, earning three falls to hoist the bracket poster atop the medal stand after defeating Central DeWitt's Theodore Fox (fall, 1:17) to notch the team's second first-place finish.
Everson thoroughly dominated Iowa City Liberty's Kaleb Williams by score of 16-0.
Carstensen said the duo of Crigger and Everson still has untapped success on the horizon.
"Physically, those two can step it up and go if they want to and choose to they have a whole next level that we haven't even seen yet," he said, "it was great day for both of them."
Northeast's Remington Overstake earned a second-place finish, falling to Davenport North's Sam Hamma by score of 7-5.
Ohnemus praised the energized atmosphere in the CHS gymnasium, a space filled with fans from around the area, including Davenport, Maquoketa, Midland and Iowa City.
The Sabers' coach hopes to expand on the annual event even further in the future.
"The Saber Invitational has been going on since the 1960's and it is really important for us to keep that going," Ohnemus said. "I would love to pull some more teams... we had a lot of four and five-men brackets to give more guys more opportunities.