DEWITT – Completed in just 70 minutes, the first of two games between state-ranked conference foes Central DeWitt and West Delaware was a blur of action that seemed to only slow for Mya Cavanagh's deceptive off-speed pitch. 
Cavanagh, armed with her trusty changeup, threw a complete-game shutout, Hannah Palzkill delivered a timely hit and the Sabers snuck away with a 1-0 victory in the opener Wednesday night in DeWitt. 
The win pushed No. 13 Central DeWitt, who concluded league play in Wednesday's meeting, two wins ahead of sixth-ranked West Delaware. The Sabers ended the night with a 25-8 record, marking the first time the program has won at least 25 games since 2013.
"It means that we have played pretty good all year," Central DeWitt coach Lee Swanson said. "We have four teams on our side of the WaMaC that are ranked so I will take it."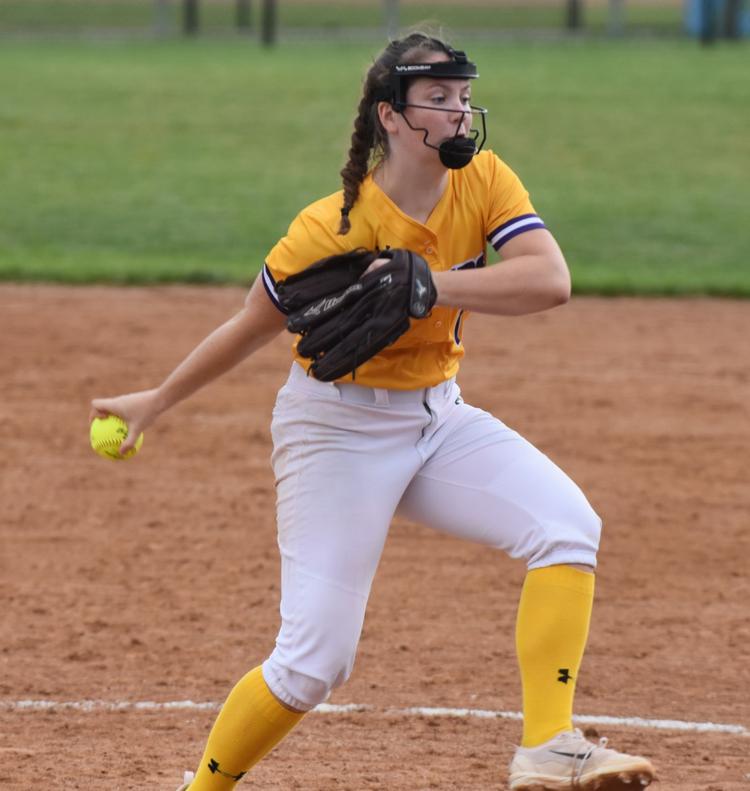 Cavanagh was efficient in the circle, facing only five batters over the minimum in the first game. The senior scattered four hits and fanned seven batters, many of which were victims to Cavanagh's changeup that yielded many botched swings and bewildered faces.
"I knew that they were good hitters and that I had to keep them off-balanced as much as I could so I switched up my curveball and changeup," Cavanagh said.
Both sides of the softball complex brought the energy – a nod to the stakes that accompany two teams jousting atop the WaMaC in early July.
"It [the atmosphere] made it more of a higher dynamic for me," Cavanagh said. "It was great."
Emily Swanson led off the pivotal fourth inning with a double and moved to third base on Talbot Kinney's groundout to second. Palzkill, a freshman, then sent a ball up the middle of the field to score Swanson, break the ice and send the third-base dugout into a frenzy.
Swanson praised his freshman shortstop's tendency to shine in crucial moments. 
"She has a knack for it," he said, "she did it last year at Solon with a home run. She has grown so much... we talked to her a little bit on Monday about her swing and she made the adjustment.
Perhaps the most impressive part of Cavanagh's display is that she is battling a torn labrum and a bicep injury sustained over the offseason.   
"I've been throwing injured the entire season, and I think knowing that makes me realize that I need to keep my pitching numbers down and that everything needs to be better," she said. 
Nonetheless, Swanson said Cavanagh approached him prior to Wednesday night's showdown and told him she was available to pitch in both games of the doubleheader, as the team's No. 2 option this season, Keeley Jansen, was unavailable. 
"She been good all year for us," Swanson said. "I know she is tired and a little bit sore but she wants the ball and right now I can't ask for anything else out of senior."
West Delaware claimed the nightcap 6-1, as the Hawks capitalized on a series of Sabers' fielding mishaps and mental lapses, including shoddy bunt defense and execution in first- and third-base situations when there are less than two outs.
Swanson attributed the defeat to a lack of focus, acknowledging that the priority was to win the opener and seal the East title.
"I think we lost focus," he said, "we told them in between games what happened [winning the league] and we lost focus of what we were doing. I told them to take that game and throw it away... we did what we had to do but we are also going to learn from it."
Central DeWitt and West Delaware could potentially meet later this month with a trip to state on the line, as both teams are slated to compete in the same district. 
"We are definitely taking it into consideration everything we learned, every single play, every single pitch is something we can use for the future," Cavanagh said. "I'm sure they are doing the same so we are just taking every game one at a time."
The Sabers return to action in their final week of the regular season with a trip to take on Clear Creek-Amana Monday.