PRESTON — The Easton Valley High School boys basketball team opened on a 8-0 run and never looked over its shoulder, coasting to a 87-40 victory over East Buchanan Tuesday night.
Cade Jargo and Jessen Weber both made 3-pointers and Kaleb Cornilsen finished a layup to ambush the Buccaneers in the first two minutes of the game, setting the tone for an impressive overall shooting display by the River Hawks.
Easton Valley coach Dan Beck said the team had experienced a slow start from the field in the first two games of the season and was pleased to see a myriad of shots fall Tuesday night.
"We were looking forward to getting into a game where they were all hitting their shots and tonight was the game," Beck said.
Cornilsen, a sophomore, led all scorers with 28 points, marking three consecutive games of at least 24 points to open the campaign.
Justin Farrell contributed 16 points while Nate Trenkamp added 11 – and the backcourt duo both made three 3-pointers.
The win bumps the River Hawks to 3-0 this season.
The River Hawks led 53-17 at halftime, triggering a non-stop clock for the remainder of the contest due to the 35-point deficit.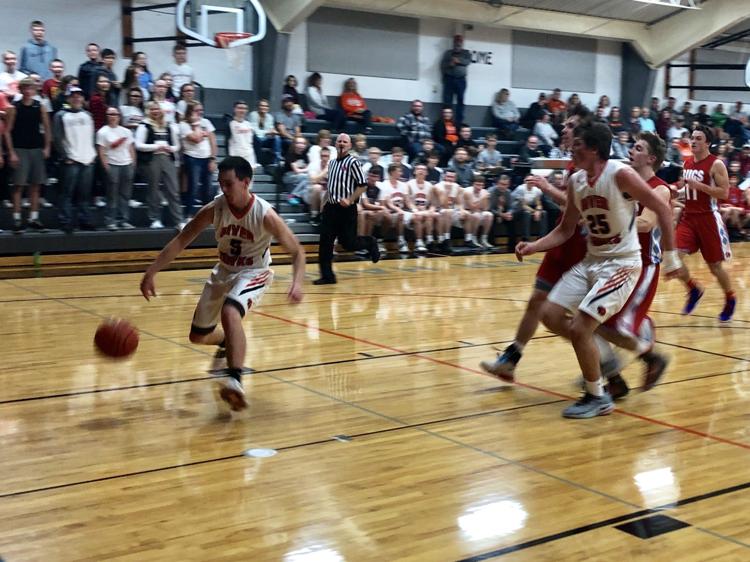 Beck said he was anticipating Tuesday's game, which offered the first opportunity to see 6-foot-5 Curtis Hartung and 6-foot-3 Cornilsen on the court at the same time, as Hartung played off the bench in the season-opener and missed Friday's game due to illness.
Hartung complemented Cornilsen's 28 points with 11 of his own.
"Curtis can score with either hand inside and Kaleb just improves every day and is so aggressive both offensively and defensively and has good instincts," Beck said.
"We thought they would be a lethal combination inside the post, and they will be."
But Hartung and Cornilsen were not the lone reunion. Weber also missed Friday's game (injury) before linking with backcourt mate Jargo for a combined 26 points in the blowout victory.
"I was looking forward to getting him and Jargo on the court together," Beck said. "Along with Trenkamp, Farrell and Cooper Kundee... they were struggling a bit with their shot so far this year before tonight."
The River Hawks (3-0) return to action for a road matchup with Central City on Friday.
Girls fall after slow start
PRESTON — The Easton Valley High School girls basketball team would probably like to erase the first quarter of Tuesday night's battle with East Buchanan.
The River Hawks were decimated by a persistent full-court press from the Buccaneers, which led to a lopsided 21-2 deficit after the first and, ultimately, a 56-32 defeat.
Easton Valley coach Joe Kilburg said the pressure eventually wore on his rotation, which lacks the depth of the Buccaneers.
"We knew we were coming into an opponent that plays 12-deep and we play about 6-deep so we knew fatigue would be a factor," Kilburg said.
Sadie Zaruba finished with a team-high 15 points after scoring the first points for the River Hawks over midway through the opening quarter.
The senior, who serves as the team-leader in scoring, was held out of action in the second due to a pair of early fouls before scoring 13 of Easton Valley's 22 points after the intermission.
"She is a good leader for us and we are a little lost without her on the court but we seemed to manage fairly well when she wasn't out there so that was nice to see," Kilburg said.
Sarah Driscoll was also a reliable option for the River Hawks, adding seven points, including a clever, unassisted score on an inbound play, which she achieved by bouncing the ball off the back of an East Buchanan defender before retrieving it for a layup.
East Buchanan led 27-10 at halftime and outscored the River Hawks 29-22 in the second half.
Erica Hoffman led the Buccaneers with a game-high 21 points, including a 3-pointer and six free throws. Lauren Donlea added 15 points.
Kilburg added he was pleased with the performance of his reserves – including Liviah Johnson (11 rebounds) – in an increased role Tuesday night.
Moving forward, Kilburg remains confident in his group.
"We still plan on finishing at the top of the conference," Kilburg said. "It is very doable for us... we have to bounce back, shake it off and get back in the gym tomorrow and get back on the horse Friday."