DES MOINES – The Iowa Print Sports Writers Association unveiled its annual basketball all-state teams Tuesday, and the Gateway area was tabbed eight times on one of the most prestigious accolades across the state line. 
The area did not feature a first-team selection, but a pair of local boys, Kaidion Larson (1A, Prince of Peace) and Caleb Delzell (2A, Camanche), earned second-team selections while Tori Michel (1A, Bellevue Marquette) claimed the only second-team spot on the girls' side. 
Cam Soenksen (2A, Camanche) and Hunter Rickels (1A, Calamus-Wheatland) picked up third-team honors. Sadie Zaruba (1A, Easton Valley), Madi Parson (3A, Camanche) and Taylor Veach (4A, Central DeWitt) each were named to the third team, also. 
Kaidion Larson, Prince of Peace, Second-Team
The Irish senior kept defenders on their tippy toes all season long with his clever moves that sliced through traffic and showcased his uncanny ability of finishing at the rim. Larson paired with three seniors and a junior at the forefront of Prince of Peace's impressive campaign 2018-19 campaign that ended in the first round of the state tournament.
Larson finished the season averaging a team-high 19.6 points and led the group with 82 total assists. The six-foot guard suggested after the team's state appearance last Monday that he plans to continue his playing career at the collegiate level but is unsure of a destination.
Caleb Delzell, Camanche, Second-Team
There are a myriad of hoopers across the state that can find the bottom of the net – a collection of which Caleb Delzell belongs with an impressive 14-point average this season. But the 6-foot-7 forward's extensive catalog of skills is the most alluring part of Delzell's game, as he ranks first in the conference in assists (110) and third in total rebounds (230). 
Delzell's focus on a given night was aimed towards the team rather than an individual standpoint, as he began most games with the intention of distributing to teammates before searching for his own opportunities. Delzell, a junior, is expected to play a critical role for the Indians next season after falling a game short of state in 2018-19. 
Cam Soenksen, Camanche, Second-Team
Soenksen has developed into one of the area's must-see players, as his lengthy 3-pointers and dazzling drives often leave spectators on both sides of the court in awe. The 6-foot-2 guard enjoys the big moment, too, as he averaged nearly 22 points in the Indians' three postseason games this season.
Soenksen finished the campaign at a 20-point clip and led the River Valley Conference (North) in made 3-point field goals (64). Like Delzell, Soenksen will be relied on next season as Camanche reloads for another postseason run.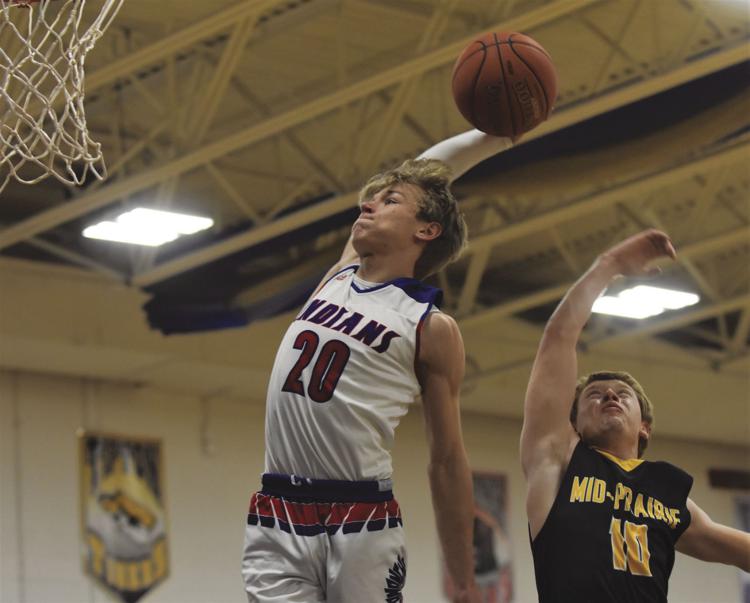 Hunter Rickels, Calamus-Wheatland, Third-Team 
Rickels played a key role for the 19-4 Warriors this season as the team jostled atop a crowded Tri-Rivers Conference that included the likes of Prince of Peace and Easton Valley. Rickels, a senior, averaged a team-high 15.9 points this season.
He shot 33 of 102 from long-distance and finished just under 40 percent from the field for a Calamus-Wheatland team that fell in the district final to Alburnett, who went on to earn a second-place finish at state. 
Girls
Tori Michel, Bellevue Marquette, Second-Team
Michel served as a swiss army knife for coach Jim Kettmann and a Bellevue Marquette team that fell in the 1A state semifinal at Wells Fargo Arena. While the six-foot proved she is capable of scoring (she averaged 10 points)  it is her presence among the state's top-five leaders in rebounding and blocked shots that separates from the competition.  
Michel averaged a double-double this season with 10.2 rebounds a contest. Michel, a junior, will join fellow junior and the team's leading scorer, Miranda Peters, in the efforts of duplicating a special campaign in 2019-20. 
Sadie Zaruba, Easton Valley, Third-Team
Zaruba blossomed into of the area's most prolific scorers over four seasons in Preston. The 5-foot-10 senior was the unequivocal leader of the River Hawks this year, as Zaruba elevated her game to the tune of a 17-point average, which ranks first in the Tri-Rivers Conference (East) and ninth in the state.
Zaruba, the team's lone senior, reached 1,000 career points earlier this season. Easton Valley finished 15-7 this year and will look to compensate for the loss of Zaruba through juniors RaeAnn Carlson and Sarah Driscoll.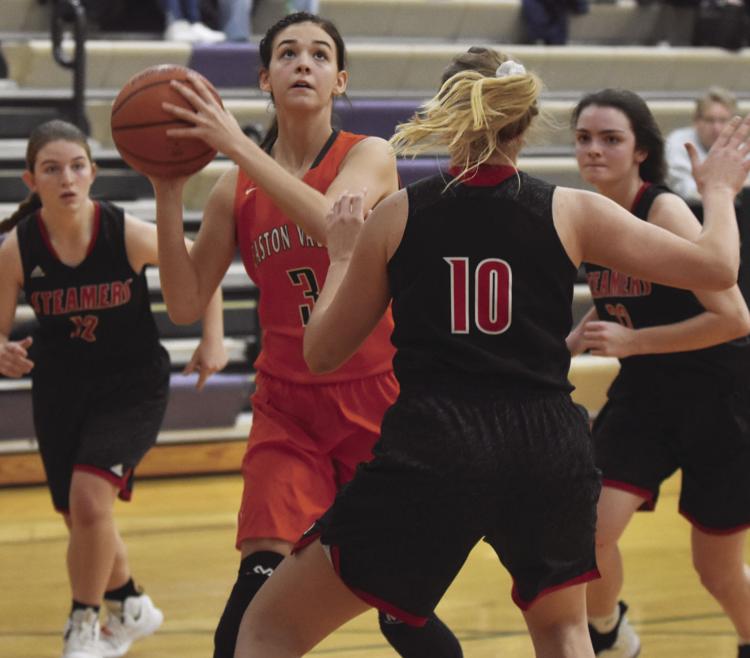 Madi Parson, Camanche, Third-Team
Known primarily for her head-turning skills on the volleyball court and softball diamond, Parson impressed on the hardwood this season under first-year head coach Ben Erwin. She led the team in points (12.7), assists (69), blocks (23) and accounted for almost 40 percent of Camanche's total rebounds with 246 boards in 2018-19. 
Parson, a senior, announced her commitment to Coe College next season, where she will play volleyball and softball. 
Taylor Veach, Central DeWitt, Third-Team
Veach, a freshman, entered the prep girls' basketball scene with a full head of steam in 2018-19, averaging 13.8 points to help lead a surprising Sabers team within one game of the state tournament. 
Veach played a hybrid role for coach Chad Specht and Central DeWitt, as the 5-foot-9 winger proved she was comfortable in the post or beyond the 3-point arc, where she shot at a 40-percent clip. She also led the team in assists (49) and was second in rebounds (105).