CLINTON – Bettendorf was definitely a tough matchup for the River Kings for their first taste of Mississippi Athletic Conference play.
The Bulldogs were ranked No. 10 in the preseason polls, and came into Yourd Gymnasium Tuesday night dominating the Clinton River Kings 74-47.
It's just two games into the 2018-2019 season, and the River Kings are under new leadership in first year head coach Troy Ersland. The early falters are only to be expected, especially when they're not quite sure what their identity is as a team yet.
Just ask Coach Ersland what their strength is: "We're still trying to figure that out. It's a learning process, we're learning a new system."
The River Kings came out against a power house Bettendorf team and kept with them for just a few minutes. Junior guard Max Holy scored twice in the opening minutes to keep them tied at 4-4, while the River King defense shut down the Bulldog offense.
The defense is filled with speedy perimeter players along with length in the center from senior Bret Myli.
"We work a lot on defense," Ersland said. "That's what we're going to hang our hat on: defending and rebounding. We're not there yet but it's constant work to get where we want to be."
The No. 10 Bulldogs then got the best of them. They went on a 10-0 run, capped off with a dunk from Ohio State signee DJ Carton.
Guard LJ Henderson broke the four minute scoring drought, but the Bulldogs had more in store. In fact, Carton scored 12 point in the first eight minutes of the game.
By the half, Clinton was trailing 41-20.
Part of the problem was a hesitant offense. The River Kings, who lost some top scorers to graduation, are full of players who have not been huge offensive threats in the past. Myli and Henderson were the only two players on the court Tuesday who were in the top eight scorers last year.
With every touch during offensive possessions, their first glances were to other players instead of to the rim.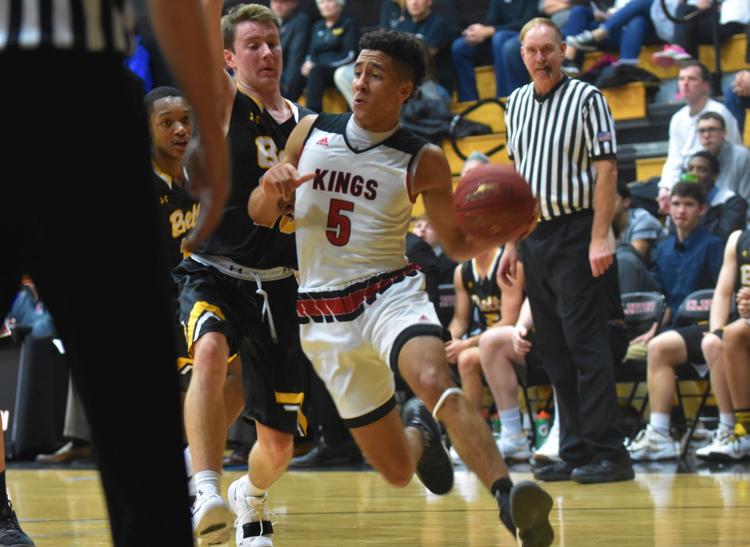 "We have a lot of guys who haven't been in the roles they're in," Ersland said. "We're teaching and encouraging to be aggressive. These guys are growing in these roles game to game."
Myli came out of the halftime break and scored on consecutive possessions, often off offensive rebounds. The 6'7 forward is key to the Kings' game in rebounding, lane defense, and scoring. He finished with 11 points on Tuesday, nine of those coming in the last 16 minutes of play.
"Bret was a little frustrated in the first half, then he started to play," Ersland said. "He listened to what we said and played really well in the second half."
Players like Max Holy, Frederick Williams, Malachi Mojeiko, and Ulysses Patterson all stepped up and had shining offensive moments at separate times. When the Kings clicked, it looked good.
"We competed tonight, you know," Ersland said. "I thought we got better from last Tuesday to this Tuesday, that's the important thing. Our guys are starting to learn how we want them to compete."
Henderson ended as the leading scorer with 12, Myli had 11 and Holy had 10 respectively. Frederick Williams put up another nine.
The Kings are coming off a 3-20 season and looking to improve this year under the new leadership of Ersland. The learning curve may be steep,but they have plenty of time and ability to do it. After all, it is still just the second game of the season and the first MAC competition they faced.
And they're full of athletes. LJ Henderson is one of the best guards in the MAC, able to shoot and find his way through the defense in the lane with athleticism. Max Holy showed he can put it away from different points on the court. Bret Myli plays with energy that's almost unheard of, and is aided by lengthy limbs to boot.
"We just have to keep getting better," Ersland said. "They have to compete on every play. That's the thing, and we have to keep at it."
The River Kings fall to 0-2 and can find home redemption on Friday, when they welcome Muscatine to Yourd Gymnasium for some Friday night MAC play.