Camanche junior Caleb Delzell was the utility man for the Indians this year without a doubt. He led the team and the conference in multiple categories. His diverse tool set helped him nab a slew of honors, the latest being the 2019 Herald Player of the Year.
Delzell earns the honor along with being selected for the Elite team in the River Valley Conference and earning second team all-state. The 6'7 forward thrilled from the court all season long, but not always the same way.
A perfect example of this came in late January at the Eric Ottens Memorial Shootout. The Indians were facing a ranked Lena-Winslow team and Delzell was not shooting well from the field. He ended up with just four points on the day, even though he averages nearly 15 a game.
Still, no one would have watched that game and said Delzell was playing poorly. He was still getting big boards, still tossing passes from the elbow down into the post and back out to the guards, and he still snuck in a two-handed slam to give the Indians a little push in their late comeback victory.
Delzell was third in the conference in scoring (14.7 ppg), led in total rebounds (230) and led in assists (115) along with being towards the top in steals and blocks as well.
His lengthy frame definitely gives him advantages when it comes to high-flying dunks or rebounding, but it's his on-court savviness that helps him with those assists. He plays the high-post and gets the ball right in the thick of things where he then must make a snap decision.
He stated in an interview with the Clinton Herald earlier this season that he isn't expecting to score when he takes his place at the elbow. His first instinct is to look down low to Calvin Ottens or Zayne Feller for an easy bunny in the post. Then, he looks to see if he can make his own move in the lane. After that, it's popping the ball back out to the wings for a shot or to reset.
"It's being patient," Delzell said. "High-post, you feel like you're surrounded my everyone on the court once you catch it. I've had to be patient in there with the ball, be strong with it, and run with it."
This past season was a breakout season for Delzell. Compared to his sophomore season, he averaged five more points per game, pulled down nearly 100 more rebounds, more than doubled his assists and doubled his steals.
When looking back on it, Delzell pointed to the fact that as a freshman he was still a traditional guard. He hadn't grown to his current frame yet and was strictly a perimeter shooter. It's been a process learning how to use his build but he found a role for it this year.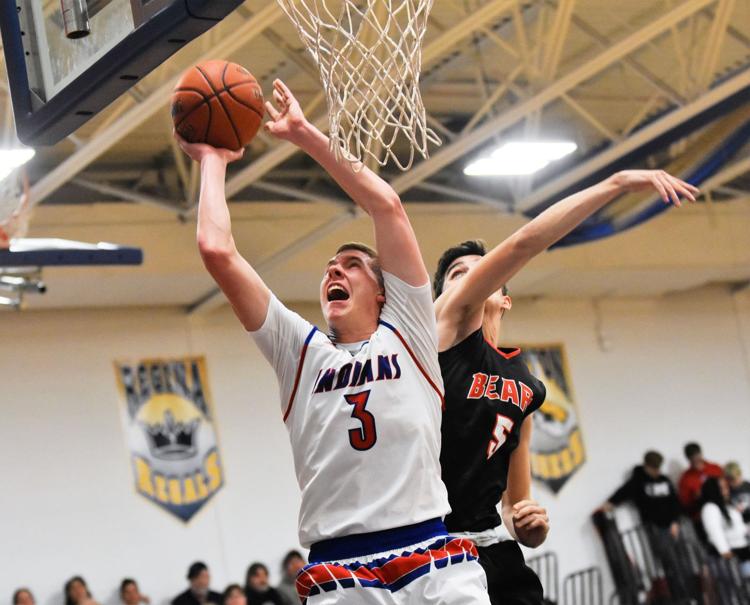 "I have to use my height in different ways now. Before I was a strict shooter and now I find myself inside more," Delzell said. "It's a little bit different game."
Even head coach Josh Davis admitted his role has changed every year in the program and that Delzell continues to embrace it. Now, he's a 'match-up nightmare' for the Indians with the capability to twirling passes inside, shooting long-distance shots, driving and rebounding. There's no part of the game where he doesn't dip his hands.
The Indians were just one game away from their second state appearance in three years and returns a large portion of their team. Delzell, along now-senior Cam Soenksen, will be leading another charge when the season tips off next November.