CLINTON – The last news a minor league baseball player wants to receive is that they are being demoted.
Especially when they are already in Single-A.
Billy Cooke, once touted as a favorable prospect in the Seattle Mariners organization, has struggled to find his offensive footing as a professional after being drafted out of Coastal Carolina in the eighth round of the 2017 MLB First-Year Player Draft.
The speedy outfielder with a flair for eye-popping grabs has posted just a .166 over his first 380 games in the organization and has struck out 135 times (or 35 percent) of his at-bats.
He was designated to the Mariners' extended Spring Training – a league often referred to as "baseball purgatory" – last month and appeared in eight games with the club before rejoining the LumberKings. 
Clinton manager Denny Hocking said it was difficult to break the news to Cooke but was encouraged by his determination to improve. 
"He sat in that office in Wisconsin and didn't take it as a demotion, but rather, an opportunity to prolong his career," Hocking said. "I love that kid for doing that… it's not an easy conversation to have."
Since returning to Ashford University Field on July 31, Cooke has shown signs of optimism at the plate, collecting hits in six of eight games in which he recorded two or more plate appearances for a .296 batting average during that span.
The 22-year-old said his stint in Arizona was an ideal environment to correct a few mechanical considerations. 
"It was really productive, I worked with a guy named Dustin Lind," Cooke said. "It humbled me to see the competition there compared to here and it was good to make adjustments and I thought it was really productive."
But it isn't just about hits. Hocking says the true importance lies within the quality of plate appearances Cooke is turning in, which he says have vastly improved since his brief stint in Arizona.
"He went down there and worked super hard," Hocking said. "I was getting videos of the work he was putting in and the new swing start to develop… everything I saw in the videos he packed on the airplane and brought it here."
With just over 20 games remaining in the season, Cooke will look to end his second professional campaign on a positive note, seeking momentum to carry over into offseason workouts. 
But, for now, Cooke is just taking it one day at a time. 
"[The return to Clinton] is going good... Denny [Hocking] is putting me at the top of the lineup so I am seeing a lot more pitches," Cooke said.
Trouble with the curve
As his first season in Clinton dwindles down to a close, we can be sure of one idea: Ariel Sandoval can hit.
But the Dominican slugger has been mired in a slump since the All-Star break in mid-June, posting just a .200 average in the second half to lower his season clip to .236.
While the power numbers have remained constant – Sandoval's 16 homers are tied for third in the league – he only has two doubles in his last 31 games and leads the league in strikeouts (150) by a wide margin.
Hocking said Sandoval's season-long whiffing struggles are the product of the 22-year-old's inability to lay off a certain pitch.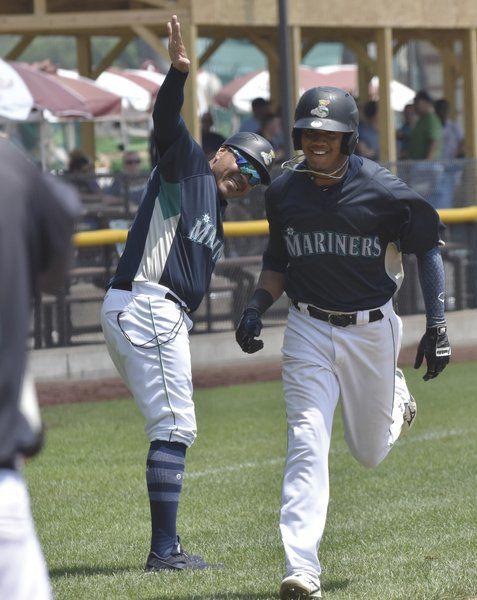 "It is not physical with him, it is mental," Hocking said. "We have tried to talk to him about laying off breaking pitches… he sees them, he recognizes them, but he just continues to want to swing at them."
"We just need to continue to pound on him and tell him to hit that fastball early on," Hocking said.
In the ninth inning of Clinton's 6-3 loss Wednesday night, however, Sandoval saw a straight fastball moving through the zone on a 2-2 count.
The result?
A no-doubt homer to left field, silencing any thoughts of a slump — at least for the duration of the 360-feet jog around the bases.