GOOSE LAKE – On a night riddled with cancellations across the state due to the latest winter weather system, Northeast still saw the court.
It ended with a 69-46 Class 2A District win for the Rebels over Bellevue.
The Rebels saw the Comets just about a week ago in a regular season River Valley Conference matchup, but that one ended in just a four-point victory for Northeast. This was a big rebound for head coach Travis Evermeyer.
"It wasn't that hard to motivate them the last few days of practice," Eversmeyer said. "We got the road victory but didn't play very good and they wanted it tonight."
After taking a comfortable 32-19 lead into the half, they started the third quarter with Dawson Stoll floating it up to Braeden Hoyer down the floor for a dunk, a statement on a dominant night.
Hoyer flipped in an easy reverse layup on the next play down to notch double-figures on the night. By the 4:56 mark, it was a 20-point spread in Northeast's favor.
In a blowout game like Monday night, it was a good time for the Rebels to work on things. Eversmeyer wanted to see their man-to-man defense, but also wanted to see them continue to play the game at their pace and force the tempo of the game.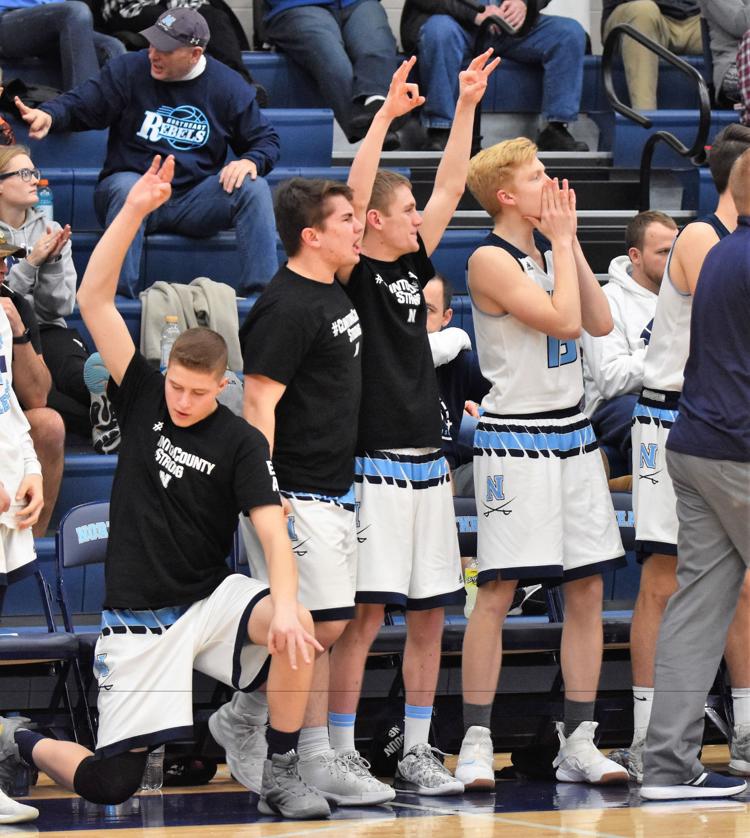 "We wanted to make sure we pushed the tempo," Eversmeyer said. "When we were in man-to-man we wanted to make sure we were still running, not walking the ball up."
Bellevue's Colby Sieverding did his best to get the Comets back in it. He worked the long distance shot and ended with a team-high 22 points. After he hit his fifth 3-pointer of the night, Evermeyer called a timeout and pointed to his points on the scoreboard.
"Identify him," Eversmeyer said. "He's on our scouting report as one of their best shooters and we left him on ball screens. We haven't played much man-to-man all year and we wanted to run it tonight. Communicate, understand who is a good player, guard him."
Stoll, a senior, led the offensive charge for the Rebels with 22 points and a handful of assists, while Hoyer and Dakota Stevenson put up 16 and 12, respectively.
The Rebels (12-7) now move on to face Cascade in the second round of districts on Thursday, Feb 14. That contest will take place at Monticello High School.
When the Rebels faced the Cougars in early January, the Cougars were the ones in the win column. The game, however, was decided by just four points.
"It's keeping our composure," Eversmeyer said. "We're glad it's on a neutral floor and we're excited to see what we can do. We're excited for that match-up."