CAMANCHE — Madi Parson plants her feet, rises above the net and spikes a volleyball with ferocity often unmatched by her Class 3A opponents.
Rinse and repeat. A thousand more times – and counting.
Parson, a senior hitter on the Camanche volleyball team, recorded career kill No. 1,000 in the Indians' sweep of a six-team tournament field Saturday afternoon at CHS.
A ceremony was held ahead of the team's matchup with Bellevue on Tuesday, where Parson and fellow senior Hanna Nissen were honored for individual accomplishments. Even Parson, who typically is competitively reticent before games, couldn't help but smile.
"It means a lot to me because only three other people in school history have gotten there," Parson said. "I'm determined to at least get close to the record but this accomplishment just means a lot to me."
Parson immediately put the River Valley Conference on notice when she joined the varsity team as a freshman in 2015, leading the Indians with six kills in her debut against Maquoketa. 
She quickly garners attention for her ability to smash the ball to the hardwood, but it is when Parson drops in a no-look, push shot between over-compensating defenders that her talents are fully illustrated.
From that moment, as a freshman taking the floor for the first time of her career, it became a matter of "when" rather than "if" Parson would achieve the milestone. She even did it with nine games remaining on the schedule.
Camanche coach Heather Clark, a CHS alum who took over the varsity program two seasons ago, points to Parson's around-the-calendar training and dedication to her craft as the roots of her success.
"Madi has always been a strong hitter but is getting better and better each year she plays," Clark said. "She plays club ball and a lot of workouts – her aggressiveness has progressed over the years… she wants the ball."
However, it is difficult to recognize Parson's achievement without Nissen, who became the program's all-time leader in assists Saturday with No. 1,703 of her career. The senior duo constantly connects for points, with Nissen expertly lofting the ball to a leaping Parson like an ally-oop in basketball.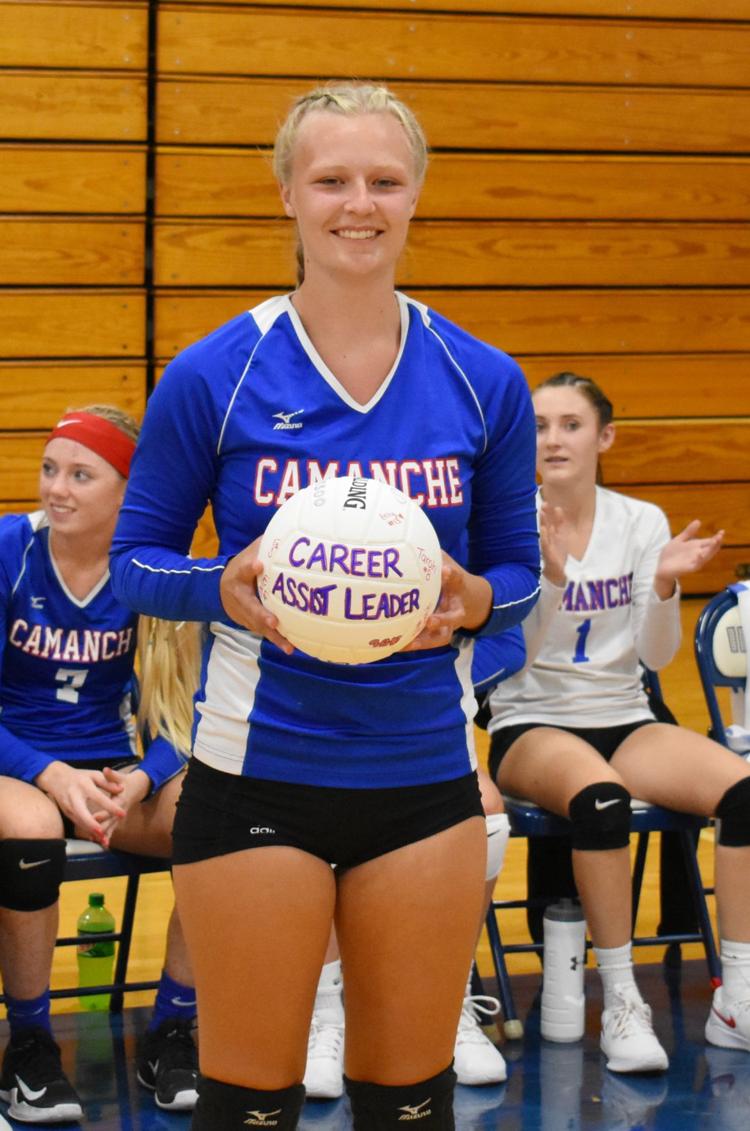 Nissen said she has always recognized her role on the court, a position that truly dictates the team's scoring efforts as the general of the offense.
"Ever since I was a freshman, I wanted to break a record for setting because I have always wanted to set since I was little," Nissen said. "It was just a great accomplishment for me."
Like Parson, Nissen made an immediate impact in her freshman debut, too, tallying an impressive 17-assist performance. She said the four-year experience has been a learning process, adapting to the tendencies of hitters that have came and went through the program.
"It has been good, I have been practicing hard to get better and set my teammates how they liked to be set," Nissen said. "It has been a lot different every year."
Nissen and Parson (along with Camaryn Carstensen, the only other Indian on the current roster with varsity experience dating back to 2015) have been at the forefront of Camanche's turnaround, which has reached its peak during a blazing 13-1 start to this season.
After posting a 14-20 record as freshmen, the duo of Parson and Nissen have won 65 of their next 89 games, including a 32-9 campaign last year.
But Camanche has higher aspirations this season. The Indians, who have pulled into the No. 6 spot in the Iowa Girls High School Athletic Union rankings, believe they are capable of a deep postseason run.
There is no reason to doubt them. The Indians are deep with talent across the board and have only dropped a single match this season. Neither Parson nor Nissen flinched when prompted about their expectations for their farewell tour as an Indian.
"We need to keep pushing ourselves to get better so we can win the conference," Nissen said.
Parson is aiming even higher.
"I think [the team's success so far] has been great but we need to keep it up in the top-8 to get a good seed for state," Parson said. "State is an expectation this year."
And while there are still games on the schedule, the reality is that time is ticking and Clark reluctantly has begun to think of life without them next season.
"When they leave, it is going to be a huge void," Clark said. "We will miss Madi as our hitter and Hanna as our four-year setter.
"We are still in the season but it is still in the back of my mind."