This season has been a bit of an adjustment for head coach RJ Coffey and the Fulton varsity boys, but there's a spark in the team thanks to some surprising sophomores.
Connor Barnett and Kyler Pessman are two Fulton guards who are at the head of everything on the floor so far this season. Barnett carries the ball and runs the offense from the point guard position, while Pessman does a little bit of everything from the wing.
It's refreshing to have two confident point scorers after what the Steamers lost last year. Their two top scorers, Cody Sanderson and Tyler Bruggenwirth, along with a key rebounder in Nate Wierema, all graduated. That left a big offensive hole with no clear answers.
In come the sophomores.
"They'er natural scorers," coach RJ Coffey said. "That's been their job their whole lives and they're comfortable doing that."
That's part of what has made the transition a little bit easier for them: they never played with the talent from last season. Instead of being role players with the likes of Sanderson and Bruggenwirth, the two sophomores ran fresh-soph games in a similar fashion to how they're running varsity games.
"Connor and Kyler have been doing that for years," Coffey said. "I told them to keep playing their game. You don't change, you don't become a different player. They've been very good with that."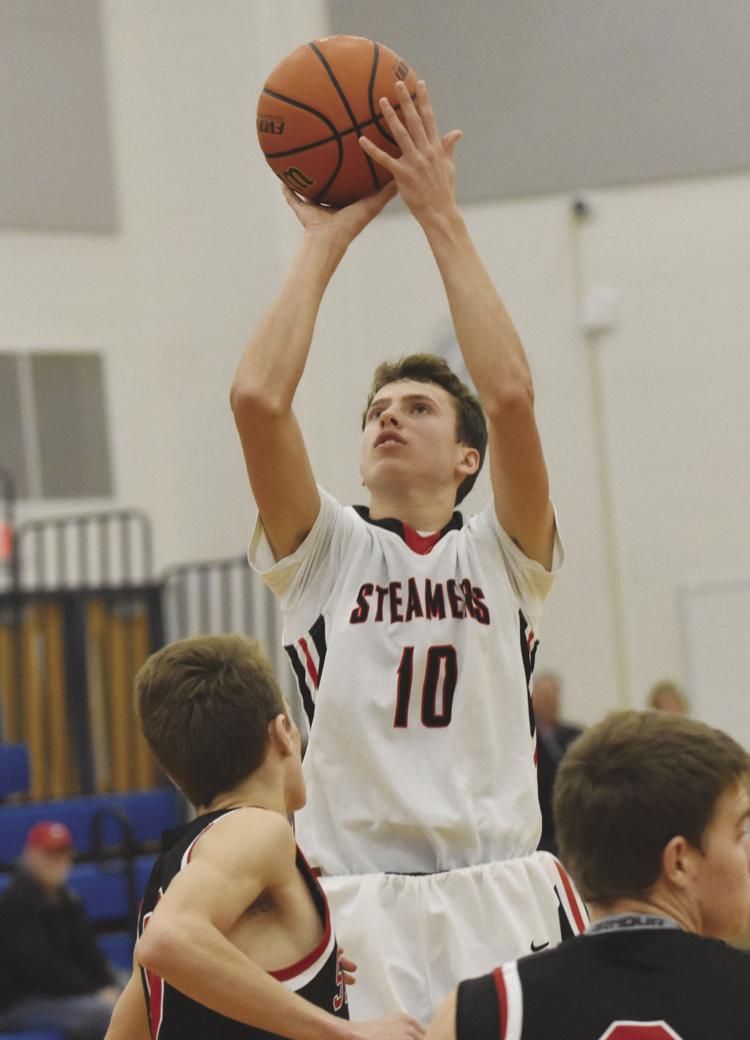 The rest of the team is adjusting to their new offensive minded roles with seniors Kyle Schipper and Keegan Kloepping having some of their season best outings over the holiday season. With the tournaments during the last part of the year, the two sophomores were able to really start getting acclimated.
"I was a little bit nervous the first games this season," Pessman said. "After playing a few games at this tournament I'm starting to ease into it a little bit more."
That definitely showed on his end, with a career high 29 points coming in their game against South Beloit. That's where the extra tournament games really seemed to pay off, with the Steamers starting to gel as a team.
"I think the most exciting part was how we played," Pessman said. "How we played then, I know it's the way we can play the rest of the season."
Pessman was a big part of that. The sophomore shoots with confidence from beyond the arc, but shows off his athleticism with drives through the center of the lane.
"He's got a tough mentality. He's a fighter, he plays hard and he's fearless," Coffey said. "He's going to shoot the ball and we want him to shoot the ball. He's helped us now, and he's just going to keep getting better."
Meanwhile, Barnett handles the ball with confidence as well. He's the go-to to bring the ball up the floor, especially when the defense gets tight.
Add in that his athletic ability send him soaring over head in the lane and he's capable of putting up 20+ points a game as well. That's a big role for an underclassman to take on, but Barnett has embraced it.
"He's had some huge positives for us this year," Coffey said. "He's still making adjustments, he's still getting used to the huge role that being a varsity point guard is. I'm proud of him and he keeps getting better."
The Steamers won two of their last three contests, hoping for some momentum heading into conference play.
"We've been rolling," Barnett said. "We've had runs so now when we have the runs we have to stay high. When we hit the lows we have to come together as a team."
There are definitely still things to improve on. Team chemistry between underclassman and upperclassman can always be improved. Barnett wants to work on seeing the floor from his position at the point, and Pessman is looking to continue to adjust to the varsity level.
That comes down to work, but that's something both sophomores are willing to put in. After all, they didn't earn varsity starting position by just relaxing.
"I had to work for it," Barnett said. "It didn't just come to me. We both had to work to get where we are.
"It all started in the summer. We played a lot of games in the summer and that carried into the season. It took some getting used to but we're doing a lot better."
The Steamers go on the road on Friday to take on Riverdale.