Ready or not, postseason basketball is here. The next two-plus weeks should be lively across the area, as there is no shortage of programs with the potential to run the table in Districts and ultimately advance to the Wells Fargo Arena in Des Moines.
As far as state hopefuls, look no further than the powerful four-team group of Camanche, Prince of Peace, Northeast and Easton Valley, who collectively tout a 64-16 record and sport favorable matchups in the early rounds of their respective District brackets.
Camanche Indians (18-3)
The Indians received a first-round bye and will host their first game of District 7 (2A) action Thursday night – both of which are hard-earned luxuries after an impressive season.
Camanche nabbed top honors in the River Valley Conference North and finished with the best league record of all RVC teams (17-1).
Like many successful teams, Camanche is well-balanced from top to bottom. Cam Soenksen leads in scoring with 19.6 points, followed by Caleb Delzell (14.6) and Carson Seeser (10.1).
But the surrounding cast is what makes coach Josh Davis' team stand out from the pack, as freshman Zach Erwin has seamlessly transitioned into running a high-powered offense in his first prep season. Zayne Feller and Jaxon White are both capable of knocking down critical shots while also adhering to Camanche's gritty defensive mantra. Add Calvin Ottens, a burly 6-foot-8 forward into the mix, and the Indians are devoid of any glaring weakness.
Camanche will kick off the postseason against either Wilton and Louisa Muscatine. While the Indians have not faced Louisa-Muscatine this season, they started their 11-game winning streak with a 41-point drubbing of Wilton in the season opener. Plus, Wilton beat L-M 63-28, so it doesn't take a scientist to give Camanche the clear edge Thursday night, regardless of opponent.
The true test for the Indians is expected to present itself in the championship round, where West Branch will likely converge opposite Camanche Tuesday night at North Scott High School.
The Indians and Bears met Dec. 21 at CHS, a spirited contest that resulted in a lopsided 81-57 victory for Camanche. The rematch would undoubtedly be one of the most coveted RVC rematches in recent memory, as the regular season preview featured a flagrant foul, double technicals and chirping fans.
Chance to win Districts: 80 percent
Prince of Peace Irish (16-3)
The Irish reeled off 13 straight victories over nearly a two-month span this season but enter the postseason in a fragile state.
Prince of Peace fell in consecutive games last week, losing to both Easton Valley and Calamus-Wheatland, who finished as co-champions of the Tri-Rivers East. Prince of Peace played one less league game than the Warriors and River Hawks and split two games with both teams this season.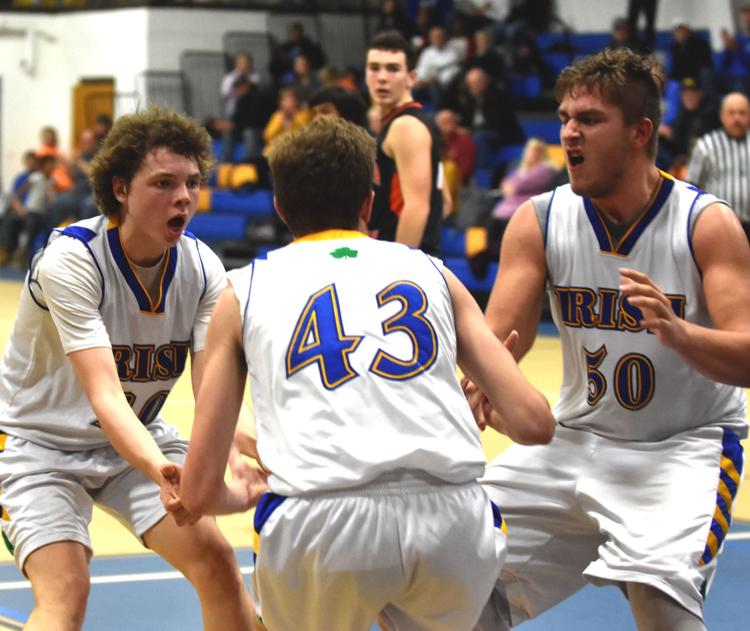 Like many teams in the area, the Irish have struggled with maintaining momentum through periods of hiatus due to inclement weather. In efforts of combatting inactivity, Prince of Peace re-scheduled a postponed contest with Bellevue Marquette Sunday night, a rarity for a pair of Catholic schools.
The make-up game with Marquette, which Prince of Peace won 60-45, helped the team reload with confidence as it heads into District 6 (Class 1A) play Thursday night.
The Irish will host either Central Elkader or Midland, both of which have been held beneath the four-win mark this season. Prince of Peace is expected to see Midland (Central Elkader is 1-19) which serves as a favorable matchup for the home team, considering the Irish won the teams' two meetings by a combined 72 points this season.
Assuming Prince of Peace wins Thursday, it will advance to host either Central City or Maquoketa Valley – a matchup that will also be played at the Joe O'Donnell Athletic Center. The Irish handily beat Central City earlier in the campaign and matches up well with Maquoketa Valley.
Then it gets interesting. If the pieces of the puzzle fall correctly, Prince of Peace and Easton Valley will play for the third time this season in a neutral setting at Cascade High School.
Both TRC heavyweights were missing a key player in the previous meetings. Easton Valley was without Kaleb Cornilsen back in December while Prince of Peace's Michael Matthew was sidelined for last Monday's showdown but is eligible to return for a potential championship contest.
Chance to win Districts: 65 percent
Easton Valley River Hawks (18-3)
Considering the success of Prince of Peace and Camanche this season, it should not be taken lightly that the River Hawks boast the distinct title of the area's most potent offense.
Easton Valley can frustrate opponents with its ability to shoot from long-range, ranking among the top-six of all Class 1A programs in points per game (72.4, sixth), 3-pointers (164, sixth) and 3-point percentage (40.9, third).
Cade Jargo, Nathan Trenkamp and Jessen Weber combine to add electricity to a prolific backcourt, as each member of the trio are more than capable of sinking 3-pointers or probing into the painted area.
But the River Hawks are not one-dimensional. If the long-distance shots are not falling, Caleb Kornilsen and Curtis Hartung provide length and strength in the post. Kornilsen, a sophomore, leads the team with 17.2 points while Hartung comes in at the third spot with 12.3.
Easton Valley will begin with Bellevue Marquette – a team it has handled by an average of nearly 35 points in two games this season. Assuming a victory, the River Hawks will be required to beat either Edgewood-Colesburg or Clayton Ridge to theoretically set up a rubber match with Prince of Peace for the District 6 title.
On paper, the River Hawks will likely play Edgewood-Colesburg in the semifinal, a team that could give Easton Valley a fit. E-C finished with a sparkling 15-6 record this season and will ride a six-game winning streak into the playoffs.
Chance to win District: 60 percent
Northeast Rebels (12-7)
The Rebels are rolling.
Northeast is the lone area team that has already delved into postseason play, defeating Bellevue 69-46 in one of the few games across the stateline Monday night.
With the win, the Rebels are 9-2 in their last 11 games after entering winter break at a tepid 3-5 mark against a talented schedule.
However, one of those two losses came against Northeast's next opponent, Cascade, who topped the Rebels 53-49 in a Jan. 8 contest and finished 13-5 in conference play.
In that game, freshman Cade Hughes exploded for 23 points on six 3-pointers. Since then, the Rebels' leading trio of Braeden Hoyer, Dawson Stoll and Dakota Stevenson have taken over in critical times down the stretch.
Hoyer, who averages nearly 16 points a game, is Northeast's biggest threat on both sides of the floor, and it will be imperative the senior stays out of foul trouble against Cascade. Stoll (12.3 points) has also been reliable and scores in a variety of ways, illustrated by a 22-point showing Monday night.
Hoyer and Stoll combined for just 12 points in the teams' previous meeting – a figure far too low if the Rebels want to dive into the championship round, where Monticello, who beat Northeast 55-47 on Dec. 18, will likely be waiting at Maquoketa High School.
Chance to win District: 35 percent