CLINTON – Clinton sophomore Joe Simpson was looking forward to playing the first meet of the season on River Kings soil – until he saw the rain-stricken conditions at Valley Oaks Golf Club.
Last week's intense precipitation led to slow-moving greens and several areas of standing water as the River Kings finished behind just Pleasant Valley atop the six-team field of Mississippi Athletic Conference programs at the Clinton Invite Monday afternoon.
"We had two meets cancelled here already and it's been sad because I have been excited to play here because I know the course well," said Simpson, who finished with a 89. "It wasn't too bad because we could pick clean places so we had a good lie but it affected my play and mind a little bit."
Clinton coach Paul Niedermeyer said the conditions were not favorable for players but pointed out the challenges were identical for all competitors.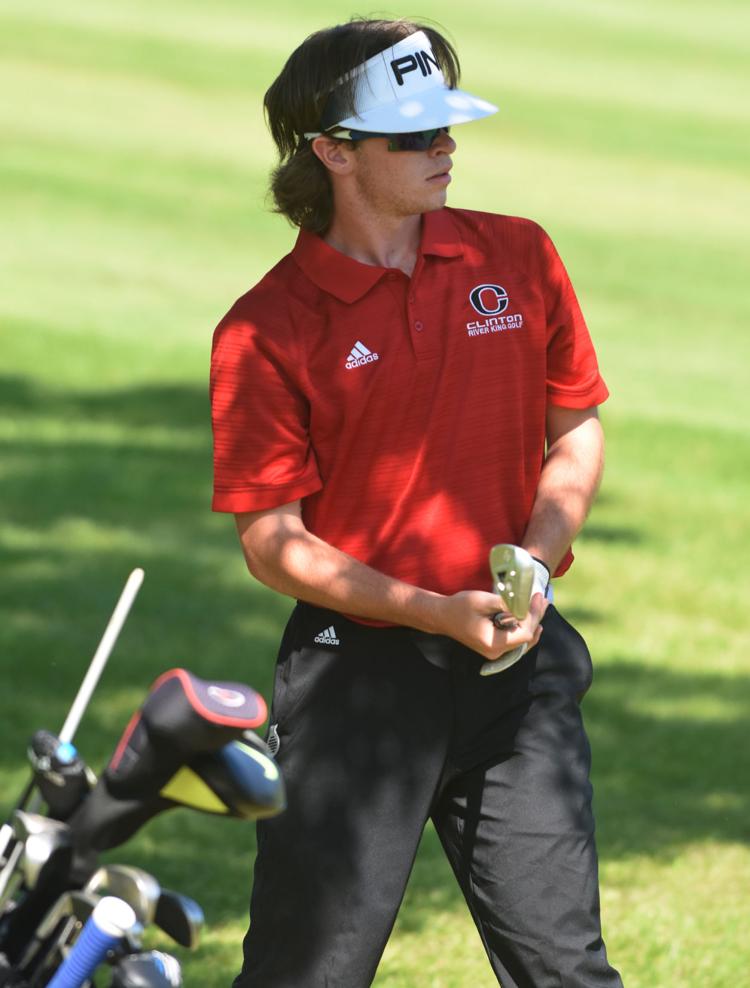 "The course played a few shots worse than usual today but it was the same for everybody that had to battle through it," Niedermeyer said. "The maintenance staff has been battling, too, but it really is a testament to the kids' patience and fortitude.
"Overall, I was pleased and thought we played well."
River Kings sophomore Blake Behrens shot 82 to lead the team and was reminded that the game is often settled by a matter of inches along the way.
Behrens narrowly missed a green in regulation on the par-3 16th, a 135-foot iron shot that caught the edge of the putting surface before sliding into the adjacent water hazard. A stray branch at the top of an Oak tree then slowed his momentum on the par-5 11th, where he salvaged a bogey.
River Kings sophomore nearly chips into the 10th hole during the Clinton Invite Monday, Sept. 10, at Valley Oaks Golf Club. Behrens finished w…
But the team's leader was not discouraged, especially after a third-place finish at a Junior PGA event over the weekend in Peosta at Thunder Hills Golf Club.
"I didn't have any three putts and had quite a few up-and-downs," Behrens said. "A 40-42 isn't terrible but shooting in the low 70's would have been nice."
Clinton senior Connor Hyde emerged as a bright spot for the team, firing 87 from the team's No. 6 spot to record a top-12 finish as an individual – a performance not lost on Niedermeyer.
"He shot an outstanding round," Niedermeyer said. "He doesn't try to do what he isn't capable of doing so he can stay out of the big numbers and stay away from triple and quadruple bogeys."
Pleasant Valley won the event with a team score of 311 behind sophomores Jack Dumas and Jack Roemer, who shot 73 and 77, respectively, while Lucas Wood chipped in a 79.
Tanner Dickherber rounded out Clinton's scoring, joining Behrens, Hyde and Simpson in the team's top-four rounds.
The River Kings will look to hone up their game with a pair of meets next week with Burlington (Monday) and a rescheduled outing Wednesday ahead of the MAC Championship, which begins Friday, Sept. 14, in Kewanee.
Niedermeyer says he is looking forward to resume a normal practice schedule, as recent sessions have been plagued by precipitation.
"We haven't had much practice lately, which is where we like to think about it shot-by-shot rather than scores," Niedermeyer said.