CLINTON – After the Gateway Classic last Tuesday in Clinton, a four-hour event that brought a dozen teams and scattered a couple hundred student-athletes across the turf at the Athletic Complex, the real chaos began. 
The tension was subltly present from coaches and competitors alike on that blissful 70-degree evening, as the deadline to submit times for the prestigious Drake Relays loomed just two days away. But a sour weather forecast loomed, leaving little doubt that Tuesday was the time to shave seconds.
But afterwards? The River Kings' coaching staff was buzzing. There were text messages exchanged amongst themselves, as well as the local track and field community. The state's data portal, QuikStats, was refreshed ad nauseam. Then, an email chimed CHS coach Kellen Schneeberger.  
Despite teetering back-and-forth among the 24 qualifers for the 4x400 event, the offical decree was revealed, assuring Clinton a spot in not only the 400, but the 4x100, too. 
Schneeberger, drenched from rain during a lengthy jaunt with his long-distance runners Thursday afternoon, said he felt immediate relief when the group of David Johnson, Sean Hammond, Matt Swamberger and Ulysses Patterson clocked in as the 23rd team after reaching the top-15 earlier in the week. 
"It was really exciting for us," he said, "but it was scary... all of us coaches were texting back-and-forth like, 'What is going to happen?' but we got the email on Sunday and it was really exciting."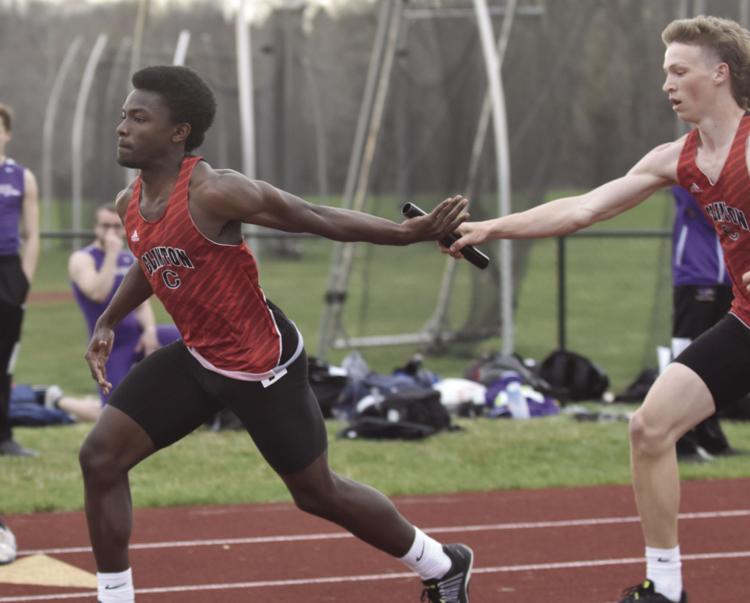 Clinton's 4x100 qualifying (seed) time is 3 minutes, 29.1 seconds, which ousted the first team left out of the field by less than a half second at 3:29.3. The River Kings set their mark on their home surface during their annual invitational – a surreal moment that will not soon escape Johnson. 
"When we found out [that we were in good position to qualify] after the race I was so excited and stoked because of all the work we have put into this," Johnson said. "After you run a race like that, your heart and legs are dead, even 'paralyzed,' but I was so excited."
Schneeberger turned special praise towards the unsung progress of the race's "middleman" combination Hammond and Swamberger, who, now at the sport's grandest stage, had foggy expecations a few years ago. 
"It has been great to see Sean and Matt because they have both really worked themselves into being a runner," Schneeberger said. "When they were freshman, we didn't know if they were going to be throwers or run sprints.
"They just really bought into it and worked really hard, lifted really hard, and put everything into every workout."
The 4x400 team will compete at 8:39 p.m. Friday night.
On the other hand, Clinton's 4x100 team had less anxiety regarding their fate. The Drake Relays accepts a whopping 96 teams in the premier event, where the River Kings hovered around the middle before settling for the 83rd spot.
Like the 400, Johnson and Patterson lead and anchor, respecitvely, and are joined by teammates Favin Williams and Joe Simpson.
Williams, who fit in additional practice before the rain struck, said the group has worked on fine-tuning the minute details, all in efforts of dropping time before taking the storied track at the Blue Oval at 10:03 a.m. Saturday. 
"I think that it comes down to the handoffs [of the baton] and that all the other little things are correct," Williams said. "The little things knock off time and make you even faster."
Both races are rich with talent, as the annual Drake event takes combines competitors from Class 1A to 4A into one meet. That said, Schneeberger has adopted two goals: beat their seed times, and, perhaps more importantly, embrace the grand stage.
"We are hoping those guys get out there and see what it's like, seeing professional athletes and upper-level college athletes," Schneeberger said. "Hopefully they can get inspired and use this experience to get into the state meet."
Sure, the city of Des Moines will be flooded with Olympians and world-class athletes. Even so, Patterson is shrugging off nerves.
"I am just going to soak it in and enjoy it... I went last year and it's the best thing I've ever been to, it was amazing," Patterson said.
Johnson echoed his teammate.
"I just thank God because he gives his hardest tasks to his strongest soldiers," he said, "once you get put into a position like this, it is a pleasure and an honor.
"You don't have to be here."