DUBUQUE – The course was wet.
Soggy putting surfaces, flooded sand traps and fairway puddles – a product of nearly six inches of rain in the area since Sunday night – all plagued the 14-team field at the District 1 tournament Tuesday.
The River Kings finished with a combined score of 362 to finish 11 of 13 complete teams. Cedar Falls (300) and Wahlert (309) claimed first and second place while Cedar Rapids-Xavier earned the final state berth with a third-place finish.
Blake Behrens, who has firmly held the No. 1 spot in Clinton's lineup all season, was one of the many golfers whose struggles were compounded by the soggy conditions at The Meadows Golf Club, a par-72, 6,313-yard course.
"It was really wet out there but I just tried to keep it between the lines... I just wasn't hitting it well," Behrens said after an uncharacteristic 91. "The ball doesn't roll as far [in wet conditions] so it might take an extra shot or two on a par-5."
Paul Niedermeyer said the team's outing left more to be desired but noted positives in a few areas.
"It was a similar score from conference on a course we haven't seen so it isn't all bad but at this level, we would have liked to be better than that," Niedermeyer said. "The conditions were tough but we just didn't perform how we would have liked."
Senior Zach Bohle rose to the occasion in his last prep meet of his career, leading the River Kings with 88. He pointed to back-to-back pars on the final holes of the round as key components of his low score – and they were special in another way, too.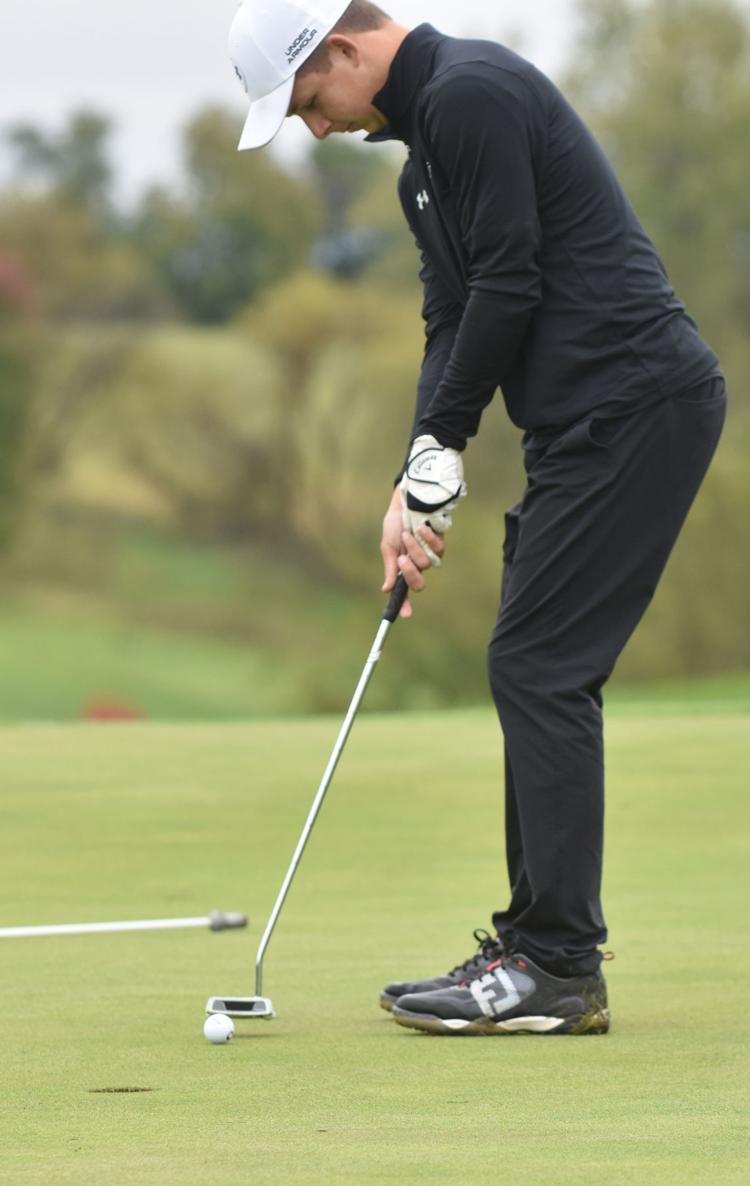 "I parred both of my last two holes of my high school career with coach there watching so that was pretty cool," Bohle said.
Clinton has now been affected by rain and blustery winds at two of its primary events on the schedule: The River King Invitational last month and Tuesday's postseason action.
"I guess it is OK because there is nothing you can really do about it," Behrens said. "You just have to play your best through it."
Andrew Brisch turned in Clinton's second-best score with 90. He was followed by Behrens (91) and Ty Koehler's 93. Joe Simpson (96) and Brett Myli (128) did not factor into the scoring.
The par-5 ninth hole proved to be challenging for Clinton, as Bohle and Brisch combined for 16 strokes on the hole while Behrens, Koehler and Simpson salvaged bogeys.
With the team still young (it will return three of the four top scorers of the event in Behrens, Simpson, Koehler and Brisch) there is reason for optimism – an idea not lost on Niedermeyer.
"We are not disappointed in the season because we have learned a lot from it and gained a lot of experience," Niedermeyer said. "We improved throughout the season and we have a solid core of guys coming back next year."
Bohle will be keeping a close on the his former teammates from a college campus next fall.
"It's been an honor to play for coach... I tried to keep my head up all the way through my career," Bohle said. "I have played a lot of meets and met a lot of people."
"It's going to be cool to go away next year and leave the younger ones with work to do next year."