CLINTON – With the end of the regular season rapidly approaching, the Clinton softball team circled a non-conference bout with Tipton Wednesday night as a chance to garner momentum in the closing two-plus weeks.
The River Queens did indeed deliver a pair of victories, rattling off late rallies and timely hits to complete a pair of comebacks and win both games by a 5-4 score.
"We wanted to make sure that we got two [wins] here tonight," Herrig said. "We got them. It wasn't pretty as we wanted at times but a win is a win right now so we will take it."
In the first game, Madison Meggenberg and Lauren Brennan teamed to tie the score at 4-4 in the seventh inning. Meggenberg doubled to center field and Brennan shot a ball into the outfield to score her teammate and force extra innings.
Molly Chapman did the honors in the eighth with a game-winning single that scored Amber Lee. With two outs and Lee on second, Makenzie Cooley extended the inning with an infield single to allow Chapman, who had four hits in the game, another opportunity at the plate.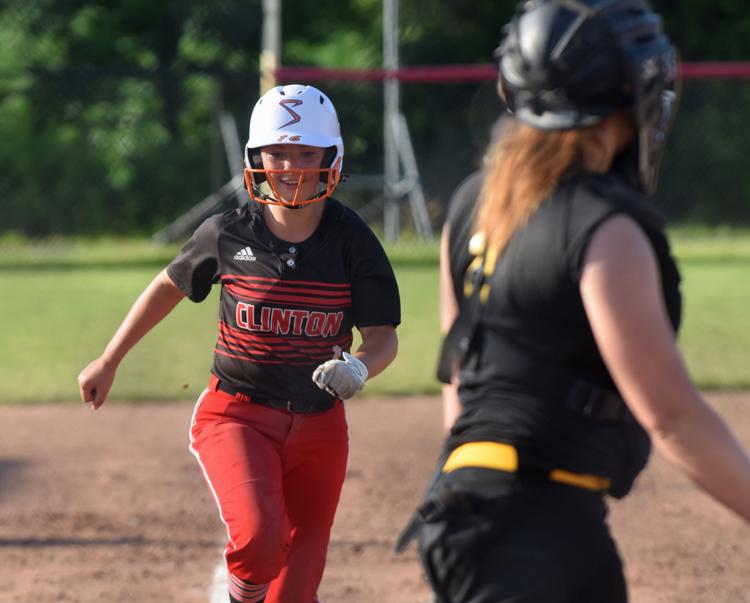 Herrig praised the efforts from the entire lineup, as the team rattled over 20 combined hits Tuesday night.
"You can't overlook Cooley moving Amber [Lee] from second to third to allow her to score on Molly's [Chapman] hit," Herrig said. "We had some production from top to bottom."
On a sweltering evening, the River Queens also benefitted from a pair of gritty pitching performances from Brennan and Natalie Dornbush.
Brennan went eight innings in the first game and never pitched with a lead. She improved as her outing unfurled, not allowing a run after the fourth and faced only one batter over the minimum during that span.
Dornbush also tightened her pitching in the second game, as the Tigers, who scored four runs in the first three innings, were held off the board in their final four at-bats.
"Lauren [Brennan] threw very well and had a good command of her fastball tonight," Herrig said. "Natalie [Dornbush] hit her spots pretty good and at times she didn't, but, overall, I thought she threw very well tonight. I was very impressed with the way both of those girls threw tonight."
Chapman led the team with four hits in the first game, followed by Lee and Cooley, who both added two. Herrig said the game day started 11 hours early for Chapman, who recently moved to lead-off spot in the River Queens' lineup.
"I took a chance to sit back last weekend and said, 'Alright, let's try to shake this up a little bit," Herrig said. "She is just an all-around competitor. When I walked in the weight room this morning at 6 a.m., she was in there and already dripping sweat."
Clinton (7-18) will host Bettendorf Thursday.
Camanche falls to Durant
The Indians' baseball team could not build on an exciting comeback win the night prior, falling 8-5 in Durant Wednesday night.
Camanche streaked out of the gates with three runs in its first at-bat, as Mike Delzell hit a run-scoring double and the Indians plated two more on an error and a stolen base.
But Durant responded with runs in each of the next four frames, including consecutive back-breaking three-run rallies in the third and fourth to build an 8-3 advantage.
The Indians scored twice in the sixth and had the bases loaded with two outs but could not capitalize for further damage.
Camanche (12-8) will host Northeast Thursday.