CLINTON – The Clinton girls' soccer team simply needed a win. It did not need to be fancy or require 100 minutes of play and a round of penalty kicks – the green 'W' on QuikStats hardly knows the difference.
Yet here we are.
Clinton overcame a one-goal deficit at halftime and snuck away with a 2-1 victory that was capped by freshman Sofia Tello's walk-off penalty kick to edge Maquoketa Monday night at Coan Field.
Tello drilled a penalty kick past Maquoketa goalie Rachel Vorbeck to abruptly end the game, as the two teams were tied at two goals apiece through the first nine shots.
"It was awesome," CHS coach Nick Hauenstein said. "Even more so with her being a freshman and willing to take that kick and all of us having the confidence in her taking the last kick."
FINAL: @CHS_QueenSoccer 2, Maquoketa 1. Clinton's Sofia Tello beats the keeper to escape with a 3-2 win in penalty kicks. River Queens move to 5-6 #iahssoc pic.twitter.com/uGTyT18ztN

— Herald Sports (@CHerald_Sports) May 7, 2019
Clinton senior Haley Dash, who scored the team's lone goal in regulation, flashed a smile at the recollection of her younger teammate's triumph.
"I'm just so proud of her," she said.
While it was Clinton that dominated field possession in the first half (and the majority of the game, for that matter) the Cardinals were first to light the scoreboard.
A high-bouncing ball careened over Clinton's back-line defenders and allowed Maquoketa's Mazie Gardner a one-on-one chance with goalie Rylie Mussman.
Mussman rushed from the goal and slid into Gardner to poke the ball away but was whistled for a foul and subsequent penalty kick, which Gardner drained to take a 1-0 lead in the closing two minutes of the half.
"There were not a lot of adjustments at halftime, it was an unlucky bounce that they were able to sniff out for a PK so kudos to them for tucking it away," Hauenstein said. "I thought we controlled almost all of the possession but it just came down to us not having that killer instinct to get a goal."
Clinton appeared to net what likely would have held as the game-winning goal with under a minute remaining in overtime.
The River Queens drove a corner kick into the penalty area – a ball that ricocheted off a herd of athletes before ultimately finding nylon. But Clinton was called for "impeding" the goalie, erasing the score and ultimately sending the game into penalty kicks.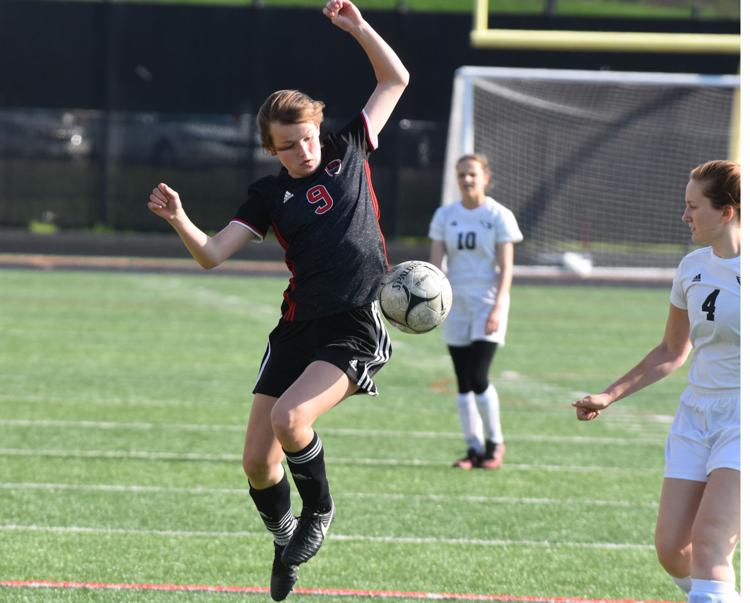 Hauenstein said he was pleased with the way his team quickly pushed the near-goal from their mindset in time to regroup for the crucial penalty kick session.
"Like it or not, we have to go with the call that is made," Hauenstein said. "Every call isn't going to go our way so we had to just move past that."
Dash connected on her fourth goal of the season on a rebound from a corner kick in the 17th minute of the second half to knot the score at 1-1.
"I was really happy to see it go in," Dash said. "I just placed it in the corner and hoped for the best."
The win snapped a two-game losing skid for Clinton and came at an ideal time after a disappointing last week that featured a 3-1 loss to Rock Island and an 8-0 defeat to unbeaten Davenport Assumption.
"With a tough stretch of conference games coming up, it was good to get another win under our belt because it helps us see how well we can play if we are clicking," Hauenstein said.
Clinton (5-6) will start the final stretch of the season Tuesday to host Muscatine. The River Queens will then play three more games within the MAC and one non-conference bout before the end of the regular season on May 21.