DES MOINES – Despite a sparkling 36-3 record, the Central DeWitt baseball team looked vulnerable heading into the state tournament.
The bats were cold, which forced the Sabers to ride the coattails of their stellar pitching staff to escape with three straight wins against sub-.500 opponents in the substate round, a roller coaster ride that featured a late comeback, a 16-inning marathon and a pitcher's duel.
On Tuesday afternoon, the Sabers looked dangerous again, dishing a reminder that they are still more than capable of playing at the level that helped rattle off 25 consecutive victories to open the summer.
Central DeWitt pummeled Centerville 11-1 (5 innings) in a Class 3A quarterfinal Tuesday afternoon, mashing the ball around the yard and benefitting from yet another sharp pitching performance at Principal Park.
The Sabers applied early pressure to Centerville sophomore starter Brady Kauzlarich with a run in both the first and second innings.
Devin Hurdle, like he has done countless times for the Sabers throughout his career, started the first with a single and quickly moved to second on a wild pitch. Alex McAleer roped a single into left to score Hurdle and give Central DeWitt a 1-0 lead just two batters into the frame.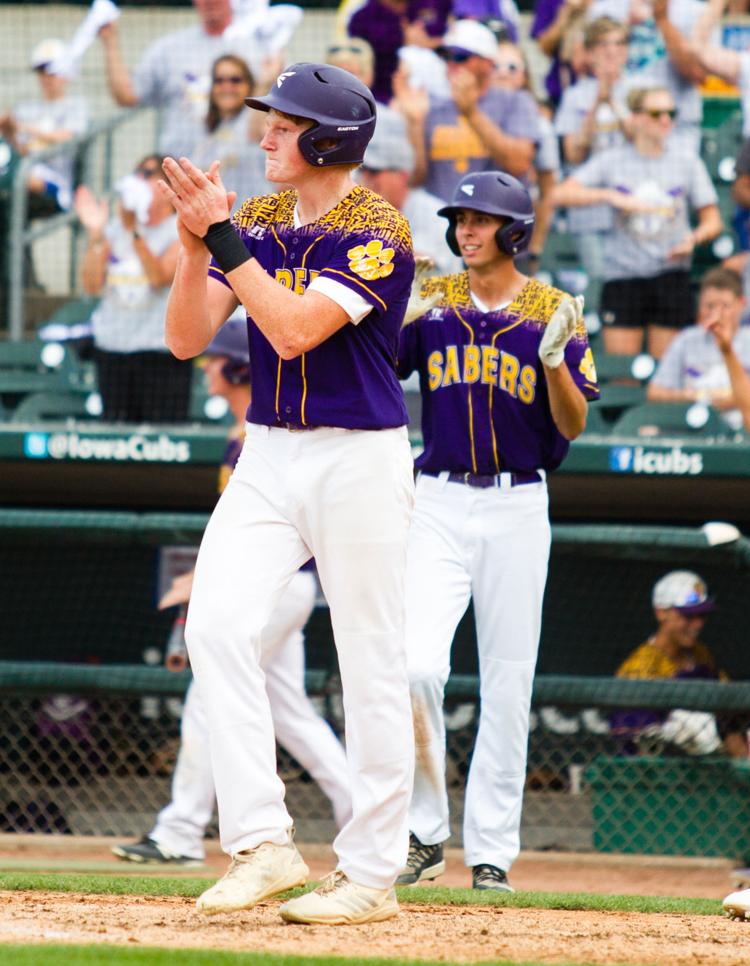 In the second, Lucas Bixby drew a one-out walk and later scored on Henry Bloom's clutch two-out hit. Bloom, a sophomore that bats ninth in the lineup, also had a pivotal RBI hit in the substate final last week, driving in what proved to be an important insurance run in the fourth inning of the Sabers' 3-2 triumph over Dubuque Wahlert.
Meanwhile, Bixby cruised on the mound. The senior right-hander faced just two batters over the minimum through four innings, a span in which he recorded four strikeouts and allowed only one hit.
The Sabers broke the game wide open in their at-bat in the fourth, sending 10 batters to the plate and scoring four runs to extend their lead to 6-0. The first five Central DeWitt batters of the inning registered hits, with Bloom, Hurdle (two) and Finley tallying RBIs to chase Kauzlarich.
After the Big Reds' pushed across a run in the fifth, the Sabers promptly ended the game with five more runs to enact the 10-run rule.
A pair of runners scored on an error and Jacob Swanson hit a three-run double to secure an 11-1 victory.
The Sabers pounded out 12 hits in just five plate appearances. McAleer led the way with three while the trio of Boomer Johnson, Hurdle and Bloom each had two. Swanson and Finley had three RBIs.
Bixby worked all five innings, allowing only one run one three hits and fanning six.
Central DeWitt (37-3) will play the winner of Davenport Assumption and Boone in the semifinal round at 1:30 p.m. Friday.