Sometimes life throws things at you, and it's all about how you handle it.
For Clinton native Tia Stauffer, she found solace in the gym after her will was put to the test. About two years ago, she lost her brother in a car accident.
"I started to feel anxious all the time, my mind would just race," Stauffer said. "I would worry so much about my family and how they were doing, I was stir crazy.
"My boyfriend suggested I try channeling some of that stress into fitness, ensuring me it would help me feel a little better. And so I did."
She started training that August — two years ago — and immediately feel in love with it. It helped her physically and mentally.
"It helped me calm my mind and work out a lot of frustrations," Stauffer said. "I gradually started to feel a positive change."
She now had an outlet.
"It's been great, I just feel better," Stauffer said. "I am a lot stronger and mentally clear. Also, my confidence has increased a ton. If you focus on just doing what feels good, you'll start to surprise yourself when results pop up in the mirror."
She had been modeling for a couple of years already, and realized she could integrate the two.
"My photographer suggested we try a fitness shoot and when two of my biggest passions came together it was magical," Stauffer said. "I feel like fitness modeling is unique because I worked hard to achieve the shape that I'm in, I didn't just wake up this way. So for me, it's a little more satisfying to reflect on fitness photos and admire the hard work that was put in to create this photo."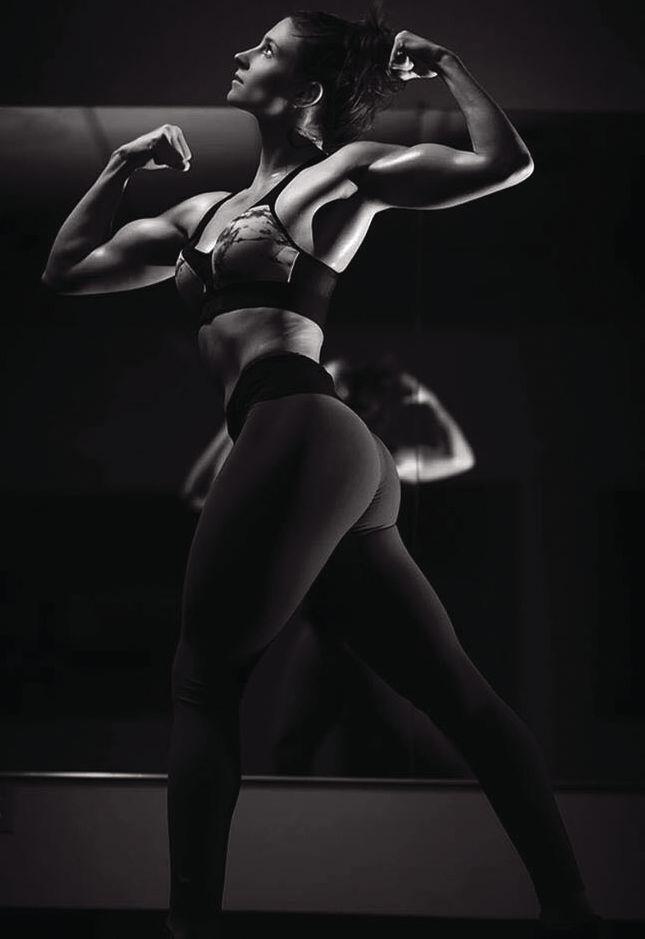 Then enter ModernFit Magazine. The magazine recently held a contest for fitness models. It was based off of social media, with people voting on pictures. The winner received a spot on the cover of the magazine.
Knowing she had a community of friends and family behind her, she knew she had a shot.
"It's been a dream of mine to be a cover model and once I saw that it was a contest that was won by voting, I knew I had to try," Stauffer said. "I'm so fortunate to have such a strong and inspiring support system I felt that I at least had a chance.
"Also, what did I have to lose? Regardless of the outcome my heart was so full seeing the community rallying for me. I feel very blessed."
Her friends and family, along with the local area, all came out. They shared the post and the link, and voted thousands of times. She came out on top in the end.
"Oh my gosh, it was nerve-wracking! I was in a constant mental battle of wanting to win yet just being so happy and filled with love to see the overwhelming support," Stauffer said. "I knew I ha a lot of people behind me but I had no idea how many would come together and push so hard or my success.
"I would not be where I am without every single person who voted and shared for me. It's that small town, tightly woven support. Not every town has that."
She gets to have her own photo shoot in August so she will be featured on the September issue of the magazine. She sees this as a way to send a message, too, that there is no definition for beauty.
"When you see photos of models in magazines or social media, I want people to recognize it's a lot of smoke and mirrors," Stauffer said. "It is a lot of angles and lighting. I work hard, but even so, I don't look like what magazine portray me to.
"I want them to know they don't have to fit into a certain 'mold' to be beautiful and that if they do something that they love to do, the support and success will follow."
From catastrophe and stress to empowerment and strength, she is happy with where her journey has taken her. She wants people to take from her story and her success, and know that they can do what they put their mind to.
"I just want people to believe in themselves and know that people around them believe in them, too," Stauffer said. "I want people to try new things and no to underestimate themselves. Consistency is key with anything that you want to achieve. Hard work will always pay off."