CLINTON – Jon Wauford remembers the days at his alma mater Miami (Ohio), where the Redhawks would play top-tier schools from power conferences to start every season.
Friday night brought back the memories. Clinton, packed with youth in several key spots, were defeated by Class 3A top-ranked Western Dubuque 42-0 in a season-opening contest Friday night at Coan Field.
"I'm used to this," Wauford said. "Every year, my alma mater plays teams like Iowa, LSU, Michigan or Ohio State. I'm used to this early on and I like it. I like to play against good teams so all of our kids can see what it is supposed to look like and have some aspirations."
The schedule did little favors in ushering an inexperienced team that includes sophomore Jai Jensen at quarterback and a handful of varsity newcomers lining up as his targets. The Bobcats, who earned runner-up honors last season, are stronger, faster and more polished than not only the River Kings, but, rather, nearly every team in the state.
Western Dubuque scored the first two touchdowns of the game within four minutes, needing three plays on the first drive (Jake Hosch 13-yard run) and six on the second (Ben Bryant 4-yard runs).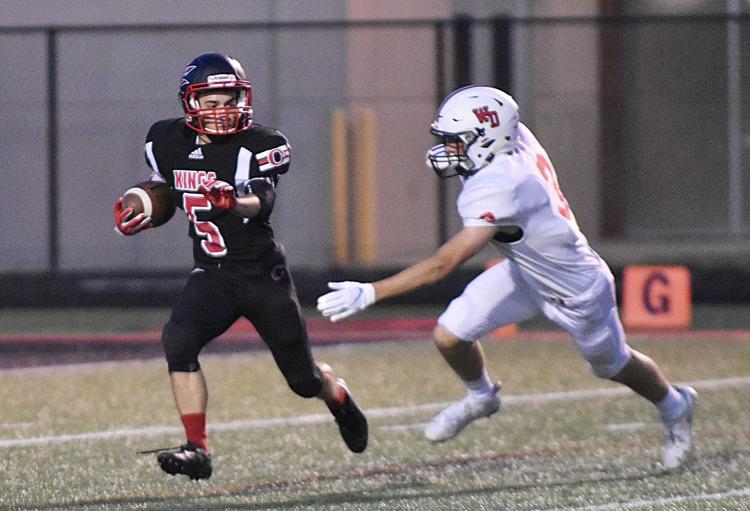 Hosch and Bryant essentially bullied their way into the endzone on those scoring runs and several others in between, shedding River Kings tacklers or, in some cases, dragging them along for extra yards.
"We have a lot of young kids on defense on the back-end so sometimes a freshman or sophomore is not capable of tackling a junior or senior," Wauford said. "We need to get bigger, we need to get stronger and we need to learn how to do things and I thought this was a big step in the right direction."
The Bobcats scored five more touchdowns before the intermission to cap off a first half where all five of their drives resulted in seven points.
Clinton revealed a pass-first offensive scheme that several times put Jensen alone in the backfield flanked by two or three receivers on either side of the sophomore. At times, Jensen flashed potential, hitting Logan Mulholland or Ulysses Patterson on quick slant routes or bubble screens.
In the second quarter, Jensen delivered a 40-yard strike down the left sideline to Mulholland which would have converted a third-and-10 if not for a costly illegal man downfield penalty.
Understandably, Jensen said he felt the nerves of playing under the varsity lights for the first time, especially against a state-hopeful defense.
"The nerves were there all day, really," Jensen said. "When I got here for the game, I was ready for it. We just have to move on from it."
The River Kings moved the chains one time in each of their three opening drives before penalties or poor execution led to one of JR Wauford's seven punts.
"I just hope that we can be consistent," Jensen said. "My line was protecting me for the most part so we just have to convert."
Wauford said the team will be ready to move on after knocking out several debuts.
"For a lot of these kids, it was their first experience in varsity football," Wauford said. "We have that under our belt now so we can get back to work and get better."
The River Kings (0-1) will travel to take on Davenport West Friday night.