The sports page for June 19, 2019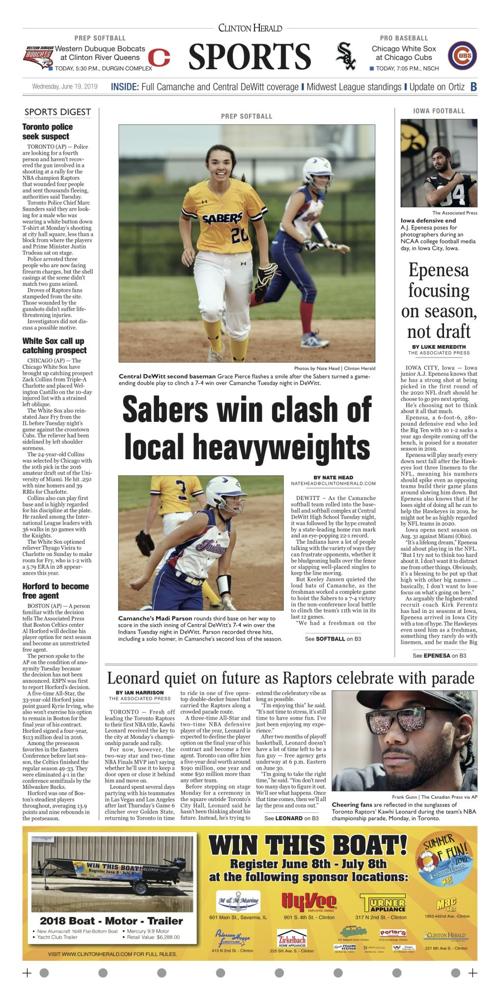 As featured on
Local articles appearing on the sports page of the June 19, 2019 edition of The Clinton Herald.
Donald Stuedemann, age 87 of Clinton, died Monday July 15, 2019 at The Alverno. Funeral services held 10:30 AM Saturday at St. John Lutheran Church, Clinton. Visitation held Friday 5 -7 PM at Pape Funeral Home.
Lawrence J. Halweg, 87 of Camanche, Iowa, died Thursday, July 11, 2019, at Mercy One, Clinton. Arrangements are pending at Snell-Zornig Funeral Home & Crematory.
Dwain "Curly" Bruhn 88 of Miles, died Saturday, July 13th at home. Visitation from 4:00 to 7:00 PM Thursday at St. John Lutheran Church, Preston with services at 10:30 AM Friday. Pape Funeral Home is assisting.
Marlin Hoffmann, 88, of Spragueville, Iowa died July 13, 2019. Funeral service:11:00 a.m. Thursday, July 18, 2019 at the Law-Jones Funeral Home, Preston, Iowa. Visitation:9:00-11:00 a.m., prior to service at the funeral home.