Humidity:

66%

Feels Like:

66°

Heat Index:

66°

Wind:

5 mph

Wind Chill:

66°
UV Index:

9 Very High

Sunrise:

05:25:01 AM

Sunset:

08:38:42 PM

Dew Point:

54°

Visibility:

10 mi
Today
Mostly cloudy skies early, then partly cloudy in the afternoon. High 94F. Winds S at 10 to 20 mph.
Tonight
Variably cloudy with scattered thunderstorms. Storms could contain damaging winds. Low 71F. Winds S at 10 to 20 mph. Chance of rain 50%.
Tomorrow
Partly to mostly cloudy. High 91F. Winds WNW at 5 to 10 mph.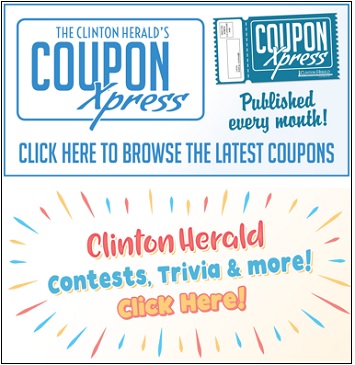 William Raymond Levine, 81, originally from Clinton, died on June 13, 2021. Son of Lester Levine and Louise Zastrow. Survivors are son Stephen Levine and daughter Liz Rollins. Please go to www.peninsulafuneralhome.com/obituaries.
Susan H. Strunk, 75 of Winter Haven, Florida formerly of Clinton passed away Friday. Arrangements are pending at the Clinton Chapel Snell-Zornig Funeral Homes & Crematory.
Karen Joanne Bartachek, 84, of Maquoketa, IA passed away June 13, 2021 at Crestridge Care Center in Maquoketa. Hrabak-Neuhaus Funeral Service is assisting the family. www.neuhausfuneralservice.com
DEWITT [mdash] Jean Gravert, 95, formerly of Delmar, Iowa, passed away peacefully in her daughter's home in Iowa City. Per her wishes, there will be no visitation. A Celebration of Life will be held Sunday, July 25, 2021, from 1:00 until 4:00 p.m. at Grossman Hall in Delmar. Arrangements are…